Spinal disc herniation is a condition in which a tear in the annulus fibrosus (Outer firmer ring) of an intervertebral disc allows the soft, central portion (nucleus pulposus) to bulge out. Due to that adjacent neural structures may get compressed and produce symptoms of radiculopathy.
Following diagram would make it easier to comprehend how a spinal disc herniation can affect nerve roots. On the left side is a normal disc and on the right side is a herniated disc.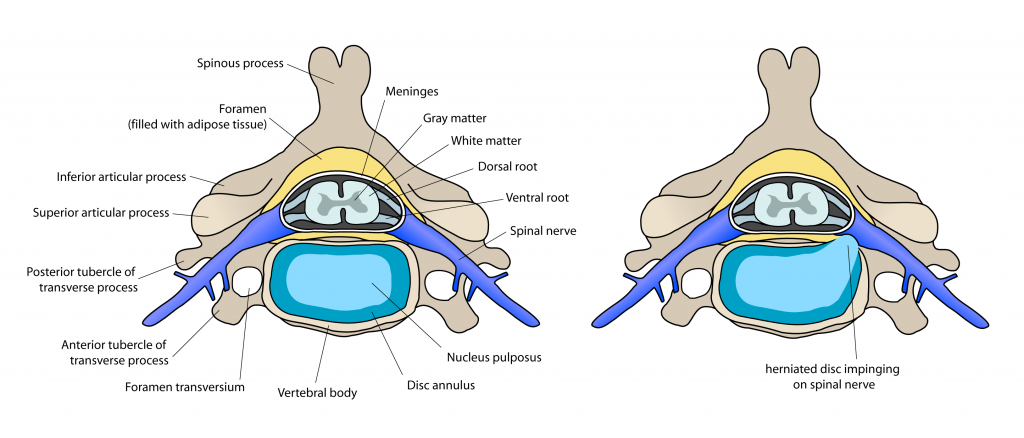 Spinal disc herniation is most common in lumbar followed by cervical spine with former being more common than latter. L4-L5 and L5-S1 discs most common to herniate in the lumbar spine. In the cervical spine, C5-C6 and C6-C7 discs are most commonly involved.
Spinal disc herniation is rare in the thoracic spine.
Mostly, spinal disc herniations occur in young people. With age, nucleus pulposus dries and the risk of herniation is reduced.
It is now being recognized in addition to compression of the nerve root there is the release of inflammatory mediator with herniation of the disc. This mediator is recognized as tumor necrosis factor-alpha (TNF). This molecule is released not only by the herniated disc, but also in cases of disc tear, by facet joints, and in spinal stenosis.
Cause of Spinal Disc Herniation
Usually, there is a history of strain on the back which may be in form of lifting heavy weights or sudden movement. In some patients, no cause or antecedent event could be elicited.
A preexisting protrusion of the disc might be there before the herniation takes place. A protrusion is one in which fibers of annulus fibrosus are not torn but on increase in internal pressure it bulges out. Following diagram shows stages of disc herniation
Minor back pain and chronic back tiredness is an indicator of general wear and tear that makes one susceptible to herniation on the occurrence of a traumatic event from bending or a traumatic injury from a fall.
Clinical Presentation
The symptoms and presentation depending on the region involved. In cervical disc herniation, the pain may occur in the region of the skull, the neck, shoulder girdle, scapula, shoulder, arm, and hand. The lumbar disc can present with the pain in the lower back, buttocks, thigh, and may radiate into the foot and/or toe. The sciatic nerve is the most commonly affected but the femoral nerve can also be affected.
The severity of symptoms may range from little or no pain to severe and unrelenting back pain that will radiate into the regions of affected nerve roots. It may be accompanied by neural deficits.
The presentation of a lateral shift or trunk list associated with the development of acute low back pain is a common clinical event.
These symptoms occur in one side of the body when the disc is on the lateral aspect which is the most common type. In some cases however the disc is central and may cause involvement of more than one nerve roots on either side of the body. These central discs also present with bladder and bowel involvement ( urinary incontinence) and require urgent removal by surgery.
Diagnosis is based on history, symptoms, and physical examination. Straight leg raise test is frequently performed in the physical examination of the lumbar disc through the specificity of the test is not that good.
Imaging for Spinal Disc Herniation
X-ray
Plain X-rays have a limited role in the diagnosis of disc herniation as they are unable to define soft tissues such as discs, muscles, and nerves. But they are still used to rule out other diseases like tumors, infections, etc.
MRI
Magnetic resonance imaging is the best investigation to confirm the disc pathologies. It can show the spinal cord, nerve roots, and surrounding areas and is a very sensitive investigation to show even a slight bulge of the disc.
Following MRI image shows disc herniation between L5 and S1 vertebrae.
Treatment of Spinal Disc Herniation
Contrary to the perception the majority of herniated discs can be managed with nonoperative treatment.
Following treatment modalities may be used in conjunction to treat disc herniation non operatively.
Physical therapy, which may include ultrasound, massage, conditioning, and exercise programs
Non-steroidal anti-inflammatory drugs
Oral steroids
Epidural steroid injection
Lumbosacral back support
If nonoperative methods fail, surgery should be considered. However, there are certain conditions where surgery is indicated without considering the option of nonoperative treatment
Significant neurological deficit
Cauda equina syndrome [Its a medical emergency]
Note: A recent study has found that 1-year outcomes were similar for patients assigned to early surgery and those assigned to conservative treatment with eventual surgery if needed, but the rates of pain relief and of perceived recovery were faster for those assigned to early surgery. Thus patient decision and pain tolerance become important part of surgical decision.
Surgical goals include relief of nerve compression, allowing the nerve to recover, as well as the relief of associated back pain and restoration of normal function.
Surgical options include employed are
For lumbar spine
Discectomy/Microdiscectomy
Laminectomy /Hemilaminectomy
Disc replacement
For Cervical spine
Anterior cervical discectomy and fusion (for cervical disc herniation)
Disc arthroplasty
Stem cells are being investigated for their potential role in the treatment of disc herniation.
Discectomy
Discectomy or open discectomy removal of the disc after surgical incision. The procedure involves removing the central portion of an intervertebral disc, the nucleus pulposus, which causes pain by stressing the spinal cord or radiating nerves.
The traditional open discectomy or Love's technique used bigger incisions for exposure of the disc but nowadays a smaller incision is used and the procedure is called microdiscectomy. It uses a loupe or microscope for the procedure.
With the traditional discectomy, a laminotomy is often involved to permit access to the intervertebral disc. Discectomy is a major procedure which requires admission in the hospital.
Discectomy is combined with fusion in cervical disc herniation. Fusion is indicated in recurrent disc herniations.
Intradiscal Electrothermal Annuloplasty
Intradiscal electrothermal annuloplasty is a less invasive and outpatient procedure. The procedure is performed under local anesthesia. Under fluoroscopy, a hollow needle is inserted into the painful disc and a thin electrothermal catheter [heating wire] is passed through the needle into the disc and maneuvered into place around the outer edge of the central nucleus. The wire is heated slowly to a temperature of 90 degrees Celsius for about 15 minutes. Heat can potentially contract and shrink the fibers that make up the disc wall, closing any tears.
IDET is not for severe disc degeneration, nerve compression, spinal instability and/or narrowing of the spinal column (spinal stenosis). The long-term results of this procedure are still unknown.
Transforaminal Endoscopic Surgical System
Also popularly abbreviated to e TESS, in this method, the surgeon removes the herniated portions of the disc using endoscope. This surgery is done under local anesthesia and general anesthesia is rarely needed. The herniated disc is approached through intervertebral foramen and removed. This method is quite recent and few centers perform it.
It is a minimally invasive procedure and the risks of bleeding, infection and nerve injury are reduced. This also leads to less post-operative pain and faster recovery.
Laminectomy means removal of the lamina, a posterior arch of the vertebral bone lying between the spinous process pedicles and the transverse processes of each vertebra. Laminectomy, conventionally also removed posterior spinal ligament and the spinous process. It is a procedure for decompressing the spine or gaining more access to the deeper regions and is now rarely done for herniated disc unless it has resulted in secondary canal stenosis.
Laminotomy is a procedure that removes part of a lamina instead of the whole lamina.
Intervertebral Disc arthroplasty
It is also called artificial disc replacement, or total disc replacement and is a type of arthroplasty. In intervertebral disc arthroplasty, the degenerated intervertebral disc is replaced with artificial discs. It is done both for lumbar and cervical disc herniations to treat chronic, severe low back and cervical pain resulting from degenerative disc disease.
It is an alternative to spinal fusion which aims at eliminating pain while preserving motion.