Spine injuries result from fall from height and motor vehicle trauma. X-rays and photographs of spine injuries are being presented, including x-rays after operative treatment.
Image 1 – Dislocation of C6-C7 Vertebra – Xray
38 years old man suffered trauma to the neck when a pole fell on him while he was working on his tube well. He developed sudden onset weakness in all the four limbs.
He reported to casualty about 2 hours after the injury and found to have quadriparesis [weakness in all four limbs] with grade 2 power in all the limbs along with numbness below sternum.
Xray revealed unifacetal dislocation of sixth cervical vertebra over seventh cervical vertebra.
MRI revealed C6-c7 disc impinging upon the cord. The patient was given injection solumedrol for 24 hours and was taken for anterior decompression, cervical plating, and bone grafting.
This x-ray is one month postoperative and the patient has shown good recovery. He has 3+ power in all the limbs and is free of catheter.
Image 2 – Burst Fracture Of L1 Vertebra Fixed With Pedicle Screw Assembly
Burst fractures are unstable fractures and often associated with neurological deficit. Most often these fractures require decompression and surgical stabilization either anteriorly or posteriorly.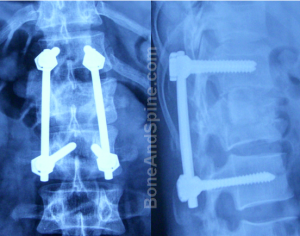 The above x-ray is postoperative picture of L1 vertebra burst fracture which has been fixed by pedicle screw assembly. Decompression and bone grafting was also performed.
Image 3 – Anteroposterior Xray Of Fracture Dislocation of L1 Vertebra over L2
Xray of 44 years old male with spinal injury showing fracture dislocation of L1 over L2
The patient also had associated paraplegia along with bladder and bowel dysfunction.
Image 4 – Xray of Cervical Spine With Dislocation of C3 Vertebra Over C4
Xray of dislocation of C3 Cervical spine vertebra over C4
The vertebrae have been numbered for easier understanding.
Image 5 – CT Images of Fracture Dislocation of D5 – D6 Vertebra
Following is CT image of fracture dislocation of D5 over D6 vertebra.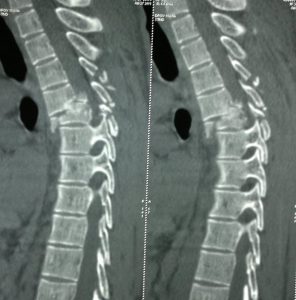 Image 6 – Anteroposterior Xray of Operated Fracture L3 with Pedicle Screw System
Xray of 30 years old male who suffered injury due to fall of tree on him. He had fracture of L3 vertebra with paraplegia and bladder bowel involvement.
Presurgery x-rays are not available. Postoperative x-ray anteroposterior view is shown here.
Image 7 – Broken Pedicle Screw System in L2 Fracture
Following x-ray belongs to 45 years old male who was treated for a fracture of L2 vertebrae with paraplegia and bowel bladder involvement due to fall from a height. The patient also had a fracture of calcaneum in addition to this injury. The patient was treated with fixation by pedicle screw system and recovered complete power and bladder bowel functions as well.
This x-ray was done after 8 months injury when a patient complained of deformity of the back. The implant was found to be broken. On inquiry, the patient admitted having engaged in continuous labor work.
The patient was offered deformity correction and fusion surgery but the patient chose to accept deformity and its consequences.
Image 8 – Xray Images of Fracture of D12 With Dislocation D11 Vertebra Over D12
Following x-rays are of thoracolumbar spine of a patient with the spinal injury. The patient has a fracture of D12 vertebra and dislocation of D11 over D12 vertebra.
Here is the AP view
Here is lateral view
Associated history with the image was not available.