Last Updated on April 30, 2022
A sprain is an injury that occurs to ligaments causing stretching or tearing of ligaments. Ligaments are fibrous structures that join two bones across the joints. For example, ankle ligaments connect tibia and fibula bones to the talus and calcaneum across the ankle joint. Sprain originates from French word espriandre which means to wring.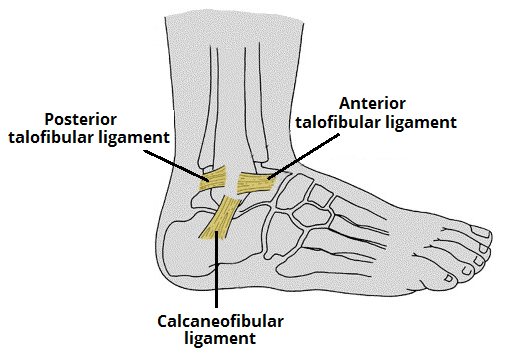 Therefore the sprains occur mostly around the joints and the most common location is the ankle. Often, the cause is a twisting force and the term twisted ankle is mainly indicative of sprained ankle.
Other joints which are frequently affected are
Knee
Hand
Back
Neck
Thumb
Strain sounds similar to the word sprain but the term indicates an injury to muscle like muscle spasm, or tendon rather than ligament.
But often, in conversations, the terms may be interchangeably used and could confuse.
How Does Sprain Occur?
It occurs due to sudden overstretching of ligaments. This may occur when a sudden uncontrolled movement occurs in the joint such as twisting of the ankle or outstretching of the wrist in an effort to protect oneself from fall. The force of injury causes ligaments to stretch beyond their normal limits which results in the tear of the ligaments.
Acute sprains are caused by trauma which may include falling or twisting. Few examples are
Lifting a heavy object
Walking or running on an uneven surface
Sudden twisting
Falling and landing on the wrist or hand
Sports injuries
Causes of chronic injuries are often caused by repetitive strain injury which includes playing sports and activities that involve repetitive movements. Examples include rowing, playing tennis or running.
A sprain can occur in any person but the presence of certain factors increases the risk. These are
Lack of proper muscle conditioning causing weakness of muscles and ligaments
Not warming up before exercise
Overstraining
Not having proper rest increases the chance of injury
Degrees
Degrees of sprain varies from minor stretching to complete tear depending upon the degree of insult.
Grade I
The first degree is only a minor tear or stretch of a ligament. There is the microscopic tearing of some fibers.
This kind of sprain is very common and almost everybody has felt it at some time. This injury results in minimal tenderness & swelling and is associated with minimal impairment of function.
Grade II
The second degree is an incomplete tear of a ligament. This means there is a tear of some but not all fibers of the ligament. This results in moderate tenderness & swelling and is associated with decreased motion(Usually)
Grade III
The third degree is a complete rupture of the ligaments. This type is most severe and actually breaks the ligament, along with some small bones if severe enough. This kind of injury results in gross instability of the joint involved.
The strain can occur in any of the joints but the ankle, wrist, knee and finger joints are most commonly involved.
Signs and Symptoms
Acute pain followed by swelling is the commonest symptom. Other symptoms are
Bruising
Limited movement
Difficulty in moving the joint
The loss of function would depend on the degree of sprain. It could be minimal in case of mild injury and Depending on the degree there might be a loss of function.
It is not easy to differentiate between the degrees on clinical examination but a gross idea can be made.
Investigations
After examination first investigation to be done is an x-ray to rule out any bony injury. MRI( Magnetic Resonance Imaging) is done to confirm third-degree sprains.
Treatment
First Aid or Initial Treatment generally involves RICE therapy.
Rest
Provide adequate rest to the injured part and stop all activity that involves the injured joint. For example, in a sprained ankle, walking or bearing weight while standing is an activity that should be avoided. The quantum of activity restriction would depend on the severity of the injury.
Ice Application
Ice application would reduce the imminent swelling. Ice causes cooling at the injured area and reduces bleeding by causing constrictions in the vessels.
Compression
This involves wrapping of injured part to cause its compression and reduce swelling.
Elevation
Keep the affected part elevated so as to keep it at heart level or higher. This helps in reducing blood flow to the injured area and thus swelling.
Drugs
Drugs for pain control can be taken depending on the need for pain control.
Definitive treatment would depend on the degree of injury and patient expectation. A brief outline is given below.
Grade I
In this type, weight-bearing is allowed as tolerated. Splinting or casting is generally not required. After pain becomes tolerable, the patient is put on joint mobilization exercises.
Grade II
This type of injury requires Immobilization with a splint or plaster for two weeks. This is followed by a joint motion and strengthening exercises.
Grade III
This kind of injury was earlier treated by immobilization followed by physiotherapy of a longer duration. But surgical reconstruction is the preferred treatment now in selected cases as conservative treatment was associated with long-term chronic pain and instability.
Prognosis
Mild to moderate injuries heal within1-2 weeks. However, it is important to support the affected body part for some time to avoid further injury
Severe sprains require a longer period to heal and often require physical therapy as well.
Prevention
Injury is not predictable and can occur to anyone, anywhere but we can reduce the chances of injuries by taking a few precautions.
Muscle-strengthening by exercise
Proper warm-up and stretch exercises before exercise
Wear proper footwear and use of proper equipment
Do not overstrain while working
Take frequent breaks when working with repetitive motions
Be cautious about surfaces when walking or running
Sprain Versus Strain
The terms sprain and strain are commonly used in an interchanging manner. However, there is a technical difference.
The sprain involves ligaments whereas the strain involves tendons or muscular tissue.
For example thumb sprain means ligaments of thumbs have been injured but calf muscle injury would be called calf strain.