Last Updated on December 20, 2019
Burst fractures are defined as vertebral fracture with the failure of the anterior and middle column. The fractures are unstable as there is involvement of two columns, anterior and middle, out of three columns of the spine.
Burst fractures are caused by axial loading with flexion and can be considered as high energy compression fractures that result in disruption of the posterior vertebral body cortex with retropulsion into the spinal canal.
L1 is the most common vertebra involved with the majority of the burst fractures occurring at T9-L5.
Majority of these fractures are single level fractures.
Pathophysiology
Denis Classification of Vertebral Column
Denis gave three column classification of vertebral column where vertebral column could be thought of as consisting of three columns which are
Anterior column
Anterior longitudinal ligament
Anterior 2/3 of vertebral body and annulus
Middle column
Posterior longitudinal ligament
posterior 1/3 of vertebral body and annulus
Posterior column
Pedicles
Lamina
Facets
Ligamentum flavum
Spinous process
Posterior ligament complex

Supraspinous ligament
Interspinous ligament,
Ligamentum flavum
Facet capsule.
Mechanism of Injury
Injury to just anterior column results in a wedge-shaped vertebra and is called a compression fracture. Injury to the middle column means the vertebral body is crushed in all directions and it is called a burst fracture.
The term burst fracture implies that the margins of the vertebral body spread out in all directions. This is a much more severe injury than a compression fracture for two reasons. With the bony margins spreading out in all directions the spinal cord is liable to be injured. The bony fragment that is spread out toward the spinal cord can bruise the spinal cord causing paralysis or partial neurologic injury.
Neurologic injury from a burst fracture ranges from no injury at all to complete paralysis and generally correlates with the severity of the injury. The neurologic deficit may cause loss of strength, sensation or reflexes below the level of the injury and may even cause paralysis of the legs and loss of control of the bowel and bladder.
These occur typically following a fall from height (often landing on feet) or from a motor vehicle accident.
A high-energy compression force drives the intervertebral disc into the vertebral body below.
The anterior cortex fails in compression, either or both the endplates can get fractured The middle column also fractures, and a portion of the body gets retropulsed backward into the canal. The posterior elements may also get fractured.
There is often canal compromise often caused by retropulsion of bone. The maximum canal occlusion and neural compression occur at the moment of impact.
The retropulsed fragments get resorbed over a period and are not associated with progressive deterioration of neural deficit.
They typically occur from severe trauma, such as a motor vehicle accident or a fall from a height.
Injury to the middle column results in instability of the spine. Injury to the middle column can be gauged by noting by widening of interpedicular distance on AP radiograph and loss of height of the posterior cortex of the vertebral body.
Injury to posterior complex further adds to instability. Posterior complex injury results in the widening of interspinous distance, progressive kyphosis with nonoperative treatment and facet diastasis.
In case the PLC status is doubtful, increased signal intensity on the MRI suggests PLC injury.
Classification of Burst Fracture
Burst fractures may be subdivided by fracture pattern as follows [Dennis classification]
Type A
This type of injury occurs with axial loading and it results in fractures of both upper and lower end-plates. The bone is retropulsed into the canal.
Type B
This is the most common type of burst fractures and accounts for almost 50% of the burst fractures. In this injury, only the superior end-plate is fractured.
Type C
Burst rotation. It is a very uncommon injury and results in disruption of only the lower end-plate. The mechanism of this injury is a combination of axial load and rotation.
Type D
In this injury, rotational displacement of one body relative to the other occurs
Type E
Burst lateral flexion. This type of fracture differs from the lateral compression fracture in that it presents an increase of the interpediculate distance on anteroposterior roentgenogram.
Thoracolumbar Injury Classification and Severity Score
It is a scoring system of thoracolumbar injuries that guide treatment as well.
It is based on the following elements
Injury morphology
Compression (1 point)
Burst (+1 point)
Rotation/translation (+3 point)
Distraction (+4 point)
Neurologic status
intact (+0 point)
Nerve root (+2 point)
Incomplete Spinal cord or conus medullaris injury (+3 point)
Complete Spinal cord or conus medullaris injury (+2 point)
Cauda equina syndrome (+3 point)
Posterior ligamentous complex integrity
Intact (+0 point)

No interspinous ligament widening seen with flexion views.
MRI shows no edema in the interspinous ligament region

Suspected/indeterminate (+2 point)

MRI shows some signal in the region of interspinous ligaments

Disrupted (+3 point)

widening of the interspinous distance
All scores are added to calculate the total score
Treatment Implication
< 4 – Nonoperative management
4 – choose between nonoperative or operative treatment
> 4 points – Surgical management
surgical management indicated
Presentation of Burst Fracture
Burst fracture causes severe pain at the level of the fracture and may radiate to lower limbs too. The physical exam should be performed to document both spinal deformity, that is, angulation of the spine or tenderness of the spine at the level of fracture, as well as, a neurologic exam.
Neurologic exam should include testing of the muscle strength, sensation, and reflexes of the lower extremities, as well as, testing of bowel and bladder sphincter control.
Imaging
Radiographs
Xrays are a basic investigation and it is recommended to view the entire spine as concomitant spine fractures may be present.
AP view shows the widening of pedicles. The lateral view shows retropulsion of bone into the canal and kyphotic deformity
CT scan
CT defines the fracture better. It is done in cases where the x-ray films are inadequate and there is neural deficits.
MRI
It is useful to evaluate spinal cord or thecal sac compression and provides insight into the amount of injury to the cord.
It also highlights cord edema or hemorrhage and injury posterior ligament complex
Treatment of Burst Fractures
Nonoperative
The treatment ambulation with or without orthosis.
Indications of Non-operative Treatment
Mechanically stable patients without neural deficit

Kyphosis<30 degrees
Vertebral height loss < 50%
Neurologically intact and mechanically stable patients
TLICS score is 3 or less
Spinal canal compromise is less than 50 percent.
In these patients, treatment with a brace may lead to an excellent result. Bracing can be used to immobilize stable burst fractures. It can be in the form of Thoracolumbosacral orthoses or extension cast. The usual period of immobilization is for 3 months. After brace is applied, the patient is radiographed to check stability, loss of height or increase in kyphosis [All these indicate underlying posterior ligamentous insufficiency].
If everything is satisfactory, the patient is mobilized with physical therapy.
Frequent x-rays for follow up are done. Occasionally, a fracture that was thought to be stable and treated in a brace may begin to angulate while in the brace. This may necessitate a later decision to perform surgery.
Recent studies have suggested no clear advantage of orthosis but if it provides the patient relief, it should be given.
The retropulsed fragments resorb over time and usually do not cause neurologic deterioration.
Operative Treatment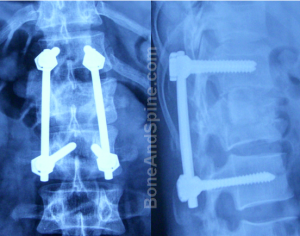 Surgical decompression & spinal stabilization is indicated in the neurologic deficits with radiographic evidence of cord/thecal sac compression.
The treatment is advised to both complete and incomplete spinal cord injuries.
As per TLICS score, it should be 5 or higher for operative treatment.
The spine is approached wither through an anterior and posterior approach.
Early surgery should be done in unstable burst fractures. Instability is suggested by
Neural injury
Spine angulation is more than 20 degrees
Subluxation or dislocation of the spine
More than half of spinal canal is compromised