Thoracolumbar spine injuries refer to injuries of the thoracic and lumbar spine. Thoracic spine has 12 vertebrae from T1 to T12 whereas lumbar vertebrae are five in number are mostly caused by two-wheeler accidents.
Injuries to both these regions are considered together because the pattern of injury and their treatment is similar. Thoracolumbar spine injuries are responsible for 90% of all spinal injuries.
These injuries occur most frequently in male patients between 15 and 30 years of age.
Majority of injuries occur within the region between T11 and L1, commonly referred to as the thoracolumbar junction.
15% to 20% of thoracolumbar fractures and dislocations are associated with a neural deficit.
Most of these injuries are caused by blunt trauma. But there is an increase in the number of injuries due to but gunshot wounds and osteoporosis have become more common.
Normal Mechanics and Mechanism of Injury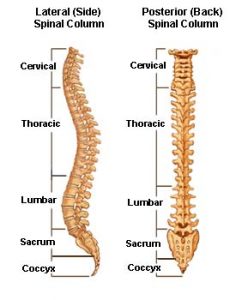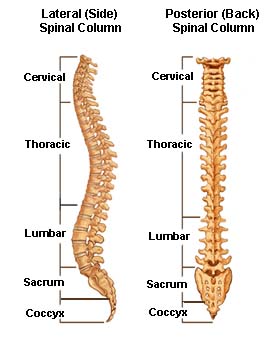 The lumbar spine is much more flexible than the thoracic spine and the thoracolumbar junction represents a biomechanical transition zone between the rigid thoracic spine and flexible lumbar spine. The thoracic spine is rigid by virtue of the presence of the rib cage, thoracic musculature, and facet joint configuration.
Normally the thoracic spine has a normal kyphosis whereas lumbar spine has lordosis normally. The thoracolumbar junction represents the area of change in sagittal alignment between the kyphotic thoracic segment and a lordotic lumbar region.
This is due to the more sagittal orientation of the facet joints in the lumbar spine.
Various forces act on the spine in trauma including axial loading, flexion, extension, shear, and axial rotation. Most often, damage occurs from a combination of these forces. The extent of the fracture depends largely on the energy and speed with which the force is delivered.
Flexion forces a variety of injury patterns. What would be the type of injury would be dictated by the axis of rotation.
If the center of rotation is near the posterior longitudinal ligament, there will be a compressive load applied to the anterior vertebral body and a corresponding distraction force within the posterior elements. Thus the anterior column would fail in compression and posterior column would fail in distraction.
However, when the rotation centers about a point anterior to the spine, as in seat-belt injury, both anterior and posterior elements fail under distraction. This leads to substantial midsubstance ligament failure and/or avulsion fractures.
Extension-type injuries are not as common as flexion injuries. These injuries produce tensile forces in the anterior spine and compressive or tensile forces applied to the posterior elements.
Pure axial loads lead to burst fractures however new evidence suggests that adding some extension load is necessary to produce the characteristic burst fracture.
Types of Fracture Caused by Different Forces
Pure Flexion
It causes a stable wedge compression fracture
Flexion and Rotation
It produces an unstable fracture-dislocation with rupture of the posterior ligament complex, separation of the spinous processes, a slice fracture near the upper border of the lower vertebra, and dislocation of the lower articular processes of the upper vertebra
Extension
It causes rupture of the intervertebral disc and the anterior longitudinal ligament and avulsion of a small bone fragment from the anterior border of the dislocated vertebra—this dislocation almost always reduces spontaneously and is stable in flexion
Vertebral Compression
which causes a fracture of the end plate as the nucleus of the intervertebral disc is forced into the intervertebral body, causing it to burst, with outward displacement of fragments of the body—because the ligaments remain intact, this comminuted fracture is stable
Shearing
It results in a displacement of the whole vertebra and an unstable fracture of the articular processes or pedicles.
Denis Classification of Thoracolumbar Injury
Denis developed a concept of three columns
Anterior Column is constituted by the anterior longitudinal ligament, the anterior half of the vertebral body, and the anterior portion of the annulus fibrosus.
Middle Column is formed by the posterior longitudinal ligament, the posterior half of the vertebral body, and the posterior aspect of the annulus fibrosus.
Posterior Column includes the neural arch, the ligamentum flavum, the facet capsules, and the interspinous ligaments.
Denis observed that one or more of these columns predictably failed in axial compression, axial distraction, or translation from combinations of forces in different planes.
Wedge Compression Fractures
Wedge compression fractures result due to the isolated failure of the anterior column and result from the forward flexion. They rarely are associated with neurological deficit except when multiple adjacent vertebral levels are affected.
Compression fractures are isolated wedge-type fractures of the anterior and middle aspects of the vertebral body. There is no involvement of the posterior vertebral body [Unlike burst fractures]. Whereas most compression fractures are thought to be stable, more severe injuries may be associated with posterior ligamentous complex disruption.
Stable Burst Fractures
Stable burst fractures result when the anterior and middle columns fail because of a compressive load. However, there is no loss of integrity of the posterior elements.
Burst fractures show comminution of the vertebral body with involvement of the posterior cortex. Most of these fractures show some degree of fracture fragment retropulsion. Burst fractures can occur with or without posterior ligamentous complex disruption. Unlike fracture-dislocations, burst fractures do not demonstrate translational deformity.
Unstable Burst fractures
the anterior and middle columns fail in compression and the posterior column can fail in compression, lateral flexion, or rotation. The posterior column is disrupted. There is a tendency for posttraumatic kyphosis and progressive neural symptoms because of instability.
If the anterior and middle columns fail in compression, the posterior column cannot fail in distraction.
Chance Fractures
These are horizontal avulsion injuries of the vertebral bodies caused by flexion around an axis anterior to the anterior longitudinal ligament. The entire vertebra is pulled apart by a strong tensile force.
Though these are thought to be a pure flexion-distraction mechanism, in many cases, a component of vertebral body compression or lateral translation may be noted. There occurs a tensile failure of the posterior ligamentous complex, facet capsules, and intervertebral disc or bone itself. Mostly the injury is a bony and ligamentous failure.
Flexion-Distraction injuries
The flexion axis is posterior to the anterior longitudinal ligament. The anterior column fails in compression, whereas the middle and posterior columns fail in tension. This injury is unstable because the ligamentum flavum, interspinous ligaments, and supraspinous ligaments usually are disrupted.
These are highly unstable injuries. The unique injury feature is a translational deformity, which can occur in the sagittal and/or coronal planes.
Translational injuries
These are characterized by malalignment of the neural canal, which has been totally disrupted. Usually, all three columns have failed in shear. At the affected level, one part of the spinal canal has been displaced in the transverse plane.
Spinal Cord Injury in Thoracolumbar Injuries
Injury can cause compromise of the spinal canal and the most common cause is posterior bony retropulsion from a burst fracture of the vertebral body.
Dislocations and fracture dislocations of vertebrae leading to translation between adjacent vertebrae can also cause a reduction in canal space. Posttraumatic hematoma formation, disc herniations are other causes of compression following injury.
Conus medularis is the most distal aspect of the spinal cord and its location varies between T12 and L3. Spinal canal dimensions relative to spinal cord dimensions are smallest in the T2-T10 region and for this reason, the neurologic injury is more common after trauma in this region.
Complete spinal cord injury is six times more common than incomplete injury with high-energy trauma to the midthoracic spine.
In addition to smaller canal space, another factor which is responsible for susceptibility is the lesser vascular supply to the spinal cord. The region between T2 and T10 derives its proximal blood supply from antegrade vessels in the upper thoracic spine and distally from retrograde flow from the artery of Adamkiewicz.
Artery of Adamkiewicz is the largest anterior segmental medullary artery typically arises from a left posterior intercostal artery, which branches from the aorta, and supplies the lower two-thirds of the spinal cord via the anterior spinal artery
This region is called the circulatory watershed area, which can be variably located between T9 to L2.
Because the spinal canal in the thoracic area is small and the blood supply is less, a severe neurological injury is common in the thoracic spine injury. Due to greater vascularity, greater spinal diameter and lesser vulnerability of cauda equina, injuries the lumbosacral region may cause marked displacement without neurological deficit.
Injury to the cord is of two types
Primary Injury
It is the actual injury that has occurred during the process of trauma and could be a contusion or laceration or transection depending upon the severity of insulting trauma.
Secondary Injury
It occurs due to cellular changes at the injury site, and the effects of ongoing neural compression.
Imaging for Thoracolumbar Spine Injuries
Xrays
Anteroposterior and lateral x-rays are usually obtained if the spine is suspected to have an injury.
The AP view best demonstrates
Any changes in coronal alignment
Any changes in interpedicular distance
Space between spinous processes.
A coronal translational deformity means a high-energy injury and mechanical instability. Normally, interpedicular distance increases as one moves from cranial to caudal along the spinal column, but comparison with adjacent levels provides a more reliable means of assessment.
Abnormal widening of the interpedicular distance signifies lateral displacement of vertebral body fragments, typical of burst fractures.
Abnormally increased distances between adjacent spinous processes suggest posterior ligamentous complex disruption.
Translation greater than 2.5 mm in either sagittal or coronal plane suggests gross instability.
The lateral view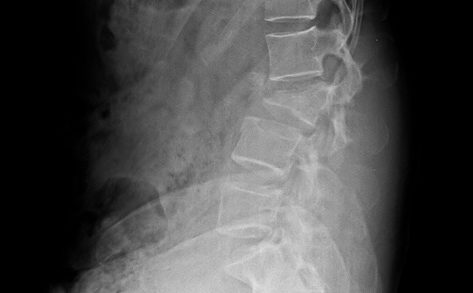 The x-ray in the picture is a lateral view of the spine and shows a fracture of the L3 vertebra. It is more useful in characterizing and detecting injuries and following things should be noted
Sagittal plane malalignment
Any vertebral body height loss
Any break in spinous processes
Computed Tomography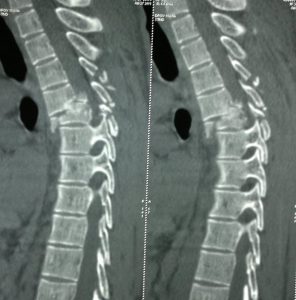 CT with sagittal and coronal reconstructions is becoming an increasingly popular method of initial spine screening.
Fractures of the pedicles, laminae, facets, and transverse processes are best detected and assessed with CT.
Magnetic Resonance Imaging
In acute cases, MRI should be considered only if there is a neurologic deficit despite normal x-rays and CT imaging.
MRI provides better visualization of the spinal cord and soft tissues. MRI can help visualize disc herniations, epidural hematomas, or spinal cord edema that would not be detectable by other imaging modalities.
MRI has become an important tool in assessing the integrity of the posterior longitudinal ligament which in turn would dictate the mode of treatment that would follow.
Treatment of Thoracolumbar Spine Injuries
Initial Care
Spinal shock may be recognized by hypotension [decrease in blood pressure] and bradycardia [decrease in heart rate]. An absent bulbocavernosus reflex in a trauma victim can indicate spinal shock. The prognosis for the potential of neurologic recovery cannot be determined until spinal shock has resolved.
Spinal shock is generally considered to have ended either after 48 hours from injury or once the bulbocavernosus reflex returns.
It is critical to distinguish neurogenic shock from hypovolemic shock. A high index of suspicion should be maintained for spinal injury in polytraumatized patients.
Accurate assessment of the spinal column in a trauma victim requires thorough initial and secondary evaluation. A detailed history and physical examination including neurologic evaluation is an essential step.
A complete assessment is not always possible in an unconscious, obtunded, sedated, or polytraumatized patient.
When spinal cord injury is present, neurologic injury can be scored according to the American Spinal Injury Association scale.
Anterior inspection can reveal abdominal and/or chest ecchymoses. The presence of a seat-belt injury should alert the clinician to the probability of an intra-abdominal injury. The posterior soft tissues should be inspected, and the spine should be palpated by log-rolling the patient. Any irregularity such as ecchymoses, bogginess, crepitus, open wounds, focal sites of tenderness, malalignment, or areas of palpable step-off should be noted.
Broadly speaking, there are two kinds of treatments – nonoperative and operative.
Non-Operative Treatment
Nonoperative treatment consists of bed rest, brace, molded orthosis or casts. It is estimated that only 20 to 30% of spine fractures require surgery and the rest of them can be treated nonoperatively.
Single-column injuries like compression fractures, laminar fracture, and spinous process fractures can be treated with a brace which provides normal spinal alignment and immobilizes it.
Two-column injuries are quite unstable and should be treated by bed rest or hyperextension casting [used rarely].
Operative Treatment
Operative treatment offers immediate spinal stability which allows early sitting by the patient, easy transfer of the patient and earlier rehabilitation.
Moreover, there is a better restoration of spinal alignment and correction of translational deformities which translates into the restoration of canal dimensions more.
Operative treatment includes decompression of the spinal cord/nerve roots, fixation of the injured spine followed and fusion of the spine.
There is controversy in the literature about the timing of surgery for thoracolumbar injuries. There is no conclusive evidence that early surgical decompression and stabilization improves neurological recovery, or that a delay in surgery would cause compromised neurological recovery.
However, it is agreed upon that if the neurological deficit is progressive, an emergency decompression is indicated.
Otherwise, there are two schools of thought. One advocates early decompression and stabilization. The benefits highlighted are lesser complication rate and shorter duration of hospital stay. The other school advocates of delay in surgical procedures to allow resolution of cord edema.
Complications of Thoracolumbar Spine Injuries
Injuries to the thoracolumbar spine can lead to a variety of potential complications.
Nonsurgical Complications
These complications are not related to surgical procedures and in most cases are related to injury pattern.
Neurological Deficits
The neural deficit is quite a significant problem associated with thoracolumbar injuries. While early neural deficits are following injury to the cord, delayed deficits can be due to syrinx formation after thoracolumbar trauma.
There are risks of further neurologic injury during the operative process. It may occur during transfer of the patient, retracting the spinal cord or nerve roots, during instrumentation or due to the postoperative epidural hematoma. In a patient with intact or incomplete neurologic status.
Deformity
Deformity could be either acute or it could be progressive in nature. Increased kyphosis or malalignment has been a problem with nonoperative treatment. Surgery can provide the benefit of alignment but long-term results are similar when pain and function are assessed.
Kyphotic deformities greater than 30 degrees are known to have a risk of progression of pain and should be considered for operative intervention.
Dural Tears
These are particularly associated with vertical lamina and facet fractures and often suggest a likelihood of nerve root entrapment. In cases who are managed operatively, a repair should be attempted. Persistent leaks may require placement of the subarachnoid drain.
If nerve root entrapment is suspected an exploration may be carried.
Visceral Complications
Ileus or decrease in bowel movements can occur in these injuries and should be looked for because a suspicion of ileus warrants aggressive workup and treatment. Thoracolumbar injuries are also associated with increase peptic ulceration.
A nonfunctional bladder following spinal cord injury is prone to infection and should be cared for.
Bleeding & Dural Tears
Spine surgery includes blood loss and may not be tolerated by patients under physiologic stress. Coagulopathy [A defect in the mechanism of blood clotting] can be a major problem in the trauma patient. All patients of spine surgery need to have blood group cross-matching and saving of blood units in case the need arises.
Intraoperative iatrogenic dural tears undoubtedly occur during the surgical care of these patients and these should be treated by repair, if possible.
Infection
Infection is a major concern and if present should be dealt with aggressively.
Implant Failure
Metal breakage, screw pullout, or subsidence may occur during the postoperative period, leading to at least a partial loss of correction.
Pulmonary & Vascular Complications
Pneumothorax, erosion into the great vessels following instrumentation, injury to the iliac vessels, ureter, and sympathetic plexus have been reported
Pseudoarthrosis
Failure of fusion of vertebrae can lead to the formation of pseudoarthrosis or false joint in approximately 4% of cases following surgery for thoracolumbar trauma. Chronic pain and worsening deformity.
Gunshot Injuries Of Thoracolumbar Spine
Gunshot injuries have a different than other spine injuries.
Here a missile passes through the spine rather than the spine being forcibly accelerated or decelerated that results in structural failure.
The extent and type of neurologic deficits from gunshot injuries to the thoracolumbar spine vary.
A complete neurological deficit is more common than incomplete deficits in these injuries. Neural injury occurs due to the blast effect in which the bullet's energy is absorbed and transmitted to the soft tissues.
The fractures associated with low-velocity gunshot wounds are generally stable fractures. Most of these cases have a low infection rate but transintestinal gunshot wounds, where the bullet passes through the colon, intestine, or stomach before passing through the spine carry a significantly higher rate of infection.
High-energy wounds, as caused by a rifle or military assault weapon, require open debridement and stabilization.
In most of these injuries, decompression is rarely indicated.
One exception is when a bullet fragment is found in the spinal canal between the level of T12 and L5 in the presence of a neurologic deficit.
Delayed bullet extraction is rarely indicated for lead toxicity or late neurologic deficits due to the migration of a bullet fragment.
These patients are initially best treated with an orthosis. If the follow-up x-rays show the progression of deformity or signs of instability, decisions to perform a surgery might be considered.
Save