Ulnar dimelia is also called mirror hand syndrome. Ulnar dimelia is a congenital deformity and less than 100 cases have been reported in the literature till today.
In ulnar dimelia, the radial ray, i.e., the radius, scaphoid, trapezium, first metacarpal, and the phalanges of the thumb are absent. The ulna is duplicated, and there are seven or eight fingers in the hand. At the elbow, the olecranon fossae face each other.
The abnormality may be associated with duplication of the feet. Ulnar dimelia is usually not hereditary.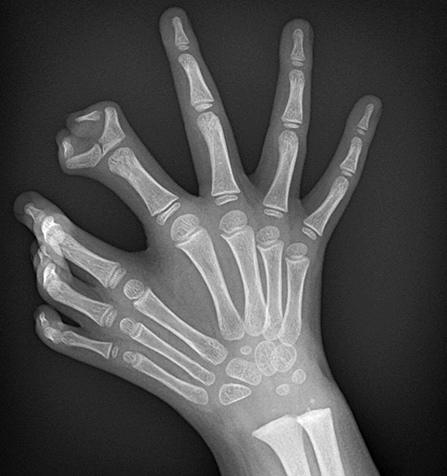 Clinical Picture of Ulnar Dimelia

Involvement is usually unilateral. The multi-digited hand is palmar-flexed at the wrist and radially deviated. The wrist and elbow are broad. Forearm rotation and elbow motion are restricted.
The fingers are held in flexion because of absence or hypoplasia of the extensor digitorum longus muscles.
Intrinsic muscles are weak. Ulnar fingers tend to be more normal and functional than the radial digits. Syndactyly of some of the digits may be present.
Metacarpals diverge, and there is a cleft in the palm.
Imaging
Anteroposterior and lateral views are routine x-rays are sufficient to arrive at a diagnosis of ulnar dimelia. Any associated anomaly is investigated accordingly.
Treatment
The objective of treatment is to improve function and provide a cosmetically more attractive hand. The management involves a series of surgeries.
The surgical correction is delayed till the age of one year and till that time orthosis may be used if required.
The disease requires surgical intervention for the creation of thumb (Pollicization). The most normal preaxial digit is chosen for pollicization. The intervening supernumerary one or two digits are ablated by filleting.
The excess skin is utilized to create a thumb web.
The remaining divergent metacarpals may be osteotomized to close the palmar cleft. A free tendon graft is used to hold the metacarpals together.
Save
Save
Save