The cervical spine is divided into an upper cervical spine which is formed by the atlas (C1), the axis (C2) and adjoining structures. The skull base with its bony and ligamentous elements surrounding the foramen magnum plays an integral part in the maintenance of the normal functional alignment of these two vertebrae.
Technically, however, the skull base is not a part of the upper cervical spine. So the upper cervical spine includes bony and ligamentous structures between the skull base and the cranial side of the C-3 vertebra.
The integrity of the craniocervical junction is of crucial for survival and function. It is here that transition from the brainstem to the spinal cord occurs. These vertebrae are shaped differently from the rest of the cervical spine to protect these vital structures and allow for mobility of the head.
An injury to osseoligamentous components in this region may, therefore, compromise the structural integrity of the entire craniocervical junction and therefore needs to be addressed separately from rest of cervical spine.
Because of complex anatomy and a major role played by ligaments instability, this region is quite vulnerable to injury in high energy trauma. The injuries to these vertebrae and other structures are often associated with neurologic deficits like complete quadriplegia, incomplete injuries, cruciate paralysis or disorders affecting brainstem function.
Fracture-dislocations of the craniocervical junction is the leading cause of death of motor vehicle accidents.
Biomechanics of Upper Cervical Spine Injury
[Read about the anatomy of cervical spine]
[Read anatomy of Atlas]
Read anatomy of Axis]
The three bony components of the upper cervical spine are
These three components form a functional unit. There are five joints in the upper cervical spine which are stabilized by ligamentous check rein and muscular control.
Together these contribute to the movements in the neck substantially. This enables us for a rapid response and large-scale head excursion.
The upper cervical spine is thought to contribute approximately 60% of rotation, 40% of flexion-extension, and 45% of overall neck motion.
In normal conditions, the articulation of the odontoid process of C2 (axis) with the anterior arch of C1 (atlas) allows for 50% of the cervical lateral rotation.
The normal axial plane C1–2 rotational excursion amounts to 80 to 88 degrees from left to right.
The atlanto-occipital joint and C1–2 flexion/extension excursion is similar for both joints at 20 to 30 degrees at each level.
Total left to right lateral bending at the C1–2 segment amounts to 20 degrees.
The alar ligaments play a key role in protecting normal craniocervical motion. At the midposition of the head, these ligaments are slack.
By turning the head in one direction, the alar ligament contralateral to the direction of turning tightens, while the ipsilateral ligament slackens. Together with the tectorial membrane, the alar ligaments limit flexion but they play no role in limiting extension.
The contralateral alar ligament limits lateral bending.
Other ligamentous stabilizers of the craniocervical junction are
Cranial portions of the anterior longitudinal ligament and posterior longitudinal ligament
Joint capsules of the respective articulations.
Atlantooccipital membrane limits extension
Thinner anterior atlantoaxial membrane contributing to a less significant degree.
Other structures

Apical and cruciate ligaments
Accessory atlantoaxial ligaments
Anterior atlantodental ligament
Facet joint capsules
The specific arrangement of ligaments at the craniocervical junction utilizes the atlas as a washer or base for a coupled, multiplanar motion.
The combination of a high degree of motility and relatively delicate ligamentous and bony structures makes the upper cervical spine susceptible to injury from indirect high-energy trauma.
Important points about upper cervical spine injury
The atlas is the most fragile vertebral segment. It will fracture with as little as 1 to 2 mm of deformation and relatively low axial loads.
The two most vulnerable bony structures of the axis are the pars interarticularis and the odontoid waist which can get fractured due to forced hyperextension.
80% of odontoid fractures are caused by flexion injuries. These push the transverse ligament against the odontoid.
Specific Injuries of Upper Cervical Spine
Occipital Condyle Fractures
Occipital condyle fractures are high energy injuries that occur in 3-15% of trauma patients.
Montesano has described three types of classified these fractures into three categories.
Type I Fractures

Stable fractures
Probably result due to an impaction injury.
Occur as comminution of the tip of the occipital condyle.

Type II Fractures

Oblique fractures extending from the condylar surface into the skull base.
Caused by a shear mechanism
Unstable.

Type III Fractures

Least common of the three.
Transverse fracture
Thought to occur as a result of an avulsion
Unstable and may represent the bony component of a craniocervical dissociation.
If a unilateral bony injury to an occipitocervical joint is identified, the contralateral side should be looked for any signs of a bony or ligamentous injury.
Due to the association of occipitocervical dissociation, any occipital condyle fracture should be evaluated for it.
Type I and II fractures are usually treated conservatively with immobilization in a rigid cervical collar for 6-8 weeks.
Type III fractures should be treated with halo-vest immobilization if there is a suspicion of ligamentous instability. If there is evidence of craniovertebral subluxation, some authors advocate immediate occiput-to-C2 fusion.
Occipitocervical Dissociation
Occipitocervical dissociation is an uncommon injury which can be difficult to identify and has a high mortality. The most common mechanism of injury is that of a pedestrian struck by a car. A high incidence is seen in children.
More than 2 mm of translation or distraction in any plane, neurologic injury, or concomitant cerebrovascular trauma should arouse the suspicion.
The injury classification is based on the displacement of the occiput.
Type I injuries

Anterior subluxations
Most common
Type II

Vertical distraction more than 2 mm of the atlanto-occipital joint.
Type III

Posterior dislocations
Rare
Treatment consists of immediate halo vest application with reduction of the subluxation and confirmation by CT scanning. traction is contraindicated.
An occiput-to-C2 fusion is required in most cases to provide long-term stability.
Fracture of C1 Vertebra or Atlas
Atlas fractures can be stable or unstable injuries. This fracture has a very high association with injuries to other areas of the spine.
Almost 43% of all C-1 fractures are found to be associated with a C-2 fracture.
Atlas fractures have been divided into following 5 types.
Transverse process fracture
Posterior arch fracture
Anterior arch fracture
Comminuted or lateral mass fracture
Burst fracture
Transverse Process Fracture
Extraarticular fractures of the transverse process.
Usually mechanically stable
Involvement of the vertebral foramen may imply vertebral artery injury.
Posterior Arch Fracture
Caused by a hyperextension mechanism
Stable fractures.
Anterior Arch Fracture
Three types

Minimally displaced, comminuted, and unstable

Caused by a hyperextension mechanism

Odontoid is thrust against the anterior arch of the atlas.

A blowout fracture of the anterior arch causes the displacement of the odontoid anterior to the lateral masses and is inherently unstable.
Lateral Mass Fracture
Lateral mass fractures are either unilateral intraarticular split type or occur as comminuted fractures. These fractures are caused by lateral flexion or rotational forces. These are unstable fractures.
Burst Fracture
Results from an axial load
Splits the ring of the atlas into several fragments.
C2 or Axis Injuries
Fractures of the axis make up 27% of all cervical spine injuries.
Different types of injuries to axis vertebra are
Odontoid or Dens fractures
Hangman Fracture – Traumatic spondylolisthesis
Extension teardrop fractures
Fractures each of the laminae and spinous processes.
Odontoid Fractures
Odontoid fractures are fractures of dens or odontoid process of axis vertebra or C2, a Dens is a strong, tooth-like process projecting upwards from the body of the axis.
Odontoid fractures account for 10-15% of all cervical fractures.
In young patients, the fractures are as a result of blunt trauma to head, in elderly people these occur by simple fall. Elderly people also have higher morbidity and mortality.
Anderson and D'Alonzo classified Odontoid fractures into 3 types

Type I – tip of dens at the insertion of the alar ligament.
Type II – base

Type III – through the body of C2 a
Odontoid fractures present with neck pain that worsens with the motion of the neck. Other findings may be motor and sensory neural deficit, dysphagia, and feeling of instability of head.
The treatment options are cervical orthosis, halo vest immobilization, surgical fixation, and C1, C2 fusion.
Hangman Fracture or Traumatic Spondylolisthesis of the Axis
This injury refers to the disruption of the neural arch of the axis. It predominately affects the narrow zone of the pars interarticularis and may be associated with more complex soft tissue injuries.
Injuries to this structure are popularly known as hangman's fracture.
The term hangman's fracture originally referred to neck injuries incurred during the hanging of criminals.
The most common cause of hangman's fracture now is a motor vehicle accident with hyperextension of the head on the neck.
The occiput is forced down against the posterior arch of the atlas, which is forced against the pedicles of C2.
The instability of traumatic spondylolisthesis of the axis largely hinges on the integrity of the C2–3 discoligamentous elements. These fractures frequently are associated with neurological deficits
Hangman's fractures are the second most common type of axis injuries after odontoid fractures.
A classification of these injuries has been given [Modified Effendi et al]
Type I Fractures

Generally minimally displaced and stable
Atypical fractures [obliquely displaced] are unstable
Caused by hyperextension and axial loading
Neural arch fails in tension
Minimal ligamentous injury

Type II Fractures

> 3 mm of anterior translation and significant angulation
Caused by hyperextension and axial loading
Neural arch to fails with a predominantly vertical fracture line, followed by significant flexion
Stretching of the posterior annulus
Significant anterior translation and angulation
C2-3 disc may be disrupted by the sudden flexion

Results in an unstable fracture

Type III Fractures

Relatively rare
Complete unilateral or bilateral C2–3 facet dislocation.
Highly unstable
Generally, require surgery
The instability in Hangman fracture is determined by the amount of sagittal C2–3 translation, and angulation between the end plates.
Grade I – Translation < 3.5 mm, angulation < 11 degrees.
Grade II- Translation< 3.5-mm , > 11 degrees of kyphosis.
Grade III – Translation >3.5-mm, <than 11 degrees of kyphosis.
Grade IV – >3.5-mm translation, >11 degrees of angulation.
Grade V- Complete disc disruptions.
Treatment of these fractures is as follows
Type I fractures require 12 weeks of immobilization in a rigid cervical orthosis.
For type II fractures require skull traction through tongs or a halo ring with a slight extension of the neck over a rolled-up towel for 3 to 6 weeks to maintain anatomical reduction. The patient can be mobilized in a halo vest for up to 3-month period. These fractures usually unite with an initial gap in the neural arch and develop a spontaneous anterior fusion at C2-3
Type IIA fractures are a variant of type II fractures that show severe angulation between C2 and C3 with minimal translation.
They usually have a more horizontal than vertical fracture line through the C2 arch. The recommended treatment is the application of a halo vest with slight compression applied under image intensification to achieve and maintain anatomical reduction.
Type III injuries require surgical stabilization by open reduction and internal fixation.
Other Fractures of the Axis Vertebra
Several basic fracture types are recognized and can be divided into distinct categories
Type I
Extension-type teardrop fracture of the inferior anterior end plate
Usually stable.
Type II
Fractures line through the C-2 vertebral body that runs horizontally.
Type III
Burst fracture of C-2 vertebral body.
Type IV
Sagittal cleavage fractures
Usually highly unstable.
Stable fractures can be treated by conservative means but unstable fractures would require operative treatment.
Atlantoaxial Injuries
Atlantoaxial injury is also known as atlantoaxial subluxation and is often radiologically identified increased mobility between the body atlas and the odontoid process of axis.
Though injury as a cause is rare, certain conditions have a higher risk of instability due to increased atlantoaxial joint laxity.
Acute trauma, usually cervical hyperflexion, hyperextension, or a direct axial load on the head or cervical spine causes atlantoaxial injuries.
Certain conditions congenital odontoid anomalies, such as odontoid aplasia, odontoid hypoplasia, and a separate odontoid process or os odontoideum and inflammatory processes predispose an individual to these injuries.
The main ligaments responsible for stability are transverse and alar ligaments. They maintain joint integrity and limit posterior motion of the odontoid process relative to the C1 anterior arch.
An acute injury to this area can cause cord compression and could be fatal.
A person with atlantoaxial injury or atlantoaxial instability may be asymptomatic to begin with.
Neck pain, stiffness, and torticollis are nonspecific symptoms.
Often the condition is not detected till the time signs of cord compression appear.
These patients require definitive surgical decompression and instrumented fusion of C1-C2.
[Read more about Atlantoaxial Injury]
Rupture of Transverse Ligament
This is a pure ligamentous injury of the upper cervical spine and behaves differently from other injuries of C1-C2 region.
Most common cause of this injury blows on the back of the head following a fall.
The ligament may either be avulsed with a bony fragment from the lateral mass on either side or it may rupture in its substance.
The presentation would be like other injuries of the upper cervical spine. The x-rays may reveal anterior subluxation of the ring of C1 on lateral views in flexion.
The instability can be reduced on the extension.
[Read more about flexion and extension views]
Presence of retropharyngeal hematoma suggests an acute injury.
A small fleck of the bone may suggest avulsion of the ligament.
Anterior widening of atlantodens interval of more than 5 mm in lateral view in flexion suggests that transverse ligament is incompetent.
Initial treatment of this injury is by stabilization of the spine using traction.
Definitive treatment involves fusion of C1-C2 vertebrae.
Rotary Subluxation of C1 Vertebra On C2 Vertebra
This is an uncommon injury in adults. Rotary C1-C2 subluxation is more common in children and that behaves differently from the injury in adults.
In adults, the injury is caused by motor vehicle accidents and often may be missed in the initial evaluation of the patient.
Following an injury, the patient complains of torticollis and restricted neck motion.
An open mouth view may reveal wink sign. The wink sign is caused due to overriding of the C1-2 joint on one side and normal configuration on the other side.
This overriding causes the asymmetry of the lateral masses of C1 with respect to the dens and unilateral magnification of a lateral mass of C1.
However, since the atlantoaxial joint permits flexion, extension, rotation, and lateral bending, radiographic asymmetry is produced when the head is tilted laterally or rotated or if a slightly oblique odontoid view is obtained.
CT scan is helpful in defining the injury clearly.
Treatment is either by closed reduction or open.
For closed reduction, after applying a Halo ring, a gentle traction is used to derotate the skull and C1 vertebra. Spinal cord monitoring is done throughout the procedure.
If a stable reduction is obtained, it is confirmed radiologically and Halo vest is applied.
Open reduction is done in cases of late detections or failed closed reduction. Using a posterior incision on the neck, the subluxation is reduced manually. This is followed by C1-C2 fusion. Immobilization in halo vest is recommended for 8-12 weeks in either type of treatment.
Examination of Upper Cervical Injury
The standard protocol of spine injury examination must be followed which includes an assessment of the airway, breathing, and circulation.
The cervical spine should be stabilized immediately in the field and any compromise to the injured spine should be avoided.
High-dose intravenous steroids should be considered in patients with suspected cervical cord injuries to reduce spinal cord swelling.
The findings may be completely normal in asymptomatic patients with a radiographically documented injury.
An MRI may be used to investigate the integrity of the ligamentous complex.
Imaging
X-rays
Lateral cervical spine x-ray is the most important trauma screening study. However, the clearance of the cervical spine is not possible on basis of the single lateral plane study. Moreover, the typical lateral cervical spine x-ray is centered in the mid-neck region and the interpretation of the occipitocervical junction can be impaired.
[Read Canadian C-spine Rule]
To be able to rule out injury following bony structures need to be seen on x-ray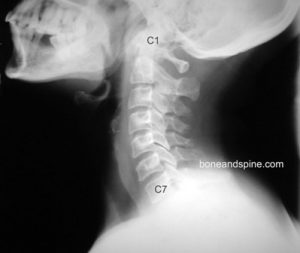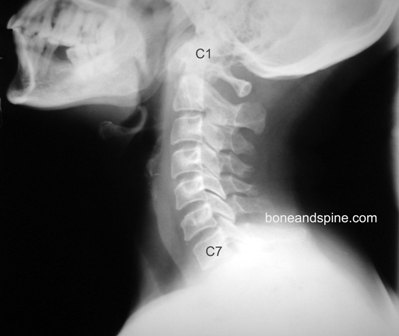 Basion
Opisthion -On the occipital bone, the mid-point on the posterior margin of the foramen magnum
Occipital condyles
Mastoid processes
Tip of the dens
Outline of atlas and axis
These structures should be visualized in a trauma situation and looked for fracture, rotation, and displacement.
The occipitocervical and atlantoaxial joints should be assessed for congruence.
In adults, widening of the prevertebral soft tissue mass in the upper neck is an important warning sign of major underlying trauma.
Various Reference lines can help in identifying the alteration in normal upper cervical spine outline.
Anteroposterior visualization of the upper cervical spine requires either an open-mouth odontoid view. Normally, symmetrical articulating occipital condyles, C-1 lateral masses, and C-2 superior articular processes can be visualized. The odontoid is well centered between the lateral masses of C-1.
In this view, there should be no overhang, translation, or distraction between the lateral masses of C-1 and C-2. The articular surfaces of the occipital condyles to the C-1 superior facets and those of the atlantoaxial articular surfaces should be equidistant from one another.
Other x-rays that can be done to evaluate the upper cervical spine are oblique views, one lower cervical spine anteroposterior x-ray, which usually exposes C4 to T4, and a swimmer's lateral view.
Dynamic Radiographs
Dynamic radiographs of the cervical spine are used to find any ligamentous injury to the region.
Any odontoid asymmetry relative to the lateral masses of the atlas or any diastasis of the upper cervical spine articulations to one another is cause for concern about a ligamentous injury to this region.
Dynamic studies should not be done in patients with suspected occipitocervical dissociation because of their potential to inflict neurologic compromise. Also, flexion-extension radiographs are contraindicated for patients with known acute cervical spine fractures and dislocations.
In all cases, these x-rays should be done in presence of physician
Computed Tomography
Computed tomography is a crucial investigation tool in the assessment of patients with known or suspected cervical spine fractures.
Digital reconstruction helps to gauge of the fracture fragments, articular incongruities, complex fracture patterns and visualizing axial plane fractures can be understood.
A head CT scan can be helpful in detecting subarachnoid craniovertebral junction hematoma, which is frequently associated with atlanto-occipital dissociation, and occipital condyle fractures, which are commonly missed on conventional radiography.
Important points about CT study
Atlantoaxial rotation of more than 50 degrees in either direction as measured by CT scan is suspicious for alar ligament insufficiency. If it is more than 56 degrees, it is diagnostic of disruption.
Similarly, more than 5 degrees of atlantoaxial flexion indicates transverse ligament insufficiency.
Atlantoaxial translation more than 9 mm in adults indicates comprehensive failure of all key craniocervical ligaments.
Complete transverse ligament insufficiency is said to occur if the combined overhang of the C-1 lateral masses relative to the lateral mass walls of C-2 is 7 mm or more. Transverse ligament insufficiency signifies instability.
MRI
Magnetic resonance imaging of the craniovertebral junction is indicated for patients with spinal cord injury, and it can be helpful in assessing upper cervical spine ligament trauma. Subarachnoid and prevertebral hemorrhage can be readily demonstrated on MRI scans.
Nuclear Imaging
Radioisotope-based imaging tests, like technetium-99 bone scan, are rarely required in trauma but can be useful in assessing occult fractures, osteoarthritis affecting the upper cervical spine and in pediatric patients for detection of a nondisplaced growth plate injury.
Treatment
The cervical spine is immobilized at the first contact with the patient and is protected throughout the period of evaluation and management of life-threatening conditions if present.
Definite treatment of the upper cervical injuries depends on the injury and stability of the spine.
For stable injuries immobilization of the cervical spine is done in a halo vest.
Halo vest consists of a halo and vest. Halo is a ring that encircles the head and is fixed to it by means of pins that are inserted in the head. It is also known as "halo ring" or "halo crown,".
Halo ring part of halo vest can be used to put traction on the cervical spine or to provide external support and immobilization. In the latter case, the ring is attached to a brace that encircles patient's torso and the whole assembly is termed as halo vest.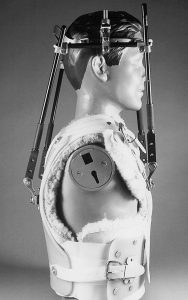 Image Credit: http://radiographics.rsna.org/content/24/1/257/F36.large.jpg
Most of the unstable injuries require fusion of C1, C2 and skull, supported by an implant.
Odontoid fractures can be also be fixed with screws.
The exact level of fusion would be determined by the level of the injury.
The cervical spine can be approached from the front or from back respectively called anterior and posterior approaches.
The posterior approach is more common than anterior being simpler and extendable cranially and caudally.
This approach is most commonly used in procedures such as C-1 laminectomy, posterior fossa decompression, and C-2 neurolysis to procedures aimed at achieving a fusion between the C1–2 segments with or without the inclusion of the occiput.
Anterior approaches are used in
Screw fixation of type II odontoid fracture
Anterior cervical plating and fusion of the C2–3 interspace for a displaced type IIa hangman's fracture
Anterior arthrodesis of the C1–2 facet joints as a salvage
Some of the pathologies of the upper cervical spine are approached through the mouth and the approach is called transoral approach.
Save