The hierarchy of the evidence is explained by the image below. It is often called as evidence pyramid and it is used to illustrate the evolution of the literature.
At the very base of the pyramid, there is the basis of every research – Idea followed by laboratory research. At the top is a meta-analysis.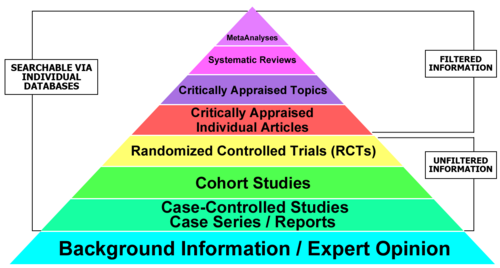 A Meta-analysis will thoroughly examine a number of valid studies on a topic and combine the results using accepted statistical methodology as if they were from one large study.
Next comes systematic reviews which usually focus on a clinical topic and answer a specific question. The studies are reviewed, assessed, and the results summarized according to the predetermined criteria of the review question.
Next in the hierarchy comes randomized controlled clinical trials which are carefully planned projects that study the effect of a therapy on real patients.
Cohort Studies are at the next lower level. A cohort study takes a large population and follow patients over time and compare them with another group that has not been affected by the condition or treatment being studied. Cohort studies are observational.
Case Control Studies are in which patients who already have a specific condition are compared with people who do not. They form the next level of evidence.
Case series and Case reports consist of collections of reports on the treatment of individual patients or a report on a single patient. Because they are reports of cases and use no control groups with which to compare outcomes, they have no statistical validity.
Use of Level of Evidence
The evidence pyramid is meant to serve as a guideline to the hierarchy of evidence available. It is possible that the best level of evidence is not available for a particular topic or issue you are looking for. In such a case, one might consider moving to the next lower level of evidence.
For example, you might want a clear-cut recommendation based on meta-analyses but you may not find any meta-analyses on the query you searched. You might then consider moving to RCT or even lower if RCT too is not able to answer your query.