The term metastasis refers to the spread of the cancer cells from their original or primary site to a different location in the body. It must be stressed that local invasive growth is not considered metastases but local spread or expansion of the tumor.
Thus metastasis is the process by which cancer cells migrate throughout the body. However, the cells of the new secondary tumor are similar to the primary tumor
Cells have to break away from the primary tumor and form tumor at some other place in the body [secondary tumor].
Metastatic cancer and stage 4 cancer or advanced are other names for metastases.
However, confusion may occur because of use of the term "locally advanced" cancer which means cancer that has spread to nearby tissues or lymph nodes but not throughout the body.
A metastatic cancer is always described along with its primary tumor. For example breast cancer with bone metastases.
Sometimes the original or primary tumor remains unrevealed and metastasis is discovered. In such situations, the metastasis is called cancer of unknown primary origin.
The secondary cancer is known by the original one. For example, a lung cancer metastasis into the liver is called metastatic lung cancer and not liver cancer
Metastasis in Greek means displacement. Metastasis is one of three hallmarks of malignant tumors.
Different tumors have different capacity to metastasize.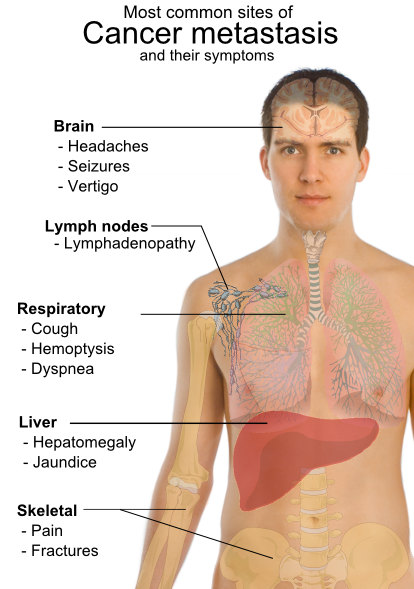 How Does Metastasis Develop?
The cancer cells break away from the main tumor and enter the bloodstream or lymphatic system. Then they can be carried to any part like bones, brain, liver, lymph nodes, and lungs among other tissues.
Primary tumors consist of heterogeneous populations of cells. The cells with genetic alterations are able to surmount physical boundaries, spread, and colonize a distant organ.
Each tissue has a specific milieu where the cancer cells can grow. However, to break and grow at some other place, the cells need to become exposed to environmental stresses, including a lack of oxygen or nutrients, a low pH, and mediators of the inflammatory response. These pressures can select tumor cells with the capability of growth despite these conditions.
The metastatic cells first climb over/around neighboring cells and crawl until they hit a blockage called the basal lamina or basement membrane.
To cross this, the cells make use of digestive enzyme matrix metalloproteases. After crossing basal lamina, they squeeze themselves in between vessel lining cells and float through the circulatory system until they find a suitable location to settle and re-enter the tissues. The cells can then begin to grow in this new location, forming a new tumor.
A malignant cell which has gained the access is not always successful in forming a secondary tumor as it could be killed by the immune system or gets damaged or stuck in blood vessels or lymphatic system. Moreover, the cell may not be able to survive once it leaves its colony or primary tumor.
Routes of Metastasis
There are three primary paths of tumor spread-
Hematogenous or through blood circulation
Lymphatic system
Transcoelomic – Through the body wall into the abdominal and chest cavities
The hematogenous route system is the primary route of spread.
The lymphatic vessels are the main route for spread to the local lymph nodes> From their again, the hematogenous route is taken.
Some cancers tend to spread to certain parts of the body. For example:
Breast cancer tends – bones, liver, lungs, chest wall, and brain.
Lung cancer – bones, liver, and adrenal glands.
Prostate cancer – bones.
Colon cancers tend – liver and lungs
Metastases With Unknown Primary
Approximately, 3% of all cancers are of unknown primary origin. In some of these cases, a primary tumor may appear later.
Symptoms of Metastases
Symptoms of cancer metastasis would depend on the location of the tumor.
Lymph nodes – lymphadenopathy.
Lungs – Cough, blood in sputum and shortness of breath
Liver – Hepatomegaly (enlarged liver), jaundice.
Bones – Bone pain, fracture of affected bones.
Brain – Neurological symptoms such as headaches, seizures, and vertigo.
Although advanced cancer may cause pain, it is often not the first symptom.
Treatment
Treatment of metastasis is more aggressive than treatment of the localized tumor.
A multimodal approach using surgery, chemotherapy, radiation therapy and other feasible options [hormone therapies] is considered.
The choice of treatment generally depends on the type of primary cancer, the size, and location of the metastasis, the patient's age and general health, and the types of treatments used previously.
The treatment options currently available are rarely able to cure metastatic cancer.
Get more stuff on Musculoskeltal Health
Subscribe to our Newsletter and get latest publications on Musculoskeletal Health your email inbox.
Thank you for subscribing.