The swimmer's view is an x-ray of the cervicothoracic junction that helps demonstrate the upper thoracic and the seventh cervical vertebrae. The swimmer's view is an important view for evaluating the relationship of the cervicothoracic junction and upper thoracic vertebrae C7 through T3.
Swimmer's view x-ray is a difficult x-ray. Its positioning is difficult and requires high dosing. In the case of trauma patients, this x-ray becomes even more difficult.
Due to this and better imaging with CT and MRI, swimmer's view is not frequently done nowadays.
Method of Swimmer's View Xray
The basic purpose of swimmer's view is to clear the humeral head out of cervicothoracic junction visualization. These techniques do this differently and are most commonly used for this x-ray.
Both Arms Up Method
The patient lies supine and arms are brought forward either by crossing in front of them or on to a bar attached to bucky.
One Arm Up, One Down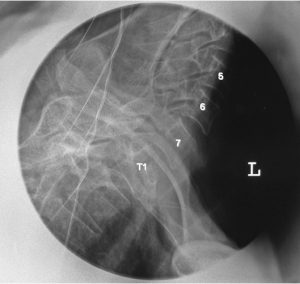 In this technique, one arm is raised up like previous technique and other is pulled down.
A sponge under one shoulder can help to separate the humeral heads.
In both the above methods, the patient lies supine on her back and beam is directed horizontally.
Supine Lateral
The patient lies on the side and the arms are rolled up and posteriorly. The technique also allows visualization of thoracic spine as well.
As noted before, swimmer's view x-ray is a difficult x-ray for both the radiographers and patient because of patient positioning. Many patients do not have enough flexibility in the shoulders so as to bring the arms in desired positions. In case of trauma patients, pulling or adjusting the arms may not be desirable for fear of worsening the cervical spine injury.
Older patients may not have enough flexibility to position and wait for exposure.
A CT or MRI is a better tool for examining these critical areas and should be employed if available, especially in critical settings.
Images Credit:
Wikifoundry [Links below]
http://image.wikifoundry.com/image/1/4SI4Nz-jxxEQuGkagTi8nQ190918/GW1203H501
http://image.wikifoundry.com/image/1/q8E6-JXWmJpFJy5Um1NtJg211489/GW1121H533
References
Wikiradiography- The Swimmers Technique