Last Updated on May 7, 2020
The term whiplash injury is used for a neck injury caused by a sudden movement of the head forwards, backwards or sideways. It is a term that describes mechanism of injury as well as the injury per se. It covers both ligament injuries [sprain] and other muscles, tendons, and soft tissue injuries [strain].
The injury is also called Whiplash Associated Disorders.
Traffic accidents esp the rear-end vehicle collisions. are the most common cause of an acute whiplash injury. The injury occurs because of sudden or excessive neck movements like hyperextension, hyperflexion, or rotation.
The injury may also be caused by sports injuries, falls or assaults.
Most of the injuries happen in C5 and C6 cervical vertebrae.
Cervical acceleration-deceleration injury is the term used for injury due to motor vehicle accidents.
In spite of the history of the severity of accidents that precedes, the injury could be missed because the presentation is often not in proportion to the severity of the crash.
Cervical sprain and strain can also be associated with traumatic brain injury.
The neck is the most common site of injury, though the whiplash injury may also cause injury to the thoracic spine.
Causes of Whiplash Injury
Rear end collision in a motor vehicle
Roller coaster rides [without neck restraint] at an amusement park
Skiing accidents
Airplane travel [sudden jerks]
Direct injury to head or neck
Violent shaking of the neck
Sports injury
Risk Factors
Using a seat belt with shoulder restraint [than with no restraint]
Poor posture
Poorly-fitted head restraints.
Whiplash injury is more common in women than in men.
Mechanism of Whiplash Injury
Whiplash injury is caused by overload injury resulting in elongation or tear of muscles or ligaments, often resulting in swelling, bleeding of tissues, and inflammation.
The classic whiplash injury is described in the case where the patient's vehicle has been struck from behind.
The vehicle suddenly accelerates forward immediately followed by the trunk and shoulders. This leads in forced neck extension as the head is still static. The relative movement of the cervical vertebrae causes S-curve formation which precedes the extension.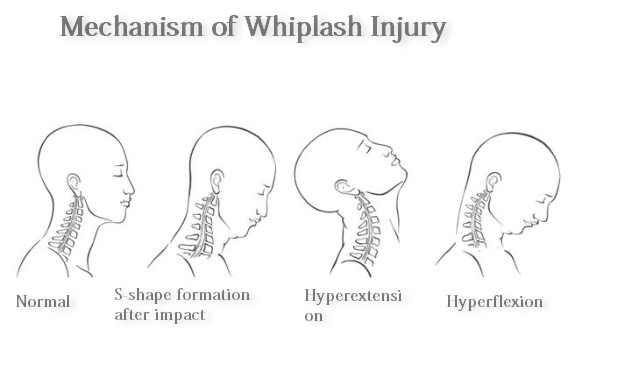 Following this, the head swiftly moves forward and the neck into flexion.
There could be a different set of injuries depending on different factors
A frontal impact will cause lower cervical spine region injury [c2-c7]
If head is in slight rotation, the head might be forced into the further rotation and injure facet joints processes, intervertebral discs, and the alar ligaments.
An impact from left side stresses both sternocleidomastoid muscles and splenius capitis muscle of the side opposite to the impact.
An impact when head is turned can lead to injury in multiple planes.
Another mechanism of whiplash injury is a rapid deceleration of existing neck motion as it occurs when the vehicle strikes into the back of another vehicle.
The rapid deceleration causes sudden flexion of the neck followed by hyperextension.
The head is thrown forward causing flexion of the spine. Hyperextension may occur in the subsequent recoil.
Classification of Whiplash Injuries
Grade 0

No complaints or physical signs.

Grade 1

Neck complaints but no physical signs.

Grade 2

Neck complaints and musculoskeletal signs.

Grade 3

Neck complaints and neurological signs.

Grade 4

Neck complaints and fracture/dislocation

Mostly C2 or C6 or C7 levels
Presentation of Whiplash Injuries
The symptoms may include
Pain in neck
Pain in jaw
Stiffness of neck
Tightness in paraspinal muscles
Pain in shoulder and interscapular area
Tender neck
Headache
Dizziness
Vertigo
The blurring of vision
Numbness/ weakness/paraesthesia in the upper limb
Sphincter disturbance
Difficulty in swallowing.
Insomnia
Anxiety or depression.
The examination includes evaluation of spine and head injury if any.
Spinal cord injury should be excluded. If present, the level of spinal injury should be determined.
Risk factors for serious injury are
History of neck surgery
Presence of osteoporosis
Risk factors for osteoporosis

Premature menopause
Patient on systemic steroids
Persistent radicular pain after cervical trauma requires further investigation to rule out nerve root involvement.
Differential Diagnosis
Vertebral fractures
Cervical disc herniation
Lab Studies
Laboratory investigations are mostly normal.
Imaging
X-rays
Anteroposterior, lateral and anteroposterior odontoid peg views are standard x-ray projections done for whiplash injury.
Guidelines for selecting a patient for radiography are as per Canadian C-spine rule.
CT Scanning
CT is superior to plain radiography and is indicated immediately when
The patient had a Glasgow coma scale <13
The patient has been intubated or is being scanned for multi-region trauma.
CT is also done in cases where x-rays are suspicious or abnormal or are normal in the presence of strong clinical suspicion.
CT is also done in cases of children<10 years as odontoid view x-ray is not done in these cases.
MRI
MRI is better for detecting soft tissue injuries such as an intervertebral disc, posterior longitudinal ligament, and interspinous ligament injury etc.
MRI should be done in patients with indicated for patients with neurological even in the presence of normal radiographs.
MRI can distinguish hematoma from edema, which can have prognostic importance.
CT Myelography
CT myelo is not routinely done. This is indicated if MRI is not available or contraindicated or the patient is not able to tolerate MRI.
Treatment of Whiplash Injuries
Often, mild injuries have a self-limiting course.
The goal of the treatment is the restoration of the function by increasing the strength, endurance, and flexibility.
The acute management of the injury is done by
Drugs for pain
Neck support
Local heat or cold therapy
Traction
Ultrasound massage
Exercises
Most cases resolve in a few days. But other neck strains may take weeks or longer to heal.
The rest should not be extended unnecessarily as early movement is more effective in reducing pain.
The neck exercises include
Strength and endurance exercises
Stretching exercises
Exercises for deep neck muscle strengthening
Surgical treatment may be required in serious injuries leading
Cervical radiculopathy
Cervical spine instability
Kyphotic deformity
Percutaneous radiofrequency neurotomy provides good results in cases of pain originating from facet joint.
Prognosis
The consequences of whiplash range from mild pain for a few days to severe disability.
Following factors may indicate poorer prognosis
Prolonged inactivity
Non-compliant with the exercise regime
Psychological issues like depression
References
Siegmund GP, Winkelstein BA, Ivancic PC, Svensson MY, Vasavada A. The anatomy and biomechanics of acute and chronic whiplash injury. Traffic Inj Prev. 2009 Apr. 10 (2):101-12.
Kumar S, Ferrari R, Narayan Y. Looking away from whiplash: effect of head rotation in rear impacts. Spine. 2005 Apr 1. 30(7):760-8.
Kasch H, Stengaard-Pedersen K, Arendt-Nielsen L, et al. Headache, neck pain, and neck mobility after acute whiplash injury: a prospective study. Spine. 2001 Jun 1. 26(11):1246-51.
Giannoudis PV, Mehta SS, Tsiridis E. Incidence and outcome of whiplash injury after multiple trauma. Spine. 2007 Apr 1. 32(7):776-81.
Soderlund A, Lindberg P. Long-term functional and psychological problems in whiplash-associated disorders. Int J Rehabil Res. 1999 Jun. 22(2):77-84
Hendriks EJ, Scholten-Peeters GG, van der Windt DA, et al. Prognostic factors for poor recovery in acute whiplash patients. Pain. 2005 Apr. 114(3):408-16.
Save