Distal clavicle osteolysis refers to the process causing resorption of subchondral bone in the distal clavicle [lateral calvicle], often caused by repetitive strain injury and microfracture, and presenting as pain in the acromioclavicular joint.
Distal clavicle osteolysis was first described in 1936.
Distal clavicle osteolysis is believed to be an underreported and underdiagnosed condition. More than 100 cases have been reported in the literature.
Due to growing popularity of weightlifting, the condition is on the rise in total and in women too.
Pathophysiology of Distal Clavicle Osteolysis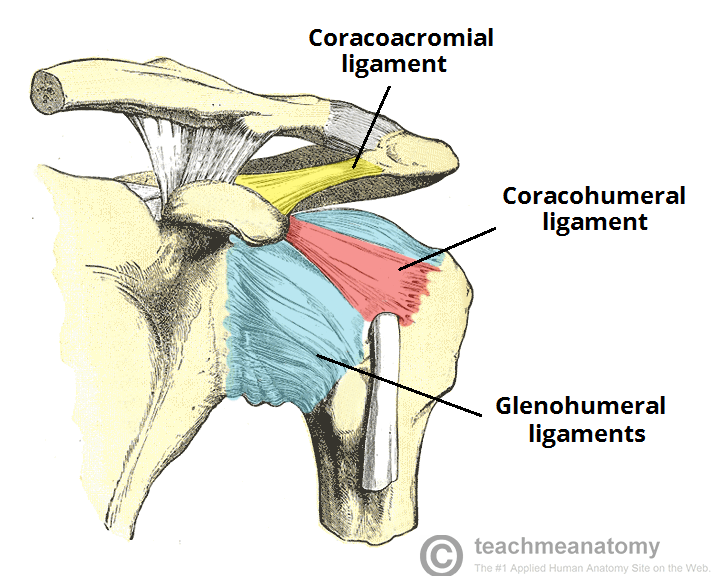 The acromioclavicular joint is a diarthrodial joint between the distal clavicle and acromion process of the scapula. The clavicle is convex and acromion has a flat surface. Both the surfaces are covered by hyaline cartilage.
A fibrocartilage disc is present between the two surfaces.
The joint is stabilized by Its capsule reinforced by the superior and inferior acromioclavicular ligaments and the coracoclavicular ligaments.
Acromioclavicular joints provide horizontal stability and coracoclavicular ligaments provide vertical stability.
There is a fibrocartilaginous disc present between the convex distal clavicle and the flat acromion, both of which are covered by hyaline cartilage.
Distal clavicle osteolysis leads to disruption of articular cartilage, subchondral cyst formation, and increased osteoclastic activity.
There are different theories but repetitive microtrauma caused subchondral stress fractures and remodeling theory is currently the most widely accepted one
Clinical Presentation
Pain of over acromioclavicular joint area exacerbated by athletic or work activity.
Tenderness over the affected AC joint
Cross-chest maneuvers elicit pain
Range of motion of the glenohumeral joint is full
Imaging
X-rays
X-rays are often normal in the early stages. Anteroposterior view and 10-15° cephalic tilt view are done.
In later stages, the following are noted in distal clavicle
Loss of subchondral bone detail
Microcystic changes in the subchondral area,
Widening of the acromioclavicular joint may be seen
Lytic changes are absent in acromion. Involvement of acromion on x-ray should raise the suspicion of acromioclavicular pathologies.
The differentiation is important acromioclavicular arthritis tends to do worse than distal clavicle osteolysis.
Bone scanning
If the plain x-ray is normal, technetium-labeled bone scanning may help to confirm the diagnosis of distal clavicle osteolysis.
Increased radiotracer uptake is noted in the distal clavicle.
MRI
MRI shows bone marrow edema and increases signal intensity in T2 weighted images. MRI is also useful to rule out other shoulder pathologies.
Local Injection
A local anesthetic with injection into the acromioclavicular joint may help achieve a more accurate diagnosis.
Treatment of Distal Clavicle Osteolysis
Non-operative Treatment
The condition is self-limiting and typically resolves within 1-2 years with activity modification. It is the first line of treatment.
Conservative management consists
Rest and avoidance of symptomatic activity.
Modification of activity
Avoiding aggravating weight-lifting exercises or modify the technique
Nonsteroidal anti-inflammatory drugs (NSAIDs
Corticosteroid injections

Temporary relief
Accuracy increases with ultrasound
Surgical Treatment
It is indicated in patients in whom conservative treatment fails or who refuse to limit their activities.
The only contraindications noted for surgical treatment is when the patient is not able to tolerate the surgery.
The surgical treatment involves Open or arthroscopic distal clavicle excision. It could be an open surgery or arthroscopic.
Arthroscopic resection has the advantage of allowing evaluation of the glenohumeral joint and early postoperative mobilization too leading to quicker recovery and returns to activity.
Open procedures require meticulous repair of deltoid-trapezial fascia and thus mobilization in postoperative period needs to be deferred.
About 4 mm of resection has been found effective and sufficient. Excessive bony resection should be avoided so as not to violate the posterior superior AC joint capsule, in that this can lead to horizontal instability of the AC joint.
After the surgery patient is put on a passive range of motion to prevent loss of shoulder motion. In this context arthroscopic treatment has an edge because the patient can be put on a range of motion exercises early.
Complications
Damage to the underlying neurovascular structures.
Infection
Frozen Shoulder
Horizontal instability of the clavicle [in the aggressive resection.]
Prognosis
Although the outcome of conservative treatment is good, many patients are unable to limit their activities.
Arthroscopic resection had a 90% success rate, with the direct approach resulting in quicker returns to work and sport.
References
Schwarzkopf R, Ishak C, Elman M, Gelber J, Strauss DN, Jazrawi LM. Distal clavicular osteolysis: a review of the literature. Bull NYU Hosp Jt Dis. 2008. 66(2):94-101.
Roedl JB, Nevalainen M, Gonzalez FM, Dodson CC, Morrison WB, Zoga AC. Frequency, imaging findings, risk factors, and long-term sequelae of distal clavicular osteolysis in young patients. Skeletal Radiol. 2015 May. 44 (5):659-66.
Kassarjian A, Llopis E, Palmer WE. Distal clavicular osteolysis: MR evidence for subchondral fracture. Skeletal Radiol. 2007 Jan. 36(1):17-22.
Auge WK, Fischer RA. Arthroscopic distal clavicle resection for isolated atraumatic osteolysis in weightlifters. Am J Sports Med. 1998 Mar-Apr. 26(2):189-92.