An intrathecal pain pump is a surgically implanted drug delivery system that sends pain medication directly to the spinal cord. This unique treatment option may be recommended to selected patients of chronic pain who have not experienced adequate pain relief from conservative approaches.
The intrathecal pain pump is a small battery-powered, programmable pump which is implanted under the subcutaneous tissue of the abdomen and connected to a small catheter to deliver small doses of medication directly to the spinal fluid. The pump needs to be refilled at a regular interval usually every 1 to 3 months.
The first clinical use of an implantable intrathecal drug delivery device was in 1981 in chronic pain of malignancy.
Though the efficacy of intrathecal pain pump has been repeatedly demonstrated, the adequate evidence is still missing and there is a lack of randomized studies.
There is also a concern of tolerance and drug addiction which is feared to occur with their use.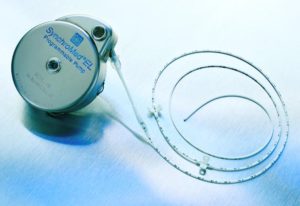 Therefore it cannot be used in all the patients of chronic pain. It is used in patients with advanced malignancies and selected patients with chronic non-malignant pain, especially where the oral opioids are required in larger doses which might risk the side-effects.
Prerequisites for use of intrathecal pain pump are
Failure of conservative therapies
Surgery is not considered or cannot be done
No active or untreated addiction
Medical contraindications like coagulopathies, infections
Successful trial s been completed.
Trial of Intrathecal Pumps
No intrathecal device should be implanted without first performing a trial [The trial is of the drug and the route for confirming the efficacy and not the implant itself]
The trial involves the infusion of the drug through an indwelling intrathecal or epidural catheter.
The drugs used are hydromorphone of 0.3mg/d or morphine sulfate 0.2 mg/d and the trial is done for 2-3 days.
A successful trial means a 50% improvement in pain score and improvement in function.
Intrathecal Pain Pump Placement
Under proper anesthesia and surgical precautions, a small incision is made posterior midline,  approximately 2-3 inches from the skin to the supraspinous fascia at approximately L2-3 or 3-4. The catheter is inserted into the intrathecal space. Another incision is made in the abdomen to place the pump between the skin and muscle in the right or left lower quadrant of the abdomen at or about the umbilical level.
The positioning of the catheter is checked with fluoroscopy.
After the procedure, the pump is programmed to deliver the prescribed amount of medication.
The patient is monitored after the procedure and discharged with aftercare instructions. These involve, amongst other to avoid strenuous, physical activity for 6-8 to eight weeks.
Driving and housework are not to be done for two to four weeks.
Medications
Opioids are mainly used drugs in the pain pumps. Other drugs include local anesthetics, adrenergic agonists, and other agents
The first line of treatment includes morphine or hydromorphone.
Morphine [15 mg/d], Hydromophone [10 mg/d], Bupivacaine [2-30 mg/d], Clonidine [10-1000 mg/d] are the usual doses used.
Complications of Intrathecal Pain Pump
Bleeding
Intra-operative bleeding

Ineffective local hemostasis
Overlooked ongoing anticoagulant therapy
spinal tumors which can be sources of bleeding during surgery.

Epidural hematoma

Due to persistent bleeding
Rapidly increasing back pain
Progresses to neurological deficits

Post-operative superficial bleeding
Seroma or hematoma can appear at the pump site
Catheter Issues
Neurologic injury
During catheter placement
Inflammation of the catheter tip
Risk increases in presence of canal stenosis, arachnoiditis, or other intraspinal abnormalities
Inflammatory mass
Expanding sterile mass or granuloma at the tip of the catheter.
Presents

as new or increasing pain that worsens despite escalating doses of intrathecal opioids
New neurologic symptoms arise.

MRI confirms mass
Possibly due to the use of high concentrations of opioid, morphine specifically
If no neurologic deficits

Keep medication with preservative-free saline at a minimum pump rate
Serial MRIs to observe the regression
Restart a non-offending opioid when resolved

If neurologic deficits are present

Spinal cord decompression, mass removal, and catheter removal
Other complications
Infection
CSF leaks
Seroma formation around the pump pocket
Endocrinal change

Hypogonadotropic Hypogonadism.
Central hypocortisolism.
Decreased libido
Get more on Musculoskeletal Health

in your inbox
Subscribe to our Newsletter and get updates delivered to your email inbox.
Thank you for subscribing.
Something went wrong.