Intradiscal electrothermal therapy (IDET) or intradiscal electrothermal annuloplasty (IDEA) is a minimally invasive form of annuloplasty (repair of annulus fibrosus) that includes use of heat to seal any ruptures in the disc wall and probably burn nerve endings making the area less sensitive to pain.
It is a relatively new procedure.
Mechanism of Action
Intradiscal electrothermal therapy is thought to decrease discogenic pain by thermal modification of collagen fibers and destruction of disc pain receptors. When heat is applied to annulus, it causes damage to hydrogen bonds of the collagen fibers which results in collagen contraction.
With intradiscal electrothermal therapy, the temperature within the disc may reach as much as 650°C and it may lead to collagen contraction by as much as 35% from its original size.
This contraction may enhance the structural integrity of degenerated disc repair the annular tears . The pain relief may take several months to reach its full extent. Intradiscal electrothermal therapy might also cause destruction of sensitized pain receptors in the annular wall.
Indications and Patient Selection of Intradiscal Electrothermal Therapy
Intradiscal electrothermal annuloplasty should be considered in patients who have had discogenic low back pain for more than 6 months and whose condition has not responded to conservative treatment. An ideal candidate for this procedure would have single affected disc as determined by MRI and discography.
Patients with severe radicular symptoms due to a herniated disc or patients with severe spinal stenosis are not good candidates. Patients with the predominant complaint of axial pain with or without some non-radiating limp pain are selected.
A severely collapsed disc (>50% of disc height lost) or severely disrupted disc morphology ( On discography) may not respond well to intradiscal electrothermal therapy because of technical difficulties in catheter placement and the procedure's questionable effect this mush disc injury.
Patients older than 55 years may have lower success rates because of poorer healing.
Cigarette smoking may hinders adequate recovery following the procedure.
Following constitutes an ideal candidate for intradiscal electrothermal therapy
Preserved disc height (>50%)
Contained disc herniation
Axial pain greater than leg pain for 3-6 months
Posterior annular deficit
Motivated patient
No facet disease
Age <55 years
Failure to improve after 6 weeks of conservative treatment
Discogenic pain confirmed by provocation discography
Procedure of Intradiscal Electrothermal Therapy
The disc is approached in a similar manner to discography.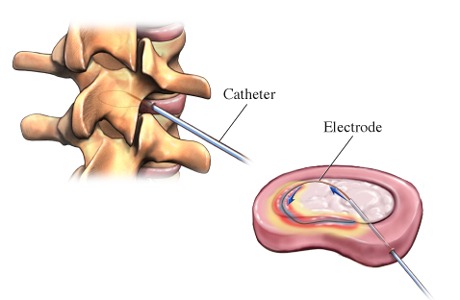 A 17G introducer needle is inserted into the disc, under fluoroscopy.
Position of the needle in the nuclear cavity is established by anteroposterior and lateral fluoroscopic views
Thermal catheter is inserted through the needle.
Once positioned the catheter is heated from 37°C to 65 °C.
Temperature is kept at 65° for 1 minute
Increase temperature by 1°C every 30 seconds until it is between 80° and 90°C.
The actual temperature of the annular tissue is as much as 15°C lower than the temperature of the catheter tip.
Patient may feel mild pain during this time. Each heating cycle takes about 20 minutes. More than one heating cycle per disc may be required.
After the procedure patient is shifted to the recovery room.
After Care
Recovery is gradual. During the first 7 days after the procedure, patients might experience a significant increase in pain. Significant pain relief may take 8-12 weeks.
The peak is reached after 4 months after the procedure.
Physical activity is limited after the procedure and any kind of heavy physical work should not be done during the first 4 months after the procedure.
Immediately following the procedure the patient should do only minimal sitting or standing during the first few days after treatment, and a corset should be worn during the first 6 weeks. Activity should be gradually increased. Athletic activities should not be resumed brfore 6 months.
Complications of Intradiscal Electrothermal Therapy
Per se complications following intradiscal electrothermal therapy are infrequent.
Nerve root injuries have been reported. Other sparingly reported complications are catheter breakage, superficial skin burn, bladder dysfunction was reported
Effectiveness of Intradiscal Electrothermal Therapy
Literature has reported reported improvement in symptoms following IDET. It appears to be effective in 60-70% of patients with chronic discogenic low back pain. Physical function and quality of life outcomes in highly selected patients have improved.
Being minimally invasive and a low complication rate it has a distinct advantage over the surgery. Further studies are needed for validation but the procedure appears promising.