Last Updated on October 28, 2023
Terry Thomas sign is an important sign on wrist x-rays that indicate a type of wrist injury.
It refers to an increase in the scapholunate space on an AP radiograph of the wrist or coronal CT scan.
The increased distance indicates scapholunate dissociation and often can be associated with rotary subluxation of the scaphoid.
The sign is named after well-known British comic Terry Thomas.
Terry Thomas (1911 – 1990) had a large gap between his two front teeth [frontal dental diastema] and this made his smile very peculiar.
Here is Terry Thomas with his typical smile.
And here is the increased space between lunate and scaphoid on wrist x-ray.
Just to make things more clear, for comparison, here is a normal x-ray of the wrist. Note that there is a minimum gap between the two bones normally.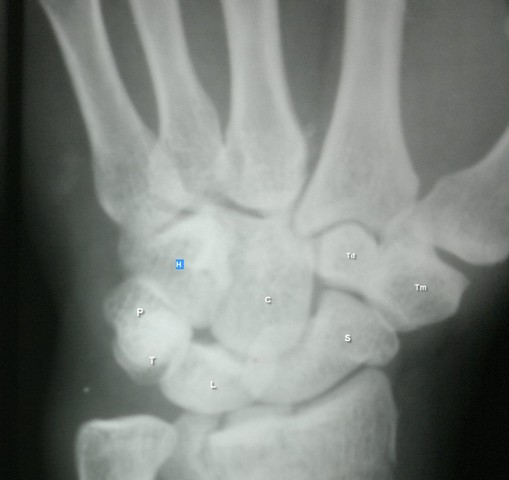 Scapholunate dissociation is a wrist injury that occurs due to falling on an outstretched hand or FOOSH injury.
The rupture of the scapholunate ligament leads to separation of the lunate and scaphoid bones. The injury also causes rotation of scaphoid bone.
How much Gap is Significant?
There is no consensus on this value. But most people agree that a gap of 3-4 mm is diagnostic in most cases. In fact, a gap of more than 3mm is pathognomonic for scapholunate dissociation by some authors.
or newer radiology students who do not know who Terry-Thomas was, this finding might also be known as the David Letterman sign.
David Letterman Sign or Madonna sign?
The sign also called as known as the David Letterman sign. Some people call it Madonna sign too.
This is because both of these persons, David Letterman and Madonna, also have dental frontal diastema.
But the gap is not as big and classic as Terry.