Bertolotti syndrome is the presence of a variation of the fifth lumbar vertebra with a large transverse process, either articulated or fused with the sacral basis or iliac crest, producing a chronic, persistent lower back pain. It may also cause isolated L4/5 disc disease.
Bertolotti described a unilateral and bilateral enlargement of the transverse process of the most caudal lumbar vertebra in 1917, which may articulate or fuse with the sacrum or ilium.
The vertebra with an anomalous enlargement of the transverse processes is the most caudal lumbar vertebra and is are also called lumbosacral transitional vertebra.
Lumbosacral transitional vertebrae are congenital spinal anomalies with a spectrum from partial/complete L5 sacralization to partial/complete S1 lumbarization.
[Sacralization is a complete fusion of L5 vertebra to the sacrum leading to 4 lumbar vertebrae exist. Lumbarization is a condition where S1 separates entirely from the sacrum leading to 6 lumbar vertebrae.]
Most people with this transitional vertebra do not experience any symptoms.
Bertolotti syndrome may cause back pain. Though it is rare, it should be suspected in patients with refractory low back pain.
It is an important cause of low back pain in young patients and affects 4-8% of the population.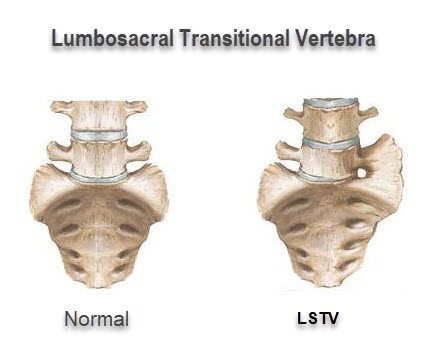 Lumbosacral Transitional Vertebra
Lumbosacral transitional vertebrae have been divided into 4 types [Castellvi]
Type I
Unilateral (Ia) or bilateral (Ib) dysplastic transverse processes, measuring at least 19 mm in width (craniocaudad).
Type II
Incomplete unilateral (IIa) or bilateral (IIb) lumbarization/sacralization with an enlarged transverse process that has a diarthrodial joint between itself and the sacrum.
Type III
LSTV describes unilateral (IIIa) or bilateral (IIIb) lumbarization/sacralization with a complete bony fusion of the transverse process(es) to the sacrum.
Type IV
involves a unilateral type II transition with a type III on the contralateral side.
Thus Bertolotti's syndrome represents part of the lumbosacral transitional vertebrae spectrum as a cause of back pain. It is being discussed separately because of its historical importance and common usage and recognition among clinicians.
Lumboscaral Transitional Vertebra is discussed in detail separately.
Diagnosis of Bertolotti Syndrome
The transitional vertebra as a cause of back pain should be suspected in refractory back pain though it is an uncommon cause. Many patients with Bertolotti's syndrome present incidentally during the routine radiographic examination. These patients may not have symptoms or signs of this condition.
The physical examination would be normal in most of the cases except for mild to moderate tenderness at the lower lumbar region, particularly around the pseudo-articulation. The range of motion of the spine may be limited during periods of acute exacerbation and may be normal when they are not in pain.
Occasionally, there may be radicular signs.
Diagnosis of Bertolotti's syndrome is based on radiological findings and their correlation with the clinical presentation.
AP X-rays of lumbar–sacral spine show the presence of an enlarged transverse process of the L5 vertebrae that either might articulate with the sacrum or the ilium bone. But the x-rays may be inadequate in cases of milder hemisacralization.
Scoliosis may also be present.
As most of the patients have facet joint as pain source, SPECT/CT or bone scan may be able to recognize the culprit L5-S1 facet on the ipsilateral side. The contralateral facet may be strained owing to abnormal biomechanics due to scoliosis.
Treatment of Bertolotti Syndrome
Most of the patients would respond to conservative treatment in form of drugs, physical therapy, injections, and other local modalities.
Few cases would require surgery.
There is no single approach and is important to establish the source of pain to effectively tackle the situation.
Multiple interventions may be required to achieve and maintain adequate pain relief. In some patients, pain relief may not be attained even after maximum possible efforts.
Facet joint can pain be treated with local steroid injections in the facet joint under image intensifier.
Articulation between the transverse process and the ilium is a pain-generating site in some patients. Steroid injection may help.
Excision of the neoarticulation, and posterolateral fusion of the transitional segment has also been suggested.
For pain due to disc degeneration commonly involved is L4-5 level, rami communicantes block has been suggested [ It is responsible for pain transmission]
Radiofrequency lesioning of the grey ramus at vertebral levels adjacent to the painful disc or the white ramus at L1 and L2 vertebral level [involved in pain transmission] can be a good technique to provide palliation.
Sacroiliitis is also an important cause of low back pain in patients with Bortolotti syndrome. This sacroiliitis probably originates due to abnormal pelvic tilt as a result of scoliosis.
This usually does not respond to steroid injection and therefore, a radiofrequency denervation of the ipsilateral SI joint is more helpful.
References
Tae HS, Kim SD, Park JY, Kim SH, Lim DJ, Suh JK. Gray ramus communicans nerve block: a useful therapeutic adjuvant for painful osteoporotic vertebral compression fracture. J Korean Neurosurg Soc. 2003;34:505–508.
Aihara T, Takahashi K, Ogasawara A, Itadera E, Ono Y, Moriya H. Intervertebral disc degeneration associated with lumbosacral transitional vertebrae: a clinical and anatomical study. J Bone Joint Surg Br. 2005;87:687–691.
Santavirta S, Tallroth K, Ylinen P, Suoranta H. Surgical treatment of Bertolotti's syndrome. Follow-up of 16 patients. Arch Orthop Trauma Surg. 1993;112:82–87.
Nakamura SI, Takahashi K, Takahashi Y, Yamagata M, Moriya H. The afferent pathways of discogenic low-back pain. Evaluation of L2 spinal nerve infiltration. J Bone Joint Surg Br. 1996;78:606–612.