Last Updated on October 27, 2023
Cervical spine surgery is used for the treatment of traumatic or degenerative or other pathologies of the cervical spine using an anterior or posterior approach. Complications of cervical spine surgery can occur as the procedure, like all other surgical procedures has inherent risks. Complications of cervical spine surgery affect not only the immediate spine constituents but surrounding structures as well as neural aftereffects.
In this article, we will discuss the complications of cervical spine surgery in detail.
Relevant Anatomy and Approaches
The anterior approach
It is the primary surgical approach and can be employed for degenerative intervertebral disc disease, fracture fixation, cervical fusion, cervical radiculopathy, and cervical myelopathy.
The posterior approach
This is mainly used in the pathologies that are more amenable to a posterior approach, or require both an anterior and posterior approach for the most optimal outcome. Procedures for far lateral disc herniation-induced cervical radiculopathy, laminectomy, and cervical myelopathy decompression is often approached this way.
Complications of cervical spine surgery are in the immediate postoperative period or delayed and some of the complications of cervical spine surgery are restricted to approach only.
Structures at Risk
The cervical spine is in the vicinity of vital structures of the neck including the trachea, major arteries, and nerves.
Read the anatomy of the cervical spine.
During surgery, the different structures in the neighborhood of the cervical spine are exposed depending on the approach. This exposure and manipulation or traction of structures put them at risk of damage. The diagram above gives a fair idea of the neighborhood of the cervical spine.
Knowing about complications of cervical surgery is crucial as it provides an idea of the risks involved to the patients and possible measures to prevent them, if possible, to the surgeon.
General Complications of Cervical Spine Surgery
These complications can occur irrespective of the approach used and are related to general procedural risks, risks due to positioning of the patient, complications due to cervical traction and hemodynamic issues.
Early Complications
[Noted immediately during or after surgery]
Respiratory Problem after Surgery

Up to about 15% cases reported by different studies
Causes

Prone position
Trauma
Results in swelling and impaired respiration

Neural injury

Cord injury can occur due to intubation in an unstable spine or during surgery (rare)
Preventive measures

Neck stabilization during intubation manually or with cervical traction

Fiber-optic guided intubation with an inline neck holding
During surgery spinal cord monitoring helps to detect injury spinal cord monitoring is a good adjunct monitoring tool.
Neural damage due to ischemia

in hypotensive anesthesia

Graft displacement and hardware impingement are other causes of neural injury

Increased intraocular pressure leading to ischemia and optic neuropathy
Dural Tears Cerebrospinal Fluid Leakage

Usually can be identified during surgery
Should be repaired
Persistent leak requires observation, antibiotics, and a drain system
Risk of developing CSF fistulas or pseudomeningoceles.
Delayed Complications
[Seen within a Few Days to Weeks after Surgery]
Wound infection

A surgery with a longer duration surgery has a risk of a higher rate of infection
Can be superficial or deep
Deep infections can travel to internal structures causing brain abscess, Discitis, meningitis, mediastinitis, osteomyelitis etc
Close monitoring, antibiotics
Irrigation and debridement if required
pin tract infection in cervical traction

Complications of cervical traction

Pin tract infection

superficial
Deep – can lead to brain abscess and meningitis

Fracture of the skull bone
Loss of fixation
Arterial injuries
Overdistraction due to more weight than required
intracranial penetration in children [rare]
Systemic complications due to lying down

pneumonia
thromboembolism
Decubitus ulcers
Late Complications Complications of Cervical Spine Surgery
Complications due to bone graft harvesting

Graft site pain
Numbness of superior two-thirds of buttocks
Hematoma formation
Superior gluteal artery injuries can occur due to direct injury by sharp instruments like osteotome, or manipulation like over retraction.

Immediate exploration and ligation is indicated
Vessel embolization is another option where the bleeding vessel is embolized using intervention.

Prevention of injury

Stay within the safe zone
Do not dissect beyond the origin of the gluteus maximus at the posterosuperior iliac spine.
Avoid retractor in sciatic notch
Direct osteotome towards the head when cutting the bone.

Injury to SI joint

Pseudarthrosis

Pseudoarthrosis means false joint and occurs because of failure of the graft bone interface to unite. Symptomatic anterior pseudarthrosis can be treated with repeat anterior surgery, or, preferably, posterior instrumentation and fusion.
Up to 50% occurrence has been reported
Risks

Smoking
Multiple level fusion
Collagen disorders
Hardware failure

If the bone does not fuse the implant will fail ultimately. Events like infection may hasten the process.
Early hardware failure can be associated with insufficiently stable constructs. Multilevel (>2) corpectomies stabilized with anterior fixation alone have a high rate of failure and should be routinely aided with posterior instrumentation and fusion.
Anterior graft or plate extrusion can lead to swallowing difficulty or more seriously, airway compromise.
Late hardware failure, such as screw breakage, is often associated with nonunion, which may or may not be symptomatic or require treatment.
Complications of Cervical Spine Surgery with Anterior Approach
Recurrent laryngeal Nerve Injury [Vocal paralysis]
Injury to this nerve during exposure leads to vocal cord paralysis. The incidence is quite low – about less than 0.01%. Most of the cases are transient and would heal within weeks to months.
About one-tenth of the cases might have a permanent deficit.
The laryngeal nerve can get injured due to –
Direct injury during the dissection by cutting or ligature
Pressure leading to ischemia
Overstretching
Esophageal injury (Dysphagia)
The injury to the esophagus can occur due to pressure of retraction or perforation of the esophagus. Can occur in up to fifty percent of the cases. Most of the cases are transient.
Intraoperative retraction can lead to ischemia of the wall and is the most common reason for dysphagia in the postoperative period after cervical surgery.
Blunt finger dissection may reduce this complication.
An unusual prominence like bone, cement, or hardware may cause delayed perforation.
Esophageal perforation may lead to deeper infections like osteomyelitis, pneumonia, or abscess in the prevertebral or retropharyngeal region.
Other Injuries
Tracheal Injury- A critical life-threatening injury that demands on-the-table repair
Arterial injuries- Injury to vertebral or carotid artery. It can lead to brain ischemia and could be fatal too
Thoracic duct injury

Occurs in left-sided exposure
can occur during a left-sided approach.
Identification and protection of the duct reduce the risk

Horner's syndrome

Not a frequent complication
Occurs due to damage to the sympathetic plexus
May occur from over-retraction of the longus colli [Prevertebral muscles]
Presents with ptosis [drooping of the upper eyelid, meiosis [constriction of the pupil], and anhydrosis[lack of sweating on the affected side of the face].
These complications of cervical spine surgery are associated with an anterior approach to the cervical spine.
Adjacent segment Disease
Adjacent segment disease is seen in fusion surgeries. It is mostly associated with anterior fusion though about 10 percent of posterior surgeries may develop it.
Complications of artificial disc replacement surgery
Malpositioning
Displacement
Subsidence [Sinking of the implant in the vertebra]
Better patient selection can reduce the risk

Choose cases with good bone quality
Facet disease degeneration should be absent
Choose an implant of the right size
Unique Complications of Cervical Spine Surgery with Posterior Approach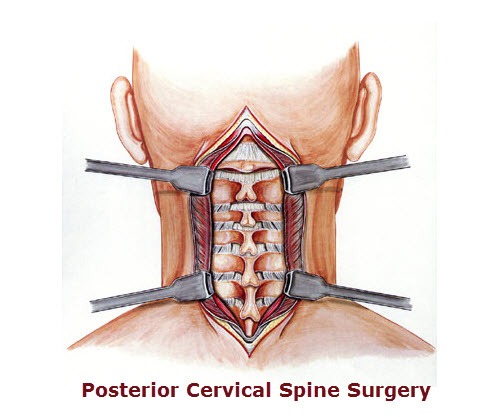 C5 palsy
The reported incidence is about 3 percent. The involvement of the C5 root in this complication of cervical surgery affects motor functions mainly but can cause numbness as well as radicular pain.
This complication is unique to posterior surgery and it can be seen immediately to 3 weeks. The condition usually recovers but takes a prolonged time.
It is believed to occur due to the posterior shift of the cord during traction making C5 vulnerable as it has a short and straight course when it exits.
Spring-back closure
This complication occurs after open-door laminoplasty. It has been reported to 0ccur in 10-50 percent of cases. Open-door laminoplasty is done to decompress the spine in cervical myelopathy. Spring door closure can lead to failure of decompression and therefore cervical myelopathy may not improve.
Cervical Kyphosis
This may occur in the case of multilevel laminectomy esp in younger patients. The deformity develops gradually. therefore the procedure should not be done in young patients.
Fusion may be considered at the time of the procedure if the procedure is necessary. Reduction and fixation along with fusion is the treatment in severe kyphosis.
References
Tew JM, Jr, Mayfield FH. Complications of surgery of the anterior cervical spine. Clin Neurosurg. 1976;23:424–434. [Link]
Currier BL. Neurological complications of cervical spine surgery: C5 palsy and intraoperative monitoring. Spine (Phila Pa 1976) 2012;37:E328–E334. [Link]