Radiographs are also called or roentgenographs named after the discoverer of X-rays, Wilhelm Röntgen. Radiographs are produced by transmitting X-rays through a patient. Rontgen discovered X-rays in 1895 and received the first Nobel Prize in Physics for their discovery in 1901.
In the conventional film-screen radiography, an X-ray machine tube generates a beam of X-rays, aimed at the part of the patient to be radiographed.
The X-rays that pass through the patient are filtered through a device called an X-ray filter, to reduce scatter and noise, and strike an undeveloped film, which is held tightly to a screen of light-emitting phosphors in a light-tight cassette.
After the exposure, the film is developed chemically and an image appears on the film.
Film-screen radiography is being replaced by digital radiography, in which the X-rays strike a plate of sensors that convert the signals generated into digital information, which is transmitted and converted into an image displayed on a computer screen.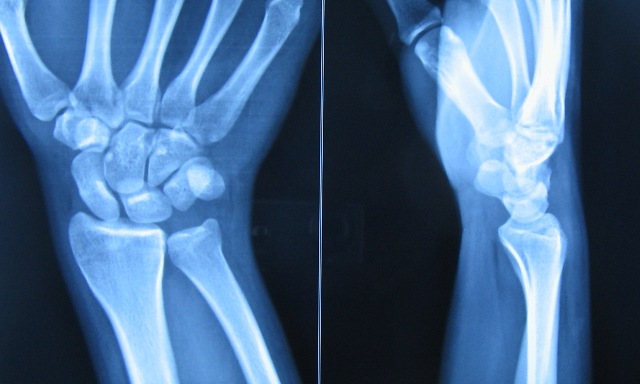 Radiography is often the first-line test of choice in the radiological diagnosis and has a very important role in orthopedic diagnoses.
It is important to obtain the right kind of x-ray to get to know further about a problem. Different parts of the body require different angles at which x-rays should be taken from.
These are called views.
It is essential to obtain correctly done views that show the areas of interest adequately.
Standard Views
Routine standard views are anteroposterior and lateral views. In some body parts, one or more oblique films may be required. Roughly translated, front to back direction is anteroposterior or AP view, whereas sidewise view is lateral. Oblique views of radiographs lie somewhat in between.
Generally, films of long bones should show both proximal and distal joints. Thus if radiographs of the tibia are to be done, it should include both knee joint and ankle joint.
There are special views for just about any area and unconventional views can be improvised when required.
History and clinical examination of the patient tell the physician about part of the patient to be radiographed.
Comparative Views
Because the body is bilaterally symmetrical, we can have a radiograph of other/contralateral normal part for comparison. Comparison views are most needed in some pediatric cases because of variable growth rates and variable appearance of growth plates.
Stress views of radiographs are done after applying the stress in the desired direction. Stress View radiographs are done to assess joint stability or to assess the soundness of the union of the fracture.
Radiographs in Injuries
Radiographs remain the first investigation that is performed when an injury occurs.
Typically a fracture would appear as a break in the continuity of the bone. But appearance may vary.
In adults, a cortical break is usually a complete one. It is visible like a crack in the intact bone or bone might appear divided into two parts.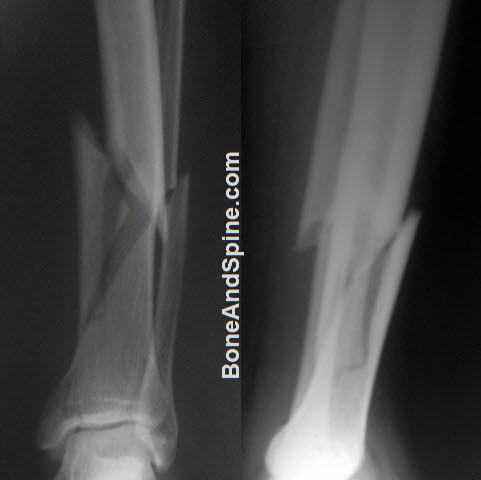 In contrast, in children there may be a partial cortical break as in greenstick fracture, buckling of cortex on one side as in torus fracture, or bending of the bone without a visible break on radiographs, called plastic fracture.
Impacted fracture is a type of fracture where it may show only an increased area of bone density, but usually, there is some disruption of the cortex.
In addition to the break in the bone, there might be associated signs in the soft tissue. For example, there might be a break in the skin visible.
Above all, clinical correlation is most important. In case one finds that the radiographs are not correlating with clinical examination, one should proceed with better investigations.