Supination of the foot is the natural movement of the foot as it rolls out during the gait cycle. Supination of foot is the movement of the subtalar joint (between the talus and calcaneus) and consists of three movements – inversion, plantar flexion, and adduction.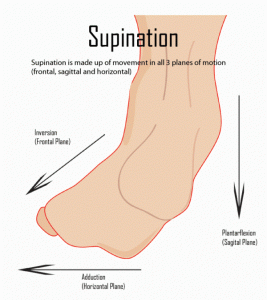 Inversion – Sole of the foot is turned inwards
Plantar flexion- Foot and toes point downwards
Adduction – Movement of the foot towards the center line of the body. The diagram explains this very well.
Supination places most of the weight onto the outside of the foot and raising the arch to form a rigid structure for propulsion.
What is Oversupination?
Oversupination or hypersupination rarer than overpronation and like it may predispose the athlete to shin splints, plantar fasciitis, ankle sprains, and fractures of the tibia, calcaneus, and metatarsals.
Runners are more susceptible to overuse injuries.
Oversupination is also called underpronation. Because pronation works to absorb the shock on foot strike, this shock absorption is reduced in oversupinated or underpronated feet. Thus the stresses which are normally absorbed by the foot are then passed up the lower limb. It also causes lateral rotation force on the lower limb leading to additional stress on the muscles, tendons, and ligaments.
Supination is rare and usually found in people with a high arched foot.
Signs of Oversupination
High arch on the inside of the foot
Shoes are worn more on the outside of the sole, especially on the forefoot area
Wet Foot Test – Wet your feet and walk along a section of paving and look at the footprints you leave. A normal foot will leave a print of the heel, connected to the forefoot by a strip approximately half the width of the foot on the outside of the sole

Analysis by a qualified professional should be done in case one has oversupination of the foot.
Correcting Oversupination
Running Shoes
A highly cushioned and flexible running shoe is needed to compensate for lack of shock absorption. A straighter instep shape—called a last—to control inward motion and counter supination. A specialist advice is required to choose the type of shoe.
People with increased supination of the foot should also replace worn out shoes earlier.
Orthotics
For people with considerable over supination, another option is to have an orthotic device or orthotic insole which could either be on the shelf or custom made for your foot.
Exercises
Stretching of calves, hamstrings, quadriceps, iliotibial band and other associated muscles should be performed to provide strength and flexibility.