Axis is the second vertebra of the spine and is also called C2 bone vertebra. It articulates with C1 or atlas vertebra above and C3 vertebra below.
The axis is an atypical cervical vertebra like atlas and vertebra prominens or C7 vertebra.
It forms a pivot for atlas to rotate providing greater range of motion that would have possible otherwise. The majority of the movement occurs around the dens and at the atlanto-axial joint.
Structure of Axis Vertebra
The components forming the axis can be divided into anterior and posterior
Anterior components of the axis are composed of dens [a conical shape upright protrusion], body [attached superiorly to dens], the transverse process [with foramina transversarium], superior and inferior articular facets, pedicle, lamina [pedicle and lamina form posterior arch], and spinous process.
Dens is also known as odontoid process. It is a strong, tooth-like process projecting upwards from the body of axis.
Dens is unique to the axis and represent the body of the first cervical vertebra that fused with the body of the axis.
The dens articulates anteriorly with the anterior arch of the atlas, and posteriorly with the transverse ligament of the atlas. The ligament also holds the dens to the anterior arch.
Body of the axis – The superior surface is of the body is fused with the dens.
On each side, there is a large superior articular facet encroaching on the body.
The inferior surface has a prominent anterior margin which projects downwards. Anterior surface presents a median ridge on each side of which there are hollowed out impressions.
Vertebral arch is formed by pedicles and laminae.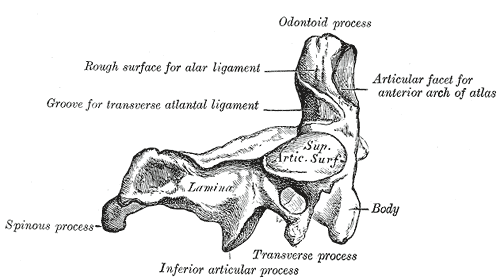 Pedicles are thick and strong and anteriorly coalesce with body and margins of dens. They are superiorly covered by superior articular facets.
Inferior vertebral notch, placed in front of the inferior articular process, is deep but superior vertebral notch [placed on the upper border of the lamina, behind the superior articular process] is shallow.
Laminae are thick and strong.
Articular facets – Superior articular facet occupies the upper surfaces of the body and of the massive pedicle. It is a large, flat, circular facet which is directed upwards and laterally and has a lateral overhang till foramen transversarium. Superior articular facets form atlanto-axial joint with corresponding inferior facets from atlas.
Inferior articular facet lies posterior to the transverse process and is directed downwards and forwards to articulate with the 3rd cervical vertebra.
The transverse processes are very small and represent the true posterior tubercles only. The foramen transversarium is directed upwards and laterally.
The spinous process is large, thick and very strong. It has an inferior grove and tip is bifid.
Attachments
Dens
Apex- the apical ligament
On each side – alar ligaments.
Body
Anterior surface

longus colli insertion
Anterior longitudinal ligament

Posterior surface from below upwards

Posterior longitudinal ligament
Membrana tectoria
Vertical limb of the cruciate ligament.
Laminae
Ligamenta flava or yellow ligament.
Transverse process
Levator scapulae [tip]
Scalenus medius [anteriorly]
Splenius cervicis [posteriorly]
Intertransverse muscles- Upper and lower surfaces
Spinous process
Ligamentum nuchae
Semispinalis cervicis
Rectus capitis posterior major
Inferior oblique
Spinalis cervicis
Interspinalis
Multifidus.
Articulations
Atlanto axial joint with atlas – superior articular facet with inferior articular facet of C1
Dens articulates with the posterior aspect of the anterior arch of C1
Joint between C2-C3 – inferior articular facet with superior articular facet of C3
intervertebral joint – Between C2/3 bodies with an intermediate disc intervertebral disc
Relations of Axis vertebra
Anteriorly
Anterior atlanto-axial membrane
Anterior longitudinal ligament
Posteriorly
Posterior atlanto-axial membrane
Ligamentum nuchae
Posterior to dens – apical ligament, cruciate ligament alar ligament
Laterally
Vertebral arteries and veins [traverse foramina transversarium and move laterally]
Supero-posteriorly
Sub-occipital triangle
Medially
Spinal cord within vertebral foramen
Basivertebral veins
Development of axis vertebra
Five primary and two secondary ossifications centers
Primary ossification centers

Vertebral arch – 2 centers, appear at the 7th or 8th week of life
Vertebral body – 1, appears at the 4th or 5th month of life
Dens -2 centers appear appears at the 6th month of life, fuse before birth forming a conical mass

Secondary ossification centers

Apex usually appear from 5- 8 years of age and fuse at around the 12th year
Ossification and fusion of cartilaginous disc that initially separates the dens from the vertebral body.
Clinical Significance
Hypoplasia and aplasia of odontoid process is rare but can occur. Os odontoideum was thought to be a congenital deformity earlier but presently it signifies old chldhood trauma that separates dens from body of axis.