Cervical spine clearance protocol is required as The rate for missed or delayed diagnosis of cervical spine injury is 1-4%. The most frequent reasons for missed injuries are inadequate assessment, inadequate radiographs and misinterpretation of radiographs. Patients who deteriorate from a missed injury may have a severe complication like death, quadriplegia other new neurologic deficits.
Therefore, a potential spinal injury should be assumed and the patient protected should be protected unless declared free of spinal injury or definitive treatment is provided. It has been found that neurologic deterioration after admission occurs in 5% of spine injury patients and most of it can be prevented if precautions are observed.
Cervical spine clearance is a combination of clinical patient assessment and radiographic evaluation .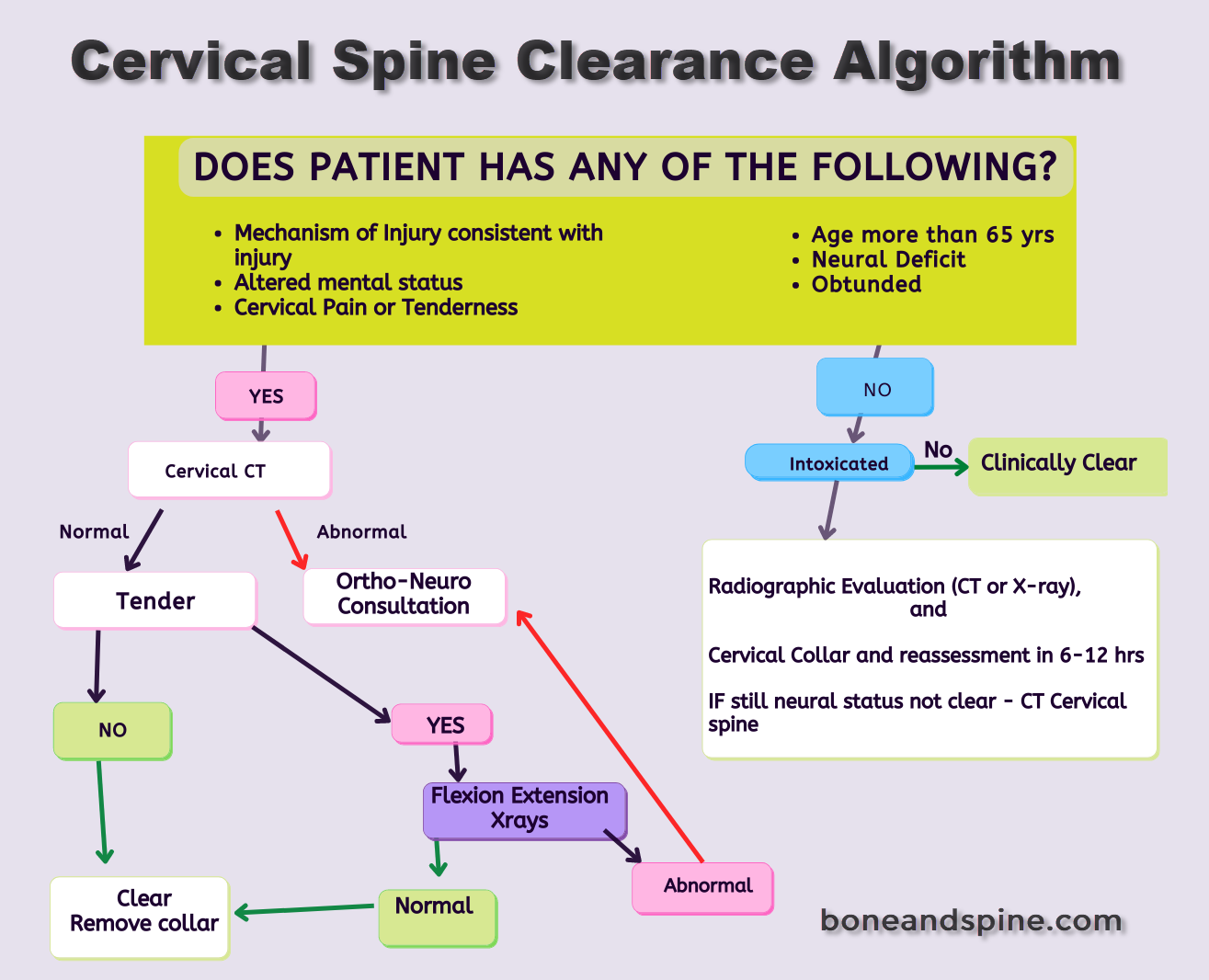 A cleared spine in a patient means that diligent spine evaluation is complete and the patient does not have a spinal injury requiring treatment.
All trauma patients are at risk for spinal injury and systematic evaluation is necessary to achieve the goal of no missed injuries.
The necessary elements for a complete spine evaluation are the following:
History with special emphasis on assessing for high-risk events and high-risk factors.
Clinical examination to look for signs of spinal injury or neurologic deficit.
Appropriate imaging studies based on initial evaluation.
Radiographs are not required for patients who are alert, not intoxicated, have an isolated blunt trauma, and in whom no neck tenderness or neurologic deficits is found.
Cervical spine injury should be considered in an unconscious patient even in the absence of a definitive history of trauma.
In thoracolumbar spine history, examination and radiographs are sufficient to clear the spine. Patients with a clear mental status, no back pain, and no other major injuries do not need radiographs of the spine to exclude a spinal fracture. Their spine can be safely cleared by a physical examination alone.
However rare injuries may still be missed and serial examination is necessary to diagnose subtle or occult injuries.
Algorithm for Cervical Spine Clearance
A patient is suspected to have a cervical injury which requires cervical spine clearance if
Age>65 years
Tenderness in the cervical region
Altered mental status
Neural deficit
Injury mechanism suggestive of cervical injury
Intoxicated patient
All these patients should undergo CT scan of the cervical spine which if abnormal would be treated accordingly.
A normal CT in patients with cervical tenderness requires further evaluation. The patient is asked to flex and extend the neck. If it is abnormal, further evaluation is required.
Intoxicated patients should undergo x-ray and if neurological status does not improve in 6-12 hours, CT is required.