Distal humerus fractures or distal third humerus fracture are fractures of the distal part of the humerus. The overall incidence of distal humerus fracture in adults is 0.5% of all fractures. The nature of the injury is commonly severe and is often associated with injury to surrounding soft tissue and nerves.
[Note: This article mainly focuses on adult distal humerus injuries. Injuries to pediatric elbow are discussed in pediatric trauma section]
The outcome of the fractures around the elbow is determined by the anatomical part involved, by the degree of displacement, and by the degree of comminution.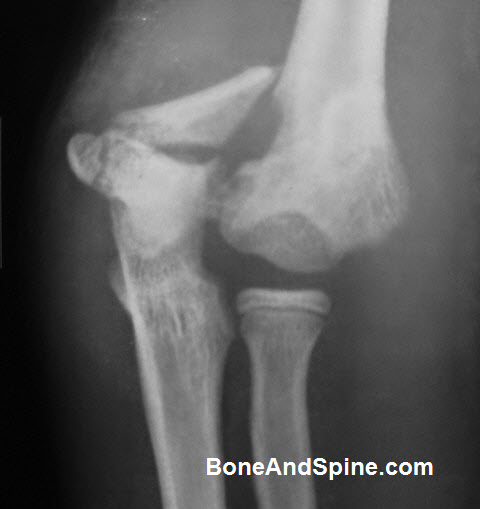 Anatomy of Distal Humerus
The elbow has the capacity to flex and extend within the sagittal plane and also to rotate around a single axis. Elbow joint consists of three different articulations, as follows:
Radiocapitellar joint
Olecranon-trochlear joint
Proximal radioulnar joint
Motion within the sagittal plane occurs at the ulnohumeral articulation within the semilunar notch.
The distal end of the humerus is flattened, expanded transversely, and rounded at the end which presents articular and nonarticular surfaces.
The articular portion forms the elbow joint and articulates with the radius and ulna.
The posterior surface of distal humerus is nonarticular which allows fixation on this aspect.
The distal humerus resembles a triangle, with the medial and lateral columns making up the sides and the trochlea forming the base. These columns are separated by a very thin layer of bone that posteriorly makes up the olecranon fossa and anteriorly composes the coronoid fossa. The lateral column ends distally in the capitellum. Capitellum is the lateral convex portion of the lateral condyle which is covered on its anterior and inferior surfaces with articular cartilage. It articulates with the head of the radius. The medial column is entirely nonarticular.
Ulnar nerve lies just behind the medial epicondyle.
Few points to remember
The lateral column lies in approximately 20° of valgus relative to the humeral shaft.
The medial column is aligned at a 40° angle to the shaft and ends in the trochlea.
The capitellum is angulated 30-40° anteriorly, while the trochlea is angulated 25° anteriorly.
The trochlea is larger in diameter medially than laterally and ends more distally than the capitellum in the coronal plane [This lead to a valgus position of the elbow in extension.]
The blood supply around the elbow is primarily fed by anastomotic vessels from the brachial artery.
Humerus bone widens distally in the coronal plane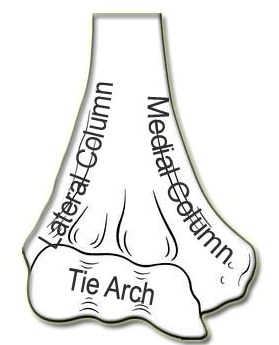 to a maximum between the medial and lateral epicondyles and narrows from proximal to distal in the sagittal plane before its distalmost articular segment expands and juts anteriorly.
This forms kind of lateral and medial column which diverge diverging medial and lateral columns. At their most distal point, they are joined by the "tie arch," consisting of the articular segment—the trochlea and the capitellum.
Causes of Distal Humeral Fracture
The fracture typically occurs when there is a force applied to upper limb when the joint is flexed more than 90 degrees.
The fracture either results from a motor vehicle accident or fall while walking.
Clinical Presentation of Distal Humerus Fracture
Patients with a distal humerus fracture present with pain and swelling of the distal arm and elbow. Displaced fractures may cause a deformity and painful attempted movements.
A thorough patient history must be taken including medical history, surgical history, medication use, nonmedication drug use, occupation, and smoking history.
Examination of the injured extremity and other associated injuries present should be done. With high-energy injuries, associated injuries to the head, chest, abdomen, spine, or pelvis must be excluded.
A complete examination of the neurovascular status of the extremity should be conducted.
In suspected vascular injuries Doppler studies or angiography should be performed.
The patient should be given an above elbow splint after a thorough examination of the limb including neurovascular examination and x-rays.
Imaging for Distal Humerus Fracture
X-ray
Recommended views are an anteroposterior and lateral view of the elbow. Entire length of humerus and forearm should be recorded.
A wrist x-ray should be sought if there is a distal tenderness. Traction view may assist in surgical planning but CT is better.
CT
CT is performed in complex intrarticular fractures. 3D reconstruction of CT images help to understand the fracture anatomy better.
MRI
MRI is not indicated in acute injury.
If there is an additional injury present, investigations might be needed accordingly. For example, arteriogram for arterial injury.
Distal Humerus Fracture Classification
Ao/OTA classification is the most widely used classification used .
A type
Fracture is nonarticular.
B Type
A fracture of the B type is partially articular. A part of the articular segment remains in continuity with the shaft
C Type
Fractures are articular, but have no articular fragments remaining in continuity with the shaft
Type C is further divided into subtypes 1
C1: T or Y fractures
C2: Articular fracture is simple, but the nonarticular supracondylar area is segmental or comminuted
C3: Articular segment is segmental or comminuted.
Different Fracture Patterns in Distal Humerus
Fracture of Lateral Epicondyle
An avulsion fracture of the lateral epicondyle is an extremely rare injury in adults. It may occur as part of a posterolateral or posterior dislocation of the elbow.
When the elbow is reduced, the epicondylar fragment reduces.
Fractures of the Medial Epicondyle
Fractures of the medial epicondyle are most common in children. They can be seen in adults as a consequence of direct injury or avulsion.
A small and undisplaced fracture is treated by non-operative means.
A displaced fracture should be openly reduced and stabilized by internal fixation to prevent the onset of ulnar palsy.
Distal Single Column Fractures [Condylar fractures – Medial Condyle/Lateral Condyle]
Fracture of lateral condyle is a major intra-articular injury which needs to be accurately reduced and fixed for the preservation of normal joint function.
Coronal Shear Fractures [Fractures of the Capitellum]
The capitellum is the rounded knob-like portion of the lateral condyle, and is completely covered by articular cartilage. It allows movement of the radial head when the elbow is flexed. In extension, the radial head falls away from the distal end of the humerus and loses contact with the capitellum.
When fractured, the capitellum becomes a free intra-articular osteochondral body. Traditionally, surgeons had been recommending excision of the fragment but recent studies recommended internal fixation to be better.
Supracondylar Fractures
Supracondylar fractures, as the name suggests are above the condylar area and are generally transverse or oblique. This is a different entity than intercondylar fractures of the humerus.
Supracondylar fractures are very common in children and are managed differently than adult supracondylar fractures.
In adults, these fractures require treatment by internal fixation and using tow plated for fracture fixation.
Internal fixation allows early mobilization and prevents stiffness.
Intercondylar Fractures
These fractures represent bicolumnar fractures of the distal humerus and along with conylar and coronal shear fractures complete the spectrum of intra-articular fractures of the distal humerus.
Jupiter further classified these fractures according to fracture pattern.
Jupiter Classification of Two-Column Distal Humerus Fractures
High-T
Transverse fracture proximal to or at upper olecranon fossa
Low-T
Transverse fracture just proximal to trochlea (common)
Y
Oblique fracture line through both columns with the distal vertical fracture line
H
Trochlea is a free fragment (risk of AVN)
Medial lambda
Proximal fracture line exists medially
Lateral lambda
Proximal fracture line exists laterally
Multiplane T
T type with an additional fracture in the coronal plane
Treatment of Distal Humerus Fractures
Factors That Affect The Treatment Decisions

Age and Bone Quality
In an elderly fragile person, if the bone quality is not good, it would be difficult to get a secure purchase of the implant.
Moreover, the treatment goals would be different for a young adult than the elderly.
Type of Fracture
Fracture pattern is a major deciding factor. Some fractures are difficult to treat, even with surgery. Prognosis of the injury should be discussed with the patient and treatment decision made accordingly.
An undisplaced fracture may not require surgery. Displacement, particularly of the joint fragments, is clearly an indication for an open reduction.
Degree of comminution and joint involvement are also determinant of outcome.
Open fractures, vascular injuries, associated bony injuries would always require internal fixation.
If a fracture is not salvageable for an optimum function for a given age, elbow replacement may be considered.
There are certain situations where the decision to operate must be made on considerations other than the fracture.
Non-Operative Treatment
Distal humerus fracture in adults are best treated with open reduction and internal fixation. This allows anatomic reduction and early range of motion exercised.
Nonoperative treatment depends on the fracture type. Nonoperative treatment of fractures include casting and immobilization. Undisplaced fractures especially extrarticular can be safely managed by casting and immobilization.
Medial epicondylar fractures can be immobilized for 7 days, with the elbow flexed at 90º, the forearm pronated, and the wrist flexed at 30º [ To relax the common flexor-pronator muscles].
A displacement > 3 mm of displacement or fragment in the joint warrants surgery.
Lateral epicondylar fractures can be immobilized with the elbow in 90º of flexion, the forearm in supination, and the wrist extended slightly to relax the extensor muscles.
Stable, nondisplaced, supracondylar fractures can be treated with splinting for approximately 2 weeks followed by use of a hinged functional brace with early elbow motion.
Fractures with articular involvement, comminution, displacement, or both should not be treated with conservative means.
But in spite of indications, there could be circumstances where a patient is not suitable to get operative treatment. For example, debilitated patients, patients with other ailments that make them a poor candidates for anaesthesia, the problem with local sites such as degloving injuries
Such cases need to be treated non operatively with cast immobilization or skeletal traction.
Surgical Management of Distal Humerus Fractures
Restoration of articular congruity, elbow stability and decrease risk of posttraumatic arthritis and elbow stiffness are the main goals of surgery.
Main indications for surgery are
Intra-articular fragment displacement
Supracondylar comminution and displacement
Open fractures
Floating elbow patterns
Neurovascular injury
Compartment syndrome
Multiple traumatic injuries
Closed reduction and percutaneous pinning
Closed reduction and percutaeous pinning is done mainly in children. It could be done in selected distal humerus fractures in adults.
Open reduction internal fixation
Most of the adult fractures require open reduction and internal fixation especially supracondylar humerus fracture and intercondylar fractures of the distal humerus.
Total elbow arthroplasty
It should be considered in elderly patients and non-salvageable fractures.
Distal humerus fractures should be operated as early as possible. Undue delay can cause elbow swelling which would interfere with tissue closure.
If the injury to soft tissues is severe to permit safe surgery, then definitive surgery should be delayed by immobilizing the fracture and bridging the elbow with an external fixator to allow some degree of reduction and maintain length.
Prognosis
Overall prognosis of distal humerus is good. Complex fractures are associated with less fovorable prognosis but with timely intervention results in a good functional elbow.
Open fractures, comminuted intra-articular fractures and fractures with neurovascular injuries may result in less than optimal limb function.
Loss of terminal extension is frequently observed after distal humerus fracture. Chronic exertional pain can be observed in as many as 25% of patients who have suffered such injury.
Healing rates of 80-100% have been reported postoperatively.
Save
Save
Save
Save
Save
Save
Save