Last Updated on November 18, 2018
Girdlestone procedure is excision arthroplasty of the hip in which femoral head, neck, proximal part of the trochanter and the acetabular rim are removed. The procedure was described for chronic deep-seated infections of the hip joint.
After the surgery patient is put on skeletal traction followed by gradual mobilization.
Girdlestone procedure also goes by name of excision arthroplasty of the hip, femoral head ostectomy or Girdlestone resection arthroplasty is an excision arthroplasty of the hip.
Xray Pelvis Showing Hip After Girdlestone Excision Arthroplasty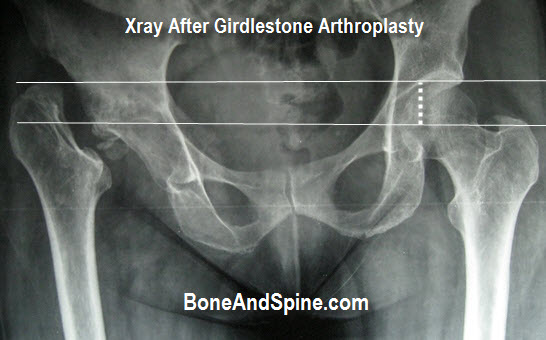 Girdlestone procedure inevitably results in limb shortening.
The procedure was developed by British surgeon Gathorne Girdlestone as a lifesaving measure to remove disease and devitalized tuberculous hips in the pre-antibiotic era. The year was 1943.
Indications for Girdlestone Procedure
Indications of Girdlestone procedure are
Painful stiff hip after tuberculosis of hip
Peri-prosthetic infection
Aseptic loosening of hip
Recurrent dislocation of the hip
Failed internal fixation of femoral neck fractures
Details of Girdlestone Procedure
Intraoperative Details
In regional or general anesthesia, pt in supine or lateral position, as preferred by surgeon and approach.
Hip is exposed through the anterolateral or anterior incision.
After hip is exposed, the capsule is incised and an attempt is made to dislocate the hip joint anteriorly but this is difficult in some cases, especially when there is ankylosis.
Where dislocation is not possible femoral neck is cut at the base and removal is done piecemeal
In cases where dislocation could be achieved, the resection of the neck is done after the dislocation.
The line of the bone section was kept parallel to and a little proximal to the intertrochanteric line.
In cases of infection, other diseased tissues are removed as well. Any sharp projecting bone is cut and blunted.
The wound is closed over a suction drain.
Postoperative Details
The patient is put on skeletal traction in 30 to 50 degrees of abduction. The traction is kept for 3 months. The patient is encouraged to sit soon after the operation, and repetitive active assisted movements of the hip and knee are started during the first week.
Active physiotherapy and exercises in traction help patients to develop good muscle power, the maximal range of hip movements.
After traction, the patient is encouraged to bear weight and use hip for squatting and sitting cross-legged.
The weight is borne using a weight-relieving caliper and crutches which is continued for 6-9 months. After that, walking with a walking stick is started.
Traction and bracing during walking keeps cut the upper end of the femur and the outer surface of acetabulum apart from one another. This allows an adequate layer of fibrous tissue is more likely to form over both. This thereby providing more ideal surfaces for a pseudarthrosis.
Outcome of Girdlestone Procedure
Shortening of the limb is inevitable with Girdlestone procedure. The mean loss of length by this technique is 1.5 cm. For optimum results regimen of postoperative care is essential.
Some degree of shortening and instability are virtually unavoidable.
Overall, Girdlestone arthroplasty provides an unstable pain-free hip.
The walking and standing tolerance vary from patient to patient. Some degree of telescoping of the limb and a tendency toward external rotation are not uncommon. At times the degree of function is good.
Excision arthroplasty may rarely leave behind a very unstable hip joint. This generally happens where the disease has healed with minimal fibrosis and scarring of the capsule and soft tissues.
Such patients may require hip stabilization procedures may be done 3 to 6 months after the Girdlestone operation.
The acceptance of Girdlestone procedure is more in people who are accustomed to floor level activities like squatting and sitting cross-legged.
Girdlestone procedure is mostly done for the tubercular hip. But there is an increasing trend towards performing replacement surgery in these patients.
Replacement surgery is more acceptable procedure across the races as it provides stable, pain-free hip, with functions close to the original hip.
As the drugs become more effective and revision arthroplasty yielding better results, in cases of infected prosthesis antimicrobial, definitive excision arthroplasty has become a salvage operation.
It is generally reserved for those with significant co-morbidities or in cases where the revisions have repeatedly failed.
The trend of Girdlestone procedure is declining but it remains a valuable surgery in select cases.