Nonunion of fracture is a delayed complication of fracture. Literally, it means the absence of a union. But by definition, a bone can be labeled as in nonunion only when the union has not occurred in the bone even after a passage of sufficient time [in which the bone normally would have united]. Fractures of the shaft of long bone should not be considered nonunion until at least 6 months post-injury but in contrast, a central fracture of the femoral neck can sometimes be defined as a non-union after only 3 months.
After the fracture has occurred, the body initiates a complex overlapping sequence of events, including inflammation, repair, and remodeling.
This sequence can restore the normal bone structure, biologic function, and mechanical strength in patients of any age.
Despite the potential for a successful hearing through regeneration of normal bone, certain types of bone injury and, in some instances, the treatment of bone or soft tissue injury, lead to complications such as delayed union, nonunion, malunion, or bone necrosis that prevent the rapid restoration of normal structure and function.
These complications of fractures and their treatment are inevitable in some patients, but it is possible to avoid or minimize complications and becomes important to diagnose and treat them.
Definitions of Slow Union, Delayed Union and Nonunion
Time a fracture should take to unite cannot be determined arbitrarily. This is so because various factors play a role in fracture healing, including the severity of the injury, the fracture pattern, the type of bone, and the age and nutritional status of the patient.
[More about fracture healing and factors affecting it]
The concepts of slow union delayed union, and nonunion are based primarily on the state of activity and rate of progression of the repair process.
Slow Union
This term basically implies that fracture union is present but slow. This is a fracture that maintains the appearance of the early stages of healing for more than a few weeks. The fracture line remains clearly visible, but there is no unusual separation of the fragments, and no cavitation of the surfaces, decalcification, or sclerosis.
A slow union does not result necessarily in a delayed union or nonunion. Such fractures often unite if immobilization is maintained long enough.
Delayed Union
The term delayed union refers to a fracture in which repair is not complete within the interval expected for that specific fracture.
Clinical and radiographic evidence of healing is present. The fracture line is evident on radiographs and usually appears woolly and ill-defined. A delayed union, if given proper milieu, has the potential to unite.
Nonunion
A nonunion exists when repair is not complete within the period expected for a specific fracture, and cellular repair activity at the fracture site ceases. Clinically, a nonunion is diagnosed when a repair process has stopped completely and the union will not occur without therapeutic intervention.
This cessation of activity is the most important feature that differentiates between nonunion and slow/delayed union.
In an established nonunion, sclerosis develops around the bone ends and the medullary canals are sealed off. The bone ends are joined by dense fibrous tissue.
For a fracture of the shaft of a long bone in an adult, at least 6 months must elapse after the injury before this diagnosis can be made.
Thus it must be re-emphasized that terms slow union, delayed union, and nonunion all imply a time frame. This time frame depends on the factors that influence the rate of fracture healing, including the location of the fracture and the amount of soft tissue injury.
Once nonunion has occurred, the fracture would not unite without intervention.
Radiological and clinical features of a given injury help to reach the diagnosis.
However, time elapsed since the injury was used in classical definitions and was important for defining surgical indications.
In the past, surgery was done only in cases where all possibility of healing without intervention was nil.
But with changing times, a more aggressive approach to obtaining fracture union often is taken, and the time frames are less important.
For example, surgery may be contemplated after 4 months of conservative treatment, although technically this does not meet the criteria for a nonunion.
The focus is to decrease the morbidity and enable an early return to function. Similarly, fractures that carry a high risk for nonunion may be grafted primarily. This is mainly done in open fractures and comminuted fractures.
Pathophysiology of Fracture Nonunion
There are multiple factors responsible for the development of nonunion and all the factors responsible for the event may not be known.
Biologic factors play a part in the consolidation of a fracture.
Fracture repair requires at least four events that initiate fracture healing. These events include recruitment, induction, modulation, and osteoconduction.
Following adverse mechanical factors influence the development of nonunion
Excess motion

Inappropriate stabilization

Large interfragmentary gap

dIstraction by internal fixation or traction
Interposition of soft tissues
Loss of bone

Loss of blood supply.

High-energy trauma causing loss of the bony soft tissue envelope
Damage to nutrient vessels
Segmental or comminuted free fragments
Excessive periosteal stripping during hardware insertion.
Some bones like scaphoid, distal tibia, the base of the 5th metatarsal are at higher risk for nonunion due to the precarious blood supply in these areas. Fracture patterns like segmental fractures segmental fractures and those with butterfly fragments are at increased risk of nonunion as the blood supply is compromised to the broken fragment.
Causes of Nonunion of Fracture
There is a long list of causes of non-union fracture. These are patient-related like age, injury-related like open fractures and treatment-related. Few of them are modifiable and others are not.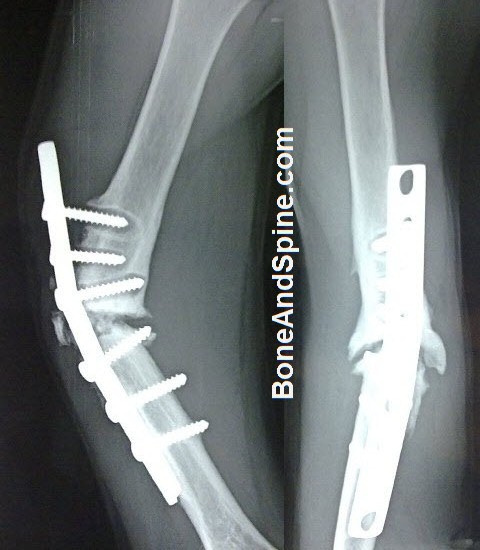 Patient-Related Factors
Older age
Poor nutrition
Steroid therapy
Radiation therapy
Anticoagulant therapy
Smoking
High alcohol intake
Injury Related Factors
Open injuries
Soft tissue interposition
Bone loss resulting in a gap
Compromised blood supply following an injury to the nutrient artery
Stripping injury to muscle and periosteum
Severe comminution
Infection
Treatment-Related Factors
Inadequate immobilization
The distraction of fragments from traction or internal fixation
Malposition of fragments
Implant failure
Types of Nonunions

Hypertrophic nonunion
Callus is formed, but the bone fractures have not joined. This can be due to inadequate fixation of the fracture or inadequate mobilization is capable of a healing response to injury. There is increased uptake on radionuclide scans.
Hypertrophic or elephant foot callus is a sign of motion at a vascular nonunion where the interposed tissue essentially is fibrocartilage. The union will occur rapidly when motion is stopped by stable internal or external fixation devices. A bone graft usually is unnecessary.
Oligotrophic nonunions
The callus is absent. It occurs after major displacement of fractures, a distraction of fragments, or internal fixation without correct apposition of fragments. Blood supply is usually good. They demonstrate uptake on radionuclide scans but the healing response is inadequate.
Atrophic nonunion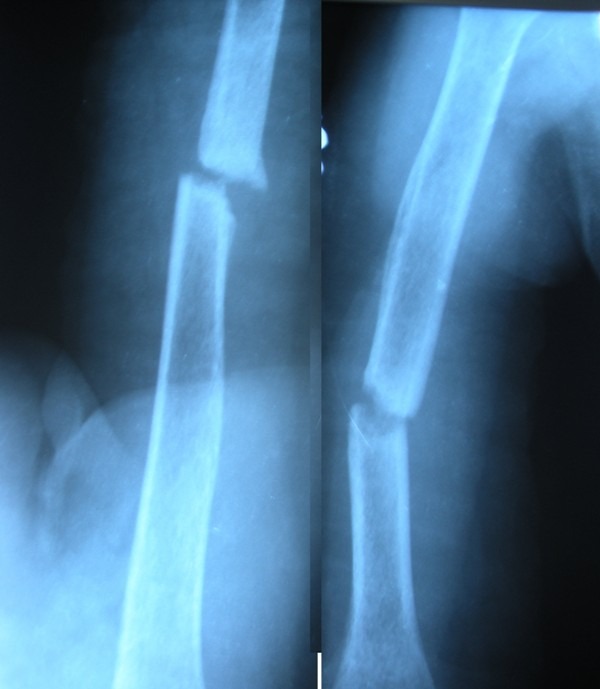 No callus is formed. This is often due to impaired bony healing due to decreases blood supply. They show radionuclide uptake failure.
The bone remains avascular or is revascularized very slowly or poorly.
If alignment is good and there is no gap, then stabilization under compression, with shingling and bone grafting, will stimulate the fracture healing process.
If there is malalignment or a gap, resection of the scar tissue is essential followed by eduction, shingling and stabilization and bone grafting.
Gap nonunion
There is a loss of a fragment of the diaphysis of a bone. The ends of the fragments are viable but as time passes the ends of the fragments become atrophic. Occurs after open fractures, sequestration in osteomyelitis, and resection of tumors.
Pseudarthrosis
The term pseudarthrosis implies a nonunion with false joint formation in which the medullary canal is sealed off, with new cartilaginous surfaces covering the bone ends and the nonunion surrounded by a fibrous capsule having a synovial lining.
Pseudarthrosis means false joint.
These nonunions are excessively mobile and often are associated with near ankylosis of a neighboring joint.
Diagnosis of Nonunion
Diagnosis is made on clinical examination and x-rays. On clinical examination, the fracture fragments would show relative mobility and there would be an absence of tenderness on the fracture site. The absence of tenderness differentiates nonunion from a delayed union and denotes the absence of any biological activity.
Xrays would show
The absence of bone crossing the fracture site (bridging trabeculae)
Sclerotic fracture edges
Persistent fracture lines
No changes toward union on serial x-ray
Presence or absence of callus is not a very reliable finding especially in cases of rigid fixation.
Treatment of Nonunion
Non-operative Treatment
Nonunion is a failure of the healing process. The treatment principle is to augment the healing process by freshening the ends of the bone and bone grafting and provide adequate immobilization.
Some superficial fractures may respond to bone stimulation which may be tried as part of nonoperative treatment. Few selected nonunions may be tried with fracture brace immobilization
Contraindications to non-operative treatments are synovial pseudoarthroses, nonunions that move and greater than 1 cm between fracture ends.
Operative Treatment
Typical treatment of nonunion is surgical. Following are the essential steps
Exposure of the fracture site
Freshening of sclerotic edges to get a bleeding surface.
The opening of intramedullary cavities of fragments to facilitate the flow of blood circulation
Rigid fixation
Bone grafting to augment bone healing
External splintage if required.
Hypertrophic nonunions
These nonunions often have biologically viable bone ends and may be treated with internal fixation to provide mechanical stability. Bone grafting may not be required.
Oligotrophic/ Atrophic nonunions
Because the biological activity is reduced, these nonunions may require biological stimulation along with internal fixation. The biological stimulation is by bone graft taken from autologous iliac crest is the gold standard.
Infected nonunion
The first step is to control infection and the treatment requires a staged approach. There is a need to remove all infected/devitalized soft tissue. Infection is controlled by using local/systemic antibiotics. There may be an associated gap which is treated by bone graft/bone transport. Soft tissue coverage procedures may be needed.
Pseudoarthrosis
Pseudarthrosis may be found in association with infection and principles to control infection remain same. The treatment requires removal of atrophic, non-viable bone ends, internal fixation with mechanical stability. Soft tissue coverage procedures may be needed.
Fixation Methods of Nonunion
Internal Fixation
The aim of the internal fixation is to gain stability after apposition of fragments.
Bone grafting is not necessary in hypertrophic non­unions where callus formation is plenty. Revascularization is encouraged by decortication, petaling, drilling of avascular fracture ends, and cancellous bone grafting.
Depending on the type and location of the nonunion, different implants may be selected for fixation.
Screw Fixation
Screws are not used in diaphyseal nonunions alone but may be used as interfragmentary screws along with neutralization plate in nonunion of a long spiral fracture.
Plate Fixation
Plate fixation may be used with or without cancellous bone grafting and, wherever possible, used with compression. The cancellous bone grafting is not necessary unless the bone ends are sclerotic or when the defect is present or is created by realignment or cor­rection of shortening. In such cases, compression plating is not possible and a neutralization plate is used. Angular deformity may be corrected by applying a plate under tension on the con­vex side of the bone.
Intramedullary Nailing
Intramedullary nailing is mainly used for nonunions of the lower limb. It has the advantage of lesser soft tissue damage and decreased risk of infection.
Closed nailing may be sufficient alone but in open nailing, bone grafting is preferred.
External Fixation
The use of the external fixator depends on the type of nonunion.
In cases of hypertrophic non­union, the chief objective is to stabilize the limb and provide adequate compression
The treatment of bone losses of 3 cm or more may require bone transport with the Ilizarov ring fixator.
Combined Internal and External Fixation
Combined internal and external fixation may be consid­ered when femoral or tibial lengthening is necessary. It uses an interlock [locked only on one end] to control alignment and a ring fixator for bone lengthening. Once the desired lengthening is done, the nail is locked and the external fixator is removed.
Bone Grafting in nonunions
Autogenous bone remains, even to­day, the best bone grafting material. Bone grafting can be nonvascularized or vascularized.
Bone grafting can be used as an isolated pro­cedure, associated with internal or external fixation.
Depending on the indi­vidual case, packing cancellous bone chips in and around the nonunion may suffice, or it may be combined with a structural corticocancellous graft. A nonvascularized segment of the fibula may be used as a graft to fill a large bone defect in the radius or ulna.
Vascularized autografts are effective but require microvascular techniques.
Biophysical Stimulation of Nonunions
Bone Stimulators
Electrical stimulation is effective in hypertrophic nonunions but less so in atrophic nonunions and in the presence of a gap.
Low-intensity pulsed ultrasound has shown substantial efficacy in accelerating the healing of fractures of the upper and lower extremities.
High-energy extracorporeal shock waves is an alter­native to surgery in the treatment of ununited fractures and can be applied on an outpatient basis in many patients.
Orthobiologics are biological substances that are used to help injuries to heal more quickly. Orthobiologics are used to improve the healing of fractures, injured muscles, tendons, and ligaments.
For example, percutaneous Injection of Autogenous Bone Marrow and other orthobiologics are used in the treatment of nonunion.
Read more about orthobiologics.
Infected Nonunions
Infected nonunions become a special case because infection needs to be controlled before the union could occur. Infected non-union is characterized by
Atrophic radiographic appearance
Poor fracture vascularisation
Inadequate soft tissue coverage
Loose fixation
These require aggressive patient management.
The treatment includes antibiotics, local debridement, stabilization [often external first, followed by internal], repair of the defect to control the infection, soft tissues and bone reconstruction surgeries when needed.
When active drainage is ongoing, healing will be longer and more difficult.
If drainage has not occurred for 3 or more months and the wound is quiescent, infected nonunions may be treated as atrophic nonunions.
Brief View of Nonunions of Different Bones
Clavicle
Symptomatic nonunions of the middle third of the clavicle should be treated by the application of a plate and iliac bone graft. When the nonunion is within 4 or 5 cm of either end, the short fragment may be resected.
Humerus
In young Nonunited fractures of fracture-dislocation of the proximal humerus should be treated by fixing the proximal fragment with a proximal humeral plate. Liberal use of methylmethacrylate cement if needed may be done.
Cancellous bone grafting, best obtained from the iliac crest may be used for grafting.
Successful treatment for these nonunions is difficult.
Prosthetic replacement of the head of the humerus may be considered primarily in old patients or after failed surgery in young patients.
For humeral shaft fractures, the recommended treatment is plate and screw fixation with bone grafting. But in older patients, the physical condition of the patient should be considered and diminished function because of a nonunion may be pref­erable to the risks of ORIF in some cases.
In such cases, orthosis may help.
For atrophic ununited diaphyseal fractures of the humerus with a bony defect
Nonunions of the distal humerus should be treated by means of two contoured 3.5-mm reconstruction plates, one placed medially, and the other placed posterolaterally.
Total elbow arthroplasty may be con­sidered only as a salvage procedure.
For nonunion of the capitellum, excision may be done.
Radial neck
Radial neck fracture nonunion is rare. Observation, radial head, and neck excision, or ORIF with bone graft may be considered, depending on the level of pain, deformity, and functional restriction.
Radius and ulna
In proximal and midshaft nonunions, a compression plate and cortical screws should be used for fixa­tion.
Distal radius nonunions should be treated by a volar or dorsal small T plate as a buttress.
Carpal scaphoid
Nonunion of the carpal scaphoid may be treated by trap­ezoidal bone grafting and internal fixation. K wires, AO cannulated screw, Herbert screw has been used successfully.
Femur
For femoral neck fracture nonunions, prosthetic replacement is the best treatment, especially in elderly persons.
In younger people, an attempt should be made to achieve union. Valgus intertrochanteric osteotomy is the best method for that. A dynamic hip screw should be used for fixation, as well as a bone graft at the non­union site.
Nonunion of intertrochanteric fractures is tackled by a medial displacement and valgus osteotomy.
Subtrochanteric fractures nonunions are difficult to treat and treated by intramedullary locked device or dynamic hip screw or dynamic compression screw.
Fractures of the femoral shaft can be treated by intramedullary nailing or plating and bone grafting.
Supracondylar fracture nonunions may be treated by intramedullary nails or a 95° dynamic condylar screw.
Condylar buttress plate is another choice.
Tibia
Proximal tibial fracture nonunions usually are treated by internal fixation using tibial plating and bone grafting.
Nonunions of the tibial shaft fractures are treated best by intra­medullary nailing or plating. While in hypervascular nonunions, the graft is not required, in avascular nonunions, decortication of the bone ends and bone grafting should be done.
Nonunited pilon fractures of the lower tibia and fibula can be salvaged by intraarticular osteotomy and lag screw fixation with bone grafting. Ankle fusion and stabilization is considered in arthritic joints.
Malunion of Fractures
Malunion refers to fracture union in an abnormal position. The abnormal position may be shortened, lengthened, angled, or rotated. Malunion may result in, though not always, insufficient or abnormal function and cosmetically unacceptable limb.
Malunion may cause alteration of normal dynamics of joint motion. For example, limited pronation-supination after forearm fractures or the development of pelvic obliquity, scoliosis, and back pain secondary to leg-length inequality.
Malunion may be the result of inaccurate initial reduction or loss of position because of inadequate immobilization. In physeal fractures of children, physeal damage or growth disturbances may result in deformities.
The clinical problems presented by malunion of long bones differ
According to their location

Diaphyseal and metaphyseal
Articular surface

Skeletal maturity of the patient
Diaphyseal and Metaphyseal Malunion
The abnormal position of a healed fracture alters the biomechanics of a specific joint by shifting the weight-bearing axis. The abnormal joint mechanics lead to joint instability and cause local stress overload on the articular cartilage. Both instability and increased or abnormal loads can increase the probability of post-traumatic arthrosis, especially in weight-bearing joints.
However, the degree of gross deformity is not always related directly to the degree of loss of function or to the long-term development of osteoarthrosis and for the same deformity, function affected varies among the individuals.
The functional impairment also depends on the bone and its compensation offered by the body. For example, a malunion of a proximal humeral fracture often results in minimal functional limitation and cosmetic irregularity.
The deformities near joints, especially those that are not in the plane of motion of the joint, may impair function seriously.
Rotational deformities are not apparent on radiographs, may be disabling.
In lower limbs, shortening of a limb by more than 2.5 cm may present enough of a functional and cosmetic problem to warrant shortening of the opposite limb or, in some circumstances, lengthening of the affected segment.
The object of surgery for malunion is to restore function. If the functional disability is minimal, surgical correction of malunion may not be justified. A period of intense physical therapy or weight bear¬ing may be necessary before surgical intervention for malunion to restore atrophic muscle strength.
Articular Surface Malunion
Like metaphyseal/diaphyseal malunions, the amount of functional impairment cannot be quantified for a given grade of malunion though the causal relationship between articular surface step off resulting from malunion of an intraarticular fracture and the development of arthrosis is clearer.
Other factors that may affect the final outcome are variations among joints, associated injuries, joint stability and expected loads.
All said and done, intra-articular malunions are less acceptable than diaphyseal/metaphyseal and rigid criteria have been developed for different joints to serve as guidelines of intra-articular fractures.
The treatment of articular malunion is directed best at prevention because the role of surgery in correction is limited. Associated joint arthrosis often makes joint-ablating procedures such as arthrodesis or arthroplasty the only option. Joint realigning osteotomies sometimes may help.
Diaphyseal and metaphyseal fractures in children can result in growth stimulation and overgrowth.
Physeal and Epiphyseal Fractures
The possible consequences of injury to a physis and epiphysis are a progressive angular deformity, progressive limb-length discrepancy, and joint incongruity with resultant posttraumatic arthrosis. Causes include avascular necrosis of the epiphysis, crushing or infection of the physis, bony bridge formation at the periphery, joining of the epiphysis and metaphysis, nonunion, and hyperemia producing local overgrowth.
The anatomical reduction is therefore of utmost importance in epiphyseal fractures.
Save
Save