Triphalangeal thumb, as the name suggests is a thumb with three phalanges. In the normal human hand, the thumb has two phalanges.
It occurs in about one per 25,000 births, constituting the second most common type of thumb duplication. It is inherited as an autosomal dominant trait.
There is no sex predilection. In about 87 percent of the cases, involvement is bilateral.
The thumb of the contralateral hand may be normal, absent, or duplicated.
The triphalangeal thumb may also be part of a generalized syndrome.
It may be associated with other anomalies such as
Duplication of the hallux or the little toe
Lobster feet and hands
Absence of the tibia
Absent carpal bones
Absent pectoral muscles.
Other associated findings may be hypoplasia of nails, tooth anomalies, deafness, and mental retardation. The anomaly may occur in diastrophic dwarfism [A rare disorder marked by short stature with short extremities and joint malformations]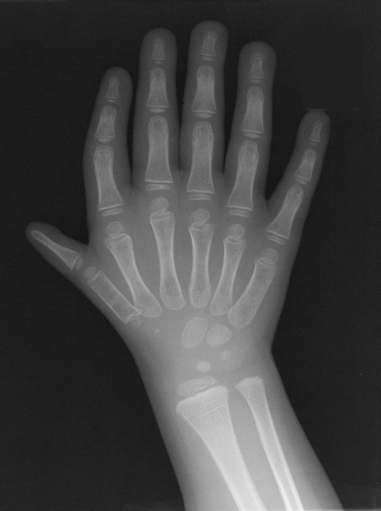 In all forms of life form the amphibians and up, the preaxial (or first) digit is composed of three phalanges.
Presentation
The triphalangeal thumb with full-length normal second phalanx and without duplication resembles a finger; when it does not oppose because the thenar muscles are absent, the hand is referred to as a "thumbless" five finger hand.
In the adult, the triphalangeal thumb is extra long, cosmetically unattractive, and not normal.
Functionally, fine motor activities such as precision handling are defective. The extra phalanx may be delta-shaped, rectangular, or normal. A small trapezoid second phalanx will cause ulnar angulation.
Imaging
Routine x-rays would reveal three phalanges instead of two in the involved thumb.
Treatment of Triphalangeal Thumb
In thumb duplication, when a triphalangeal thumb accompanies a normal thumb, the three phalanxed thumb is ablated.
When the accompanying two-phalanx thumb is hypoplastic but functional, again it is best to ablate the triphalangeal thumb.
When both thumbs are triphalanxed and hypoplastic, the more functional of the duplicated thumbs is retained.
Excision of the accessory phalanx of results in instability at the site of excision. Surgical treatment should be performed early in life, preferably prior to one year of age.
Save