Last Updated on November 22, 2023
Carpal tunnel syndrome refers to symptoms and signs that occur due to compression of the median nerve within the carpal tunnel, an osteofascial tunnel in the wrist. It is the most common form of compressive neuropathy of the median nerve causing numbness, paresthesias, and pain in the median nerve distribution in the hand.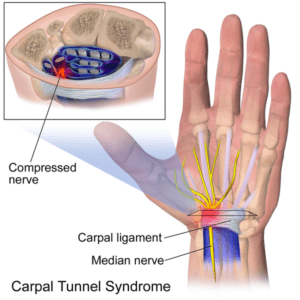 Anterior interosseous nerve syndrome and pronator syndrome are other two compressive neuropathies of the median nerve.
The incidence of carpal tunnel syndrome is 1-3 cases per 1000 subjects per year;
Females are affected more than males.
The peak age range for development of carpal tunnel syndrome is 45-60 years.
Relevant Anatomy

The carpal tunnel is a narrow fibro-osseous tunnel through which the median nerve and nine flexor tendons.
An increase in the volume of the tunnel contents or a decrease in the size of the tunnel can compress the median nerve and lead to carpal tunnel syndrome.
Boundaries of Carpal tunnel
Scaphoid tubercle and trapezium radially
Hook of hamate and pisiform ulnarly
Transverse carpal ligament palmarly (roof)
Proximal carpal row dorsally (floor)
Contents of carpal tunnel consist of nine flexor tendons with flexor pollicis longus being radial most and median nerve)
Carpal tunnel is narrowest at the level of the hook of the hamate
Pathophysiology of Carpal Tunnel Syndrome

Increased pressure in the carpal tunnel leads to blockage of venous blood flow and axonal transport. High pressures result in a complete block of nerve conduction.
Decreased space in the carpal canal can be caused by increased edema and inflammation of tenosynovium seen in
Diabetes [these also have a lower threshold for damage to nerve]
Arthritis
Thyroid dysfunction
Renal failure
Pregnancy
Amyloidosis
Acromegaly
Risk Factors for Carpal Tunnel Syndrome
Demographic Factors
Increasing age
Female sex
a recent increase in increased body mass index or BMI
Square-shaped wrist [The ratio of the wrist thickness to the wrist width is greater than 0.7]
Short Stature
Dominant hand
Genetics
Family susceptibility due to inherited characteristics like square wrist, thickened transverse ligament, short stature.
Inheritance of medical conditions associated with CTS like diabetes, thyroid disease, hereditary neuropathy etc.
Medical conditions
Wrist injuries
Space-occupying lesions within the carpal tunnel

Flexor tenosynovitis
Ganglions
Bleeding
Aneurysms
Tumors
Edema

Diseases as mentioned in the pathophysiology
Repetitive Activities
Persistent, severe force through the wrist
Prolonged, extreme posture of the wrist [as in using walking aids]
Repetitive movements
Exposure to vibration
Differential Diagnoses
Diabetic Neuropathy
Ischemic Monomelic Neuropathy
Leprosy
Lyme Disease
Mononeuritis Multiplex
Multiple Sclerosis
Brachial Plexopathy
Overuse Injury
Complex Regional Pain Syndrome Type 1
Thoracic Outlet Syndrome
Clinical Presentation of Carpal Tunnel Syndrome

Numbness and tingling is the most common presentation. Patients may complain of things slipping from their fingers [loss of grip]. The dominant hand is usually affected and when bilateral, symptoms are more severe in the dominant hand.
The symptoms are usually intermittent and are associated with certain activities like driving, reading the newspaper, crocheting, painting [the activities putting wrist into persisted extension].
The symptoms are localized to the palmar aspect of the first to the fourth fingers and the distal palm (ie, the sensory distribution of the median nerve at the wrist).
If the numbness involves in the fifth finger or extends to the thenar eminence or dorsum of the hand, some other diagnosis must be considered.
An aching sensation over the ventral aspect of the wrist may accompany the sensory symptoms This pain can radiate distally to the palm and fingers or, more commonly, extend proximally along the ventral forearm.
Autonomic symptoms like tightness of hand, temperature changes of hand, cold or hot sensitivity may occur. These symptoms are due to the involvement of autonomic nerve fiber [Median nerve carries most of the autonomic fibers to the hand].
Weakness/clumsiness due to loss of power in the hand may occur
Complete sensory and motor examination of the hand is done to localize the lesion and to confirm that regions not supplied by median nerve are normal.
[Read more about sensory nerve supply of hand]
Median nerve innervated muscles in the hand
First and second lumbricals
Opponens pollicis
Abductor pollicis brevis
Flexor pollicis brevis
Special tests
No clinical test has a could confirm the diagnosis of carpal tunnel syndrome but following tests may aid in reaching at the conclusion.
Hoffmann-Tinel sign
Gentle tapping over the median nerve in the carpal tunnel region elicits tingling in the nerve's distribution. This sign carries low sensitivity and specificity.
Phalen sign
Phalen test is the tingling in the median nerve distribution is induced by full flexion of the wrists for up to 60 seconds.
If the wrist is extended, it is called reverse Phalen.
This test has 80% specificity but is not that sensitive.
Carpal compression test
A firm pressure is directly applied over the carpal tunnel, usually with the thumbs, for up to 30 seconds. Reproduction of the symptoms is considered to be a positive test.
This test has a sensitivity of up to 89% and a specificity of 96%.
Laboratory Studies
No diagnostic blood test is available but, laboratory testing for associated conditions may be performed when indicated.
Imaging Studies
Imaging studies are not done routinely for diagnosis of carpal tunnel syndrome.
MRI
Magnetic resonance imaging of the carpal tunnel is particularly useful preoperatively if a space-occupying lesion in the carpal tunnel is suggested.
Ultrasound
Ultrasound can identify space-occupying lesions in and around the median nerve, confirm abnormalities in the median nerve (eg increased cross-sectional area)
Electrodiagnostic examination
Electromyography and nerve conduction velocity are often the only objective evidence of a compressive neuropathy. But these are not needed to establish a diagnosis are associated with false-positive and false-negative results.
NCV shows slowing or increase in latencies and decreased conduction velocities less specific than latencies
EMG tests the electrical activity of individual muscle fibers and motor units.
It shows findings of increased insertional activity, sharp waves, fibrillations and fasciculations in carpal tunnel syndrome.
Changes in electrophysiologic results over time can be used to assess the success of various treatment modalities.
Treatment of Carpal Tunnel Syndrome
Nonoperative treatment is the first line of treatment. Following modalities are used
Night splints – Especially good for patients with night symptoms only)

Neutral position to avoid wrist extension

Activity modification

Decrease/ avoid weight-bearing repetitive hand movements
Avoid use of vibrating tools

Steroid Injections

Adjunctive treatment
80% have transient improvement
22% pain free at one year [failure to improve after injection is poor prognostic factor .surgery is less effective in these patients]

Drugs

Oral anti-inflammatory medications
Oral vitamin B6
Diuretics may be beneficial in reducing edema.
Pregabalin

Physical Therapy

Aerobic fitness and weight-loss program
Short-wave diathermy
Operative treatment is recommended for physically active patients and those with severe or long-standing symptoms.
The following are some of the predictors of nonoperative treatment failure
Age> 50 years
Symptom duration> 10 months
Constant paresthesia
Stenosing flexor tenosynovitis
Positive Phalen test result in less than 30 seconds
Surgery
Patients who do not improve after conservative treatment should be considered for surgery. Patients with severe carpal tunnel syndrome can be considered for surgery in the initial stages only.
Surgical techniques include the following:
open release
endoscopic release
The advantages of endoscopic carpal tunnel release are
Lesser scar formation
Less scar sensitivity
Earlier functional recovery
Temporary improvement with steroid injections is a good prognostic factor that the patient will have a good result with surgery
After carpal tunnel decompression, volar wrist splints are used to restrict wrist motion during the first 2 weeks. Movement of the metacarpophalangeal and interphalangeal joints are encouraged.
The sutures are removed 12-14 days after carpal tunnel release. Full activity without restrictions is achieved by 6-8 weeks.
Complications
Recurrent symptoms

Incomplete sectioning of the anterior carpal ligament
Flexor tendon synovitis
Scarring in the carpal tunnel

Nerve injury

Ulnar
Median nerve proper
Recurrent thenar motor branch
Median palmar cutaneous nerve branch
Ulnar palmar cutaneous nerve branch
Superficial radial nerve
Digital nerve branches are all vulnerable to injury at the time of carpal tunnel surgery.

Scar tenderness
Reflex sympathetic dystrophy
Bowstringing of the flexor tendons
Stiffness in finger joints
Prognosis
Indicators of good prognosis are
Night symptoms
Relief of symptoms with steroid injections
References
de Krom MC, Kester AD, Knipschild PG, et al. Risk factors for carpal tunnel syndrome. Am J Epidemiol. 1990 Dec. 132(6):1102-10.
Atroshi I, Gummesson C, Johnsson R, et al. Prevalence of carpal tunnel syndrome in a general population. JAMA. 1999 Jul 14. 282(2):153-8.
Robinson LR. Electrodiagnosis of carpal tunnel syndrome. Phys Med Rehabil Clin N Am. 2007 Nov. 18(4):733-46, vi.
Page MJ, O'Connor D, Pitt V, Massy-Westropp N. Therapeutic ultrasound for carpal tunnel syndrome. Cochrane Database Syst Rev. 2012 Jan 18. 1:CD009601
Page MJ, O'Connor D, Pitt V, Massy-Westropp N. Exercise and mobilisation interventions for carpal tunnel syndrome. Cochrane Database Syst Rev. 2012 Jun 13. 6:CD009899