Knee effusion or swelling of the knee occurs when excess fluid accumulates in or around the knee joint. It is also called water on the knee in a colloquial manner.
A synovial joint has a small amount of fluid called synovial fluid that has many functions including lubrication while joint movement.
A joint effusion means there is excess fluid in the joint.
Knee effusion is common with different types of arthritis, infections, and injuries. The body's natural reaction is to surround the knee with a protective fluid when there is a pathology, a kind of protective mechanism. The type of fluid that accumulates around the knee depends on the underlying disease.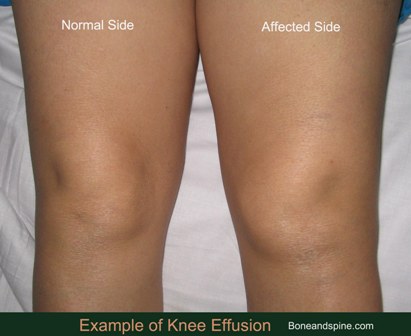 Anatomy of Knee
The knee is a compound joint formed by three articulations
Between the medial femoral and tibial condyles
Between the lateral femoral and tibial condyles
Between the patella and the femur
The knee carries out movements of flexion and extension, internal rotation, and external rotation. There is also a degree of anterior-posterior glide during the flexion-extension movements.
The knee is stabilized by four ligaments
Anterior cruciate ligament
Posterior cruciate ligament
These ligaments provide anteroposterior stability
Medial collateral ligament [resists medial stress]
Lateral collateral ligament [resists lateral stress]
The patella is the sesamoid bone in the body in the tendon of the quadriceps muscle. The bone provides an increased mechanical advantage for knee extension. Medial and lateral retinaculae are expansions of quadriceps that stabilize this bone.
Between both the condylar joints, are present curved fibrocartilaginous structures called menisci. These menisci act as shock absorbers and are connected to the joint capsule send ligamentous extensions to bones too.
[Read more on knee joint anatomy]
Causes of Knee Effusion
Osteoarthritis
Osteoarthritis of the knee can occur after injury or most commonly with wear and tear of joints with aging. Osteoarthritis causes the destruction of the cartilage. The usual complaint is pain in the joint. In progressed cases, knee joint effusion is a common accompaniment.
Rheumatoid Arthritis
Rheumatoid arthritis is inflammatory arthritis that leads to progressive joint destruction and painful, stiff, and swollen joints. It can occur both in adults and children. It often affects more than one joints.
Infection
Infectious arthritis or synovitis can occur as a result of a bacterial, viral, or fungal infection.
The presentation can be acute or chronic depending on the virulence of the organism and condition of the host.
Crystalline Deposition Diseases
Gout is a disease where uric acid crystals that deposit in the joints, causing inflammation and pain.
Gout causes a painful, swollen joint that is very painful. There may also be more than one joint affected with gout.
Pseudogout occurs due to calcium pyrophosphate crystal deposition. It is often used synonymously with all calcium pyrophosphate deposition disease.
Knee effusion in crystalline deposition diseases could be due to a reaction to crystals or due to arthritis caused by crystal deposition over time.
Trauma
The knee injury is a very common cause of knee swelling. Knee injuries can cause in painful, swollen joints, and stiffness.
It could be intraarticular fractures or ligament injuries that might lead to knee effusion.
Sympathetic Effusion
Pathology in the vicinity of the knee might cause knee effusion by increasing blood circulation of the region. This is called sympathetic effusion and is commonly observed in other parts of bodies as well.
It is a protective mechanism of the body. The amount of swelling depends on the aggression of the neighboring disease.
In most cases it is minimal. Bursitis, tendinitis, infections, and tumors nearby could give rise to what commonly is called water on knee or fluid on the knee.
Tumors
Tumors and Cysts in and around the knee may cause knee effusion. The following tumors are commonly associated.
Hematologic
Chondroblastoma
Eosinophilic granuloma
Giant cell tumor
Ewing's sarcoma
Osteosarcoma
Synovial sarcoma
Aneurysmal bone cyst
Fibrous dysplasia
Osteochondroma
Pigmented villonodular synovitis
Psoriatic Arthritis
Psoriatic arthritis is an inflammatory joint disease that's linked with psoriasis, a skin condition. About 5% to 23% of people with psoriasis will develop psoriatic arthritis.
The following table lists the most common causes of knee effusion
Signs and Symptoms of Knee Effusion
Pain associated with swelling is the usual complaint. A history might point to the cause. The swelling might be tender to touch and warm due to inflammation. The stiffness of the joint may accompany- it may become difficult to bend or straighten the knee in certain cases.
In case of an injury, the mechanism of injury should be enquired.
If there is no history of significant trauma, questions may be asked related to local or systemic factors that may cause effusion [see causes].
Overuse injuries or repetitive microtrauma should be looked for [occupation].
During examination of knee look for signs of injury like abrasions, ecchymosis. If the injury is severe and very painful, splint and send the patient for imaging.
In other cases, look for confirmation of knee effusion. A knee with intra-articular fluid will be in 15 to 25 degrees of flexion.
The following tests may help to confirm the effusion and differentiate it from edema or extraarticular swelling.
Milking Test
The fluid is milked distally from the suprapatellar pouch [above the patella] and the area adjacent to the patellar tendon is palpated for fluid accumulation.
Ballottement Test
After milking step as above the patella is given a jerk in the posterior direction. If there is fluid underneath the patella would thrust back.
Lab Studies
Blood tests
Blood tests may be done as directed by clinical examination. Blood tests may indicate inflammatory arthritis. Hyperuricemia might suggest gout. Leucocytes, erythrocyte sedimentation rate, and perhaps the level of C-reactive protein may be raised in infection.
Joint Aspiration and Synovial fluid examination
It is also called arthrocentesis, this procedure includes withdrawal of fluid from inside the knee for analysis such as cell count, culture for bacteria, and examination for crystals, such as uric acid or calcium pyrophosphate dihydrate ram crystals found in gout or pseudogout.
[Read more on synovial fluid examination]
Imaging in Knee Effusion
X-rays
Xrays may be normal or might reveal the underlying pathology such as a fracture. It may reveal signs of osteoarthritis. The most common views for x-ray are the anteroposterior and lateral views. An axial patellar view can be initially done. In case of plateau fractures, oblique views may be required.
For assessing osteochondral lesions tunnel view may be sought.
MRI
MRI is better at revealing meniscal injuries and other soft tissue injuries including ligament injuries. It is able to identify a local pathology quite early and assesses soft tissue damage better.
MRI is not used routinely for diagnostic purposes.
Treatment of Knee Effusion
Knee effusion is a sign and not a disease itself. Most often the causes are minor injuries which are amenable to rest and pain medication.
However, in the case of underlying pathology or injury, the symptomatic treatment can just provide acute/temporary relief and the effusion can recur if the underlying cause is not addressed.
Following is the general treatment for knee effusion but the treatment may be modified from patient to patient.
RICE– rest, ice, compression and elevation is the first approach for symptomatic relief. This relieves muscle of spasm and makes patient more comfortable. Opioids or NSAIDs drugs can be added for pain relief.
This could be the final treatment for many minor swelling, which, if continued would result in resolution.
Repeated arthrocentesis may also be used as part of treatment in joints with large effusions.
For other swellings, the treatment would be according to the underlying lesion.
In case of Injury, the exact nature of injury would guide further treatment. The fractures most often require fixation. Some could be treated in the plaster cast or fiberglass cast. Ligament injury could be similarly treated either in plaster or with reconstructive surgery.
Septic arthritis often has an aggressive presentation and often requires evacuation and exploration along with administration of antibiotics. In early presentations though, arthritis may respond to antibiotics only.
Tuberculous arthritis, on the other hand, has a subacute presentation and is often treated with rest, splinting and antitubercular therapy.
For inflammatory arthritis such as rheumatoid arthritis, psoriatic arthritis treatment may include NSAIDs, steroid medications, and disease-modifying anti-rheumatic drugs (DMARDs) and biologic agents such as tumor necrosis factor inhibitors.
For gout and pseudogout, relevant drug treatment is chosen.
Physical therapy is an important part of the treatment that includes strength building and flexibility exercises, to improve knee joint.
The timing of physical therapy is different in different conditions and should be done only under supervision.