Internal fixation of the bone is a type of fixation where the fixing device is not exposed to outside environment as it is buried under the soft tissue. This is in contrast to external fixation.
Bone acts as a supporting structure and transmits load. Different forces that act on bone are compression, tension and shear. Bone is strongest in compression and weakest in tension.
Most of the compression fractures are therefore seen in cancellous bones like metaphyses, vertebral bodies, and the calcaneus.
Transverse, oblique, and spiral are the common fracture pattern seen in cortical bones.
[Read more on types of fractures]
Biology of Fracture Healing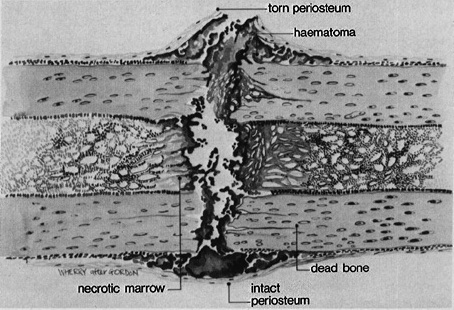 Fracture leads to disruption of the endosteal and periosteal blood supply and leads to an inflammatory reaction which attracts bone forming mediators and cells.
The inflammation stage begins soon after injury and appears clinically as swelling, pain, and erythema. Fracture hematoma prompts the migration of inflammatory cells, which stimulate angiogenesis and cell proliferation.
After the initial inflammatory phase, the soft callus stage begins with an infiltration of fibrous tissue and chondroblasts surrounding the fracture site. Soft callus formation adds to the structural stability of the fracture site.
Soft callus is then converted into rigid bone, the hard callus stage, by bone ossification.
At this point, the fracture is declared united.
Remodeling is the process by which woven bone is replaced by the lamellar bone. It takes more than a year for the fracture site to remodel.
[Read more on fracture healing]
Significance and Need for Internal Fixation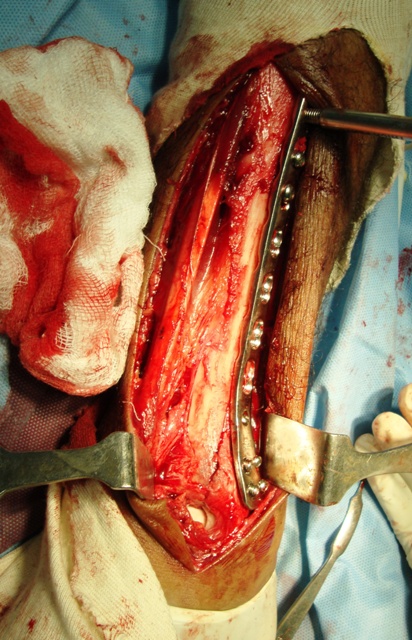 When a bone is fractured, it loses its structural continuity which makes it unable to bear any load.
There is also a soft tissue injury component which varies with the severity of the injury. Damage to the soft tissues and of the stiffness of neighboring joints are responsible for long-term morbidity.
Earlier, all fractures were treated with prolonged immobilization in plaster casts/splints. Stiffness in adjacent joints was a known complication especially in fractures near the joint.
It happens because prolonged immobilization leads to atrophy of the articular cartilage, to capsular and ligamentous contractures, and gives rise to intra-articular adhesions.
Tethering effect of soft tissues further adds to the effect.
This loss of function due to scarring and secondary joint stiffness can only be prevented by early mobilization. Thus, modern fracture treatment aims at the restoration of function of the soft tissues and adjacent joints and not bone union at the expense of function.
The idea behind the changed paradigm is that it is easier to correct a non-union or deformity in presence of good soft tissue envelope but the scarring, obliteration of the soft tissue gliding planes, and joint stiffness are often permanent.
The function is more important than a union which is considered of secondary importance. This highlights the importance of early fixation of fractures. Early fixation of fractures enables early joint mobilization and strength maintaining exercises. A bony issue if present could be dealt with later.
[This concept of early function has been included in modern plaster treatment as well – functional fracture treatment which makes use of specialized splinting of the bone in special braces that allow an early return of function and motion. But there is a limitation to this method and a lot of fracture pattern are better served by fracture fixation especially internal fixation of fractures especially intra-articular and periarticular fractures.]
A stable internal fixation abolishes fracture pain and allows early joint motion [and weight bearing in selected cases] and reducing the need for prolonged rehabilitation period. Stable fixation also restores load-bearing capacity to bone. With stable fixation, both cancellous and cortical fragments heal by primary bone healing.
[Read and compare other type of fixation – the external fixation]
Methods of Internal Fixation
Screws
Lag screws are used to achieve compression across the fracture fragments and are useful in case of a large third fragment in transverse fractures [butterfly fragment], spiral fractures, oblique fractures, and intra-articular fractures.
Interfragmental compression results in impaction of the fragments and in a marked increase in frictional resistance to motion. At the same time, it also reduces greatly the force transmission. It also greatly diminishes the forces borne by an internal fixation device. Compression and establishment of bone contact are essential for stable internal fixation.
Lag screw offers the simplest method of compressing two fragments of bone and is a very efficient implant in use for securing interfragmental compression.
In order to exert the most efficient degree of interfragmental compression, lag screws must be inserted into the center of fragments and at right angles to the fracture plane. A minimum of two, and preferably three screws are required for stable compression.
In fractures of phalanges, metacarpals, metatarsals, or malleoli, lag screws can be used alone.
But they are not sufficient for the fixation of long bones such as the femur or the humerus. In these bones, they need to be combined with plates that protect the screw fixation from mechanical overload.
[Read more about Bone Screws ]
Plating
Plating is a broad term for fracture fixation using plate and screws. There are many modes in which plates can be used to fix a fracture
Neutralization plates or protection plates are used to protect the primary lag screw fixation. They conduct part or all the forces from one fragment to the other.
In metaphyseal areas, internal fixation requires protection with plates that support the underlying cortex. These are called buttress plates.
If a fracture is reduced and a plate is applied to the bone in such a way that axial compression is generated, the plate is referred to as a compression plate.
Plating on the tensile surface of eccentrically loaded bone increases the amount of axial compression when bone is loaded. Such a plate is referred to as a tension band plate.
In bridge plating, the fracture is first reduced by indirect reduction and the fracture is then bridged with a plate that is fixed to the proximal and distal main fragments maintaining length, rotation, and axial alignment but without aiming for anatomical reduction.
Bridge plating is indicated only for the fixation of multi-fragmentary fractures.
For simple transverse or oblique fracture, then absolute stability must be achieved by means of interfragmental compression.
[Read more on plating in orthopedics]
Intramedullary Nailing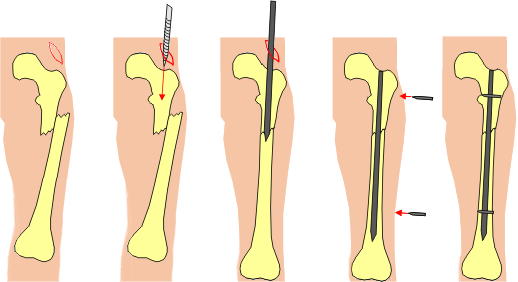 Intramedullary nailing can be compared to a tube within a tube. After fixation, the nail is in contact with cortical bone that allows a nail to control angulation and translation.
Intramedullary nail is a load-sharing device and much stronger than a plate which allows early weight bearing.
Locked intramedullary nail has allowed the nail to be used for a wider range of fractures than non-locked ones which could only be used in the middle third region of the diaphysis.
With C-arm and locked intramedullary nail, fracture fixation can be proceeded without exposing the fracture site and disturbing fracture hematoma.
Closed locked intramedullary nailing results in rapid healing, low complication rate, and excellent return of full function.
Elastic nails are special thin nails used for fixation in bones of children and non-weight bearing bones of adults.
Wires/Pins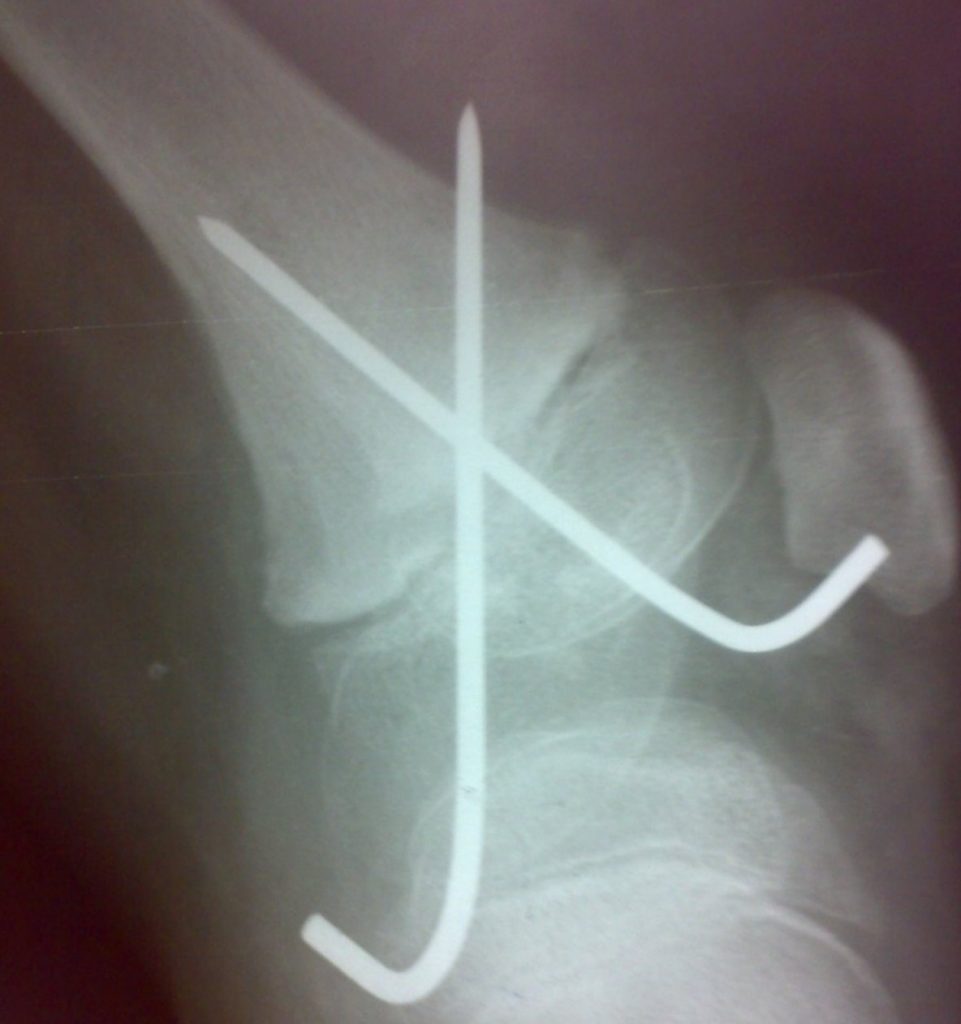 Kirschner wire or K wire has a great role in the management of orthopedic trauma and correction of deformities. Kirschner wire is also known as K pin.
Kirschner wire is sharpened, smooth stainless steel pins available in different diameters and lengths.
They are used both in the surgical and conservative management of fractures. In surgery, they are either used to hold the fracture fragments temporarily before the definitive implant is put or are used as for definitive treatment of fractures too.
Most commonly, wires are utilized as provisional fixation before definitive fixation with a stronger device.
Permanent fixation options include fractures in which loading is minimal or protected with other stabilization devices, such as external fixators, plates, and braces. Pin or wire fixation is often used for fractures of the phalanges, metacarpals, metatarsals, proximal humeri, and wrists.
For bones like patella and olecranon tension band wiring is used and accomplished with a combination of K-wires and stainless steel wires.
Methods of Reduction in Internal fixation
A direct reduction is the direct manipulation of bony fragments during an open reduction of a fracture after exposing the fracture site
An indirect reduction is the reduction of a fracture by means of traction. It can be done by manual pulling or using distractor.
Internal fixation of Articular Fractures
Intra-articular fractures and periarticular fracture treatment has been revolutionized by internal fixation.
Articular reconstruction must be undertaken as early as possible and with the least trauma to the tissues.
External fixation is frequently used as a temporary measure to achieve length and alignment of the metaphysis where a delay in definitive fixation [which could be 2-3 weeks also] is contemplated due to soft tissue injuries.
The principles of articular fracture surgery are
Anatomical reduction
Stable fixation
Correction of axial deformity
Metaphyseal reconstruction with bone grafting of defects
Buttressing of the metaphysic with buttress plates
Early motion
Implant Removal after Internal Fixation of Fractures
The bone that unites fracture in the initial phase is of lesser strength. Furthermore, the bone that unites with primary healing is weaker than bone that unites with callus.
The early bone over the time is remodeled to replace with stronger bone, a process that continues for a year or so.
Factors which affect the remodeling phase are
Patient's age
Degree of comminution
The degree of soft tissue injury
Size of the bone gap
The accuracy of the reduction
Stability of the fixation
Whether bone grafting was done or not
When considering an implant removal, these factors must be thought into. Premature removal of implant would lead to a risk of refracture.
It is generally agreed that most implants used for internal fixation should be left for about 2 years before their removal is contemplated.
K wires and elastic nails are removed after a few weeks in hand and foot to facilitate motion. Elastic nails in growing children need to be removed earlier as they hardly contribute towards load and the removal becomes difficult after the bone has grown.
Following removal of an implant, the bone must be protected from overload. The screw holes act as stress raisers and carry the risk of fracture especially in the first 6-8 weeks.
Biodegradable Internal Fixation
Biodegradable implants offer the theoretical advantage of eventual resorption, eliminating the need for later removal but current bioabsorbable implants do not have mechanical properties to match metallic implants and therefore, their indications are limited.
These devices can be considered in low-stress areas is needed, pediatric patients,n medial malleolar fractures, syndesmotic fixation, or osteochondral fractures in adults where an early implant removal is almost always needed.