Medial malleolus is a projection of tibia bone and along with lateral malleolus forms the socket of the ankle joint where talus articulates. There are three malleoli in the ankle. The medial and the posterior arise from the tibia.
A counterpart called lateral malleolus is the distal end of the fibula.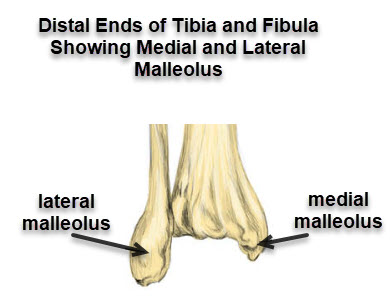 A fracture is a break in the continuity of the bone and is usually caused by force beyond the strength of the bone.
Fracture of medial malleolus is a common ankle injury.
Actually, fractures of medial malleolus are part of the spectrum of malleolar fractures and another ankle injuries. It rarely occurs in isolation and is often accompanied by fracture of lateral malleolus [most common] or posterior malleolus or ligament injury.
Diagnosis and management of the fracture of the medial malleolus and other malleolar injuries are discussed in detail in the following article.
[Malleolar Fractures of Ankle- Bimalleolar Fractures, Trimalleolar Fractures]
The present would discuss an x-ray of fracture of the medial malleolus.
Following are the anteroposterior and lateral views of ankle showing a fracture of the medial malleolus.
The fracture is not displaced and the ankle joint is not subluxed.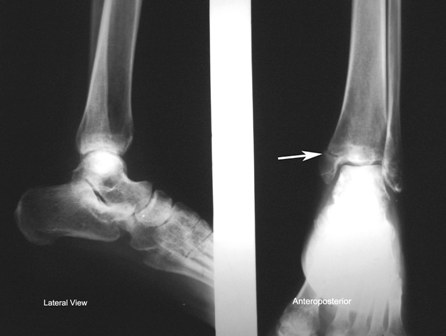 The x-ray shows a fractured medial malleolus.
Like other fractures, treatment depends upon many factors that are injury-related and patient-related. These are the presence of a concomitant fracture of the fibula, amount of displacement of fracture fragments, the age of the patient and demands and expectations of the patient.
The treatment of the medial malleolus fracture can be nonoperative or operative.
Nonoperative treatment or conservative treatment consists of immobilization in below-knee or short leg casts. In some cases, where initial injury has led to substantial swelling, the patient may be given a temporary splint first.
After splinting, the swelling is allowed to reduce before a definitive cast is given.
Nonoperative treatment is mostly done in cases of undisplaced fractures or patients with very low functional demands.
Surgical treatment of medial malleolus fracture aims at anatomical restoration and holding the fractured fragments at that anatomical position by means of screws, K-wires or tension band wiring.
A fractured medial malleolus would take around 4-6 weeks to unite.
Following is a fracture fixed with screws.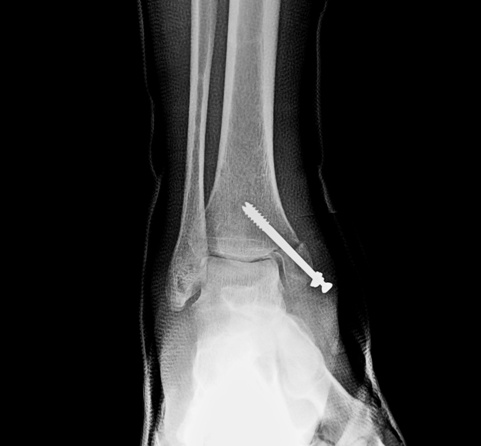 Fractures of medial malleolus have a very good prognosis when these are treated appropriately.
Save