Fracture healing in a broken bone is quite a complex process.
To understand the process better we need to have an idea about the anatomy of the bone.
Bone is surrounded by a thin membranous layer of tissue called periosteum ( See adjoining Figure – The figure represents a cut section through a bone. Normally the bone is like a cyllinder. Imagine cyllinder cut into halves along its longitudinal axis and you would get a similar picture. ).
When bone breaks, it bleeds from its torn ends due to disruption of its supplying vessels.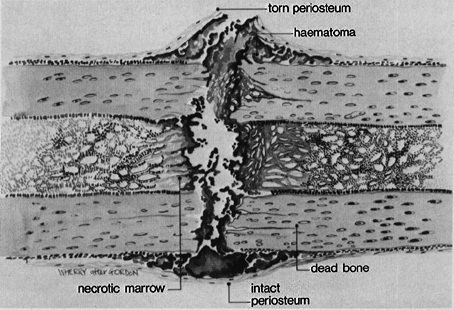 Quite naturally the periosteum also is torn as shown in the figure. This periosteum may be completely torn or partially damaged depending upon the force of injury.
The collected blood is called fracture hematoma.
Due to loss of vascularity or blood supply adjacent portion of broken ends die. Inflammation changes occur in the hematoma over next few hours ( A reaction by the body which occurs whenever there is an insult to a part or structure. The basic purpose of the inflammation is to contain the damage and facilitate the healing and regeneration. Inflammation is responsible for redness, pain, warmth and tenderness of the wounds and abscesses) .
This inflammation brings in many cells that would help in regeneration of the broken bone.
Periosteum plays a vital role in fracture healing. The periosteum is the primary source of precursor cells which develop into chondroblasts( cartilage cells) and osteoblasts ( bone cells) that are essential to the healing of bone.
As the time progresses, the fibroblasts ( A kind of cells which produce fibrous tissue in the body) get interspersed with small vessels and form a loose mesh like structure uniting the broken ends of the bone and on which the future layers of bone tissue would be added. this structure is called granulation tissue.
Over the next few days, the cells of the periosteum replicate and transform. The periosteal cells proximal to the fracture gap develop into chondroblasts and form hyaline cartilage. The periosteal cells distal to the fracture gap develop into osteoblasts and form woven bone a kind of bone which is structurally different from the lamellar bone found in the body.
These two new tissues grow in size until they unite with their counterparts from other pieces of the fracture. This process forms the fracture callus. the callus is the first sign of union visible in x-ray and generally appears around two weeks after fracture. Eventually, the fracture gap is bridged by the cartilage and woven bone, restoring some of its original strength. A picture like this is produced.
From here on slowly and steadily bone is restructured by a process called remodeling.
Types of Bone Fracture Healing
Primary bone fracture healing and secondary bone healing are two different types of healing in fractures depending on the rigidity of fixation of the fracture.
Primary Bone Healing
In this kind of fracture healing callus is not formed at all and it occurs with rigid stabilization with or without compression of the bone ends. For example, in a fracture fixed by plating, primary bone fracture healing occurs.
Rigid stabilization suppresses the formation of a callus in either cancellous or cortical bone .
Because most fractures are managed in a way that results in some degree of motion, primary healing per se is rare.
Primary bone fracture healing can be divided into gap healing and contact healing. Union occurs in both types.
Gap Healing
Gap healing occurs in two stages.
Firstly, the width of the gap is filled by direct bone formation. An initial scaffold of woven bone is laid down, followed by formation of lamellar bone as support. The orientation of the new bone formed in this first stage is transverse to that of the original lamellar bone orientation.
In the second stage, which happens after several weeks, longitudinal Haversian remodeling reconstructs the necrotic fracture ends and the newly formed bone to replace the woven bone with osteons of the original orientation. In the end, the normal bone structure results.
Contact Healing
Contact healing occurs where fragments are in direct apposition and osteons can grow across the fracture site, parallel to the long axis of the bone.
When fracture fragments are in contact, osteoclasts on one side of the fracture undergo a tunneling resorptive response, forming cutting cones that cross the fracture line.
This tunnelling allows the penetration of capillaries and eventually the formation of new haversian systems. These blood vessels are then accompanied by endothelial cells and osteoprogenitor cells for osteoblasts leading to the production of osteons across the fracture line eventually leading to regeneration of the normal bone architecture.
Secondary Bone Fracture Healing
Secondary bone fracture healing occurs when there is no rigid fixation of the fractured bone ends, which leads to the development of a fracture callus. It includes an inflammatory phase, a reparative phase, and a remodeling phase as described above in the beginning of this article.
Factors Affecting Fracture Healing
Both local and systemic variables influence the rate and degree of fracture healing. When normal healing occurs, but at a slower rate than usual, it is termed delayed union. A complete cessation of the healing process, in which fibrous tissue is never replaced by bony matrix, is termed nonunion.
Systemic Factors Affecting Fracture Healing
Age
Young patients heal rapidly and have a remarkable ability to remodel and correct angulation deformities. These abilities decrease once skeletal maturity is reached.
Nutrition
A substantial amount of energy is needed for fracture healing to occur. An adequate metabolic stage with sufficient carbohydrates and protein is necessary.
Systemic Diseases
Diseases like osteoporosis, diabetes, and those causing an immunocompromised state will likely delay healing. Illnesses like Marfan's syndrome and Ehlers-Danlos syndrome cause abnormal musculoskeletal healing.
Hormones
Thyroid hormone, growth hormone, calcitonin, and others play significant roles in bone healing. Corticosteroids impede healing through many mechanisms.
Local Variables Affecting Fracture Healing
Type of Bone
Calcellous (spongy) bone fractures are usually more stable, involve greater surface areas, and have a better blood supply than do cortical (compact) bone fractures. Cancellous bone heals faster than cortical bone.
Degree of Trauma
The more extensive the injury to bone and surrounding soft tissue, the poorer the outcome. Mild contusions with local bone trauma will heal easily, whereas severely comminuted injuries with extensive soft tissue damage heal poorly.
Vascular Injury
Inadequate blood supply impairs healing. Especially vulnerable areas are the femoral head, talus, and scaphoid bones.
Degree of Immobilization
The fracture site must be immobilized for vascular ingrowth and bone healing to occur. Repeated disruptions of repair tissue, especially to areas with marginal blood supply or heavy soft tissue damage, will impair healing.
Intraarticular Fractures
These fractures communicate with synovial fluid, which contains collagenases that retard bone healing. Joint movement will cause the fracture fragments to more, further impairing union. When intraarticular fractures are comminuted, the fragments tend to float apart owing to loss of soft tissue support.
Separation of Bone Ends
Normal apposition of fracture fragments is needed for union to occur. Inadequate reduction, excessive traction, or interposition of soft tissue will prevent healing.
Infection
Infections cause necrosis and edema, take energy away from the healing process, and may increase the mobility of the fracture site.
Local Pathology
Any disease process that weakens the musculoskeletal tissue, like osteoporosis or osteomalacia, may impair union.
Incoming search terms:
how does a fracture heal (13)
describe the changes that a broken bone undergoes as it is healing (11)
how does bone repair happen (10)
how does a bone fracture heal (9)
Describe the changes a broken bone undergoes as it is healing (7)
how does bone healing occur (7)
how many week does it take a 47 year old bone fracture to heal (6)
shifting during bone healing (6)
big toe broken how do they wire it (5)
how do bone fractures heal (5)
Related Terms: