Fracture healing in a broken bone is quite a complex process.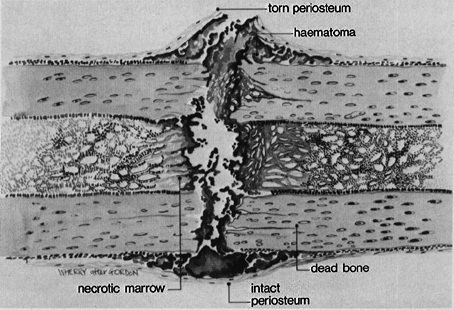 To understand the process better we need to have an idea about the anatomy of the bone.
Bone is surrounded by a thin membranous layer of tissue called periosteum ( See adjoining Figure – The figure represents a cut section through a bone. Normally the bone is like a cyllinder. Imagine cyllinder cut into halves along its longitudinal axis and you would get a similar picture. ).
When bone breaks, it bleeds from its torn ends due to disruption of its supplying vessels.
Quite naturally the periosteum also is torn as shown in the figure. This periosteum may be completely torn or partially damaged depending upon the force of injury.
The collected blood is called fracture hematoma.
Due to loss of vascularity or blood supply adjacent portion of broken ends die. Inflammation changes occur in the hematoma over next few hours ( A reaction by the body which occurs whenever there is an insult to a part or structure. The basic purpose of the inflammation is to contain the damage and facilitate the healing and regeneration. Inflammation is responsible for redness, pain, warmth and tenderness of the wounds and abscesses) .
This inflammation brings in many cells that would help in regeneration of the broken bone.
Periosteum plays a vital role in fracture healing. The periosteum is the primary source of precursor cells which develop into chondroblasts( cartilage cells) and osteoblasts ( bone cells) that are essential to the healing of bone.
As the time progresses, the fibroblasts ( A kind of cells which produce fibrous tissue in the body) get interspersed with small vessels and form a loose mesh like structure uniting the broken ends of the bone and on which the future layers of bone tissue would be added. this structure is called granulation tissue.
Over the next few days, the cells of the periosteum replicate and transform. The periosteal cells proximal to the fracture gap develop into chondroblasts and form hyaline cartilage. The periosteal cells distal to the fracture gap develop into osteoblasts and form woven bone a kind of bone which is structurally different from the lamellar bone found in the body.
These two new tissues grow in size until they unite with their counterparts from other pieces of the fracture. This process forms the fracture callus. the callus is the first sign of union visible in x-ray and generally appears around two weeks after fracture. Eventually, the fracture gap is bridged by the cartilage and woven bone, restoring some of its original strength. A picture like this is produced.
From here on slowly and steadily bone is restructured by a process called remodeling.
Incoming search terms:
how does a fracture heal (12)
how does bone repair happen (10)
describe the changes that a broken bone undergoes as it is healing (9)
how does a bone fracture heal (9)
how does bone healing occur (7)
how many week does it take a 47 year old bone fracture to heal (6)
shifting during bone healing (6)
big toe broken how do they wire it (5)
how do bone fractures heal (5)
Describe the changes a broken bone undergoes as it is healing (5)